Maybe it brings back fond memories of summer-camp evenings. Maybe it conjures the small joys of long-ago clambakes by the beach. Or maybe the fascination is instinctive – a remnant from the howling, glacial wilderness of our ancestors. For whatever reason, there's just something profoundly comforting about gathering around a crackling fire.
Building a fire in your backyard with logs isn't always possible, though. Environmental laws in some countries make it an offense to cause the resulting fumes and smoke. But you can always create the same relaxation and amity around a backyard propane firepit.
Today's propane firepits come in a range of sizes and designs to match all manner of backyard décor. Gas burns cleaner – and safer – than wood. That's among the reasons why propane fire pits have become increasingly popular.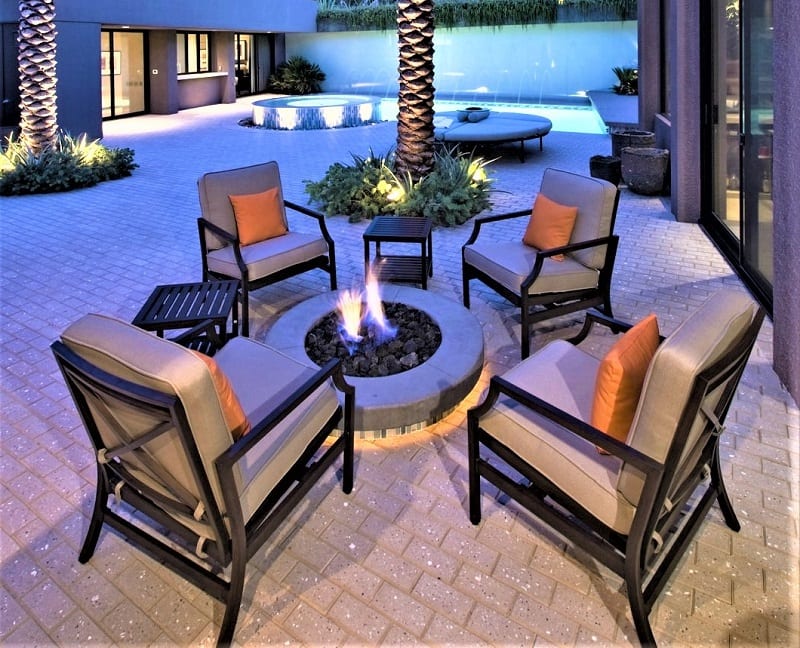 Why Your Firepit Won't Stay Lit
Propane fire pits allow you to enjoy a safe fire at just about any outdoor location, whenever you want. But just like anything else with dials and knobs, they can sometimes malfunction.
There is nothing as frustrating as when your firepit sputters out just as you're getting settled before a fire. This can happen for several reasons. Some are obvious and easy to fix. Others can be a bit more problematic.
Here are some of the problems that may keep your propane fire pit from burning consistently. To help you fix them, we've offered possible solutions for each.
Your propane tank is low on gas.
Your propane tank is low on gas. If you are having difficulty keeping your firepit lit, the first thing you should check is the propane tank. Make sure you have enough gas to keep the firepit burning.
If you have enough experience dealing with propane tanks, you can estimate fuel levels by a tank's weight. Simply lifting the tank will give you an approximate.
But to get a better idea, you'll need an in-line gauge or a propane tank scale. You can install Cuisinart's CTG 200 In-line Gauge between the firepit and the cut-off valve on the tank. The gauge works on pressure and lets you know when the tank is full, low, or empty.
The Cuisinart CTG 120 Propane Tank Scale, on the other hand, works like a luggage scale. You slip the hook through the handle of the tank, lift, and read the remaining gas levels on the gauge.
You can also use Flame King's Smart Propane Tank Scale. This smart device constantly weighs the tank, allowing you to track and monitor gas levels with a smartphone app.
The burner is clogged with debris.
Your firepit won't stay lit if there is an obstruction in the burner. Sometimes, dirt, leaves, or even small insects will block the burner, which leads to an inconsistent flame. Take some time to clean the burner ring after the fire pit has cooled. This small effort may make all the difference.
If you don't have a fire pit cover, then we recommend that you make that small investment, as well. For less than $20, Porch Shield's Heavy Duty Firepit Cover will keep debris from accumulating on the burner.
Porch Shield manufactures the cover in a range of sizes for both square and circular firepits. Each comes with an elastic hem cord and straps for a secure fit.
There is a kink in the supply hose.
Your fire pit may not be burning steadily because of a kink in the supply hose. When this happens, your firepit will sometimes not light at all. If your burner is clean, and the tank is full, check the supply hose. Make sure it isn't bent.
If it is, simply straighten and reposition the hose, giving it ample room to extend. If the hose is worn, you may need a replacement.
Made with high-quality, fiber-reinforced rubber, and brass connections, GasOne's 2106 Regulator Propane Hose provides an airtight connection.
GasOne manufactures the hose in various lengths. The hose also comes with a universal fit that works with most US-standard 20-pound propane tanks and LP regulators.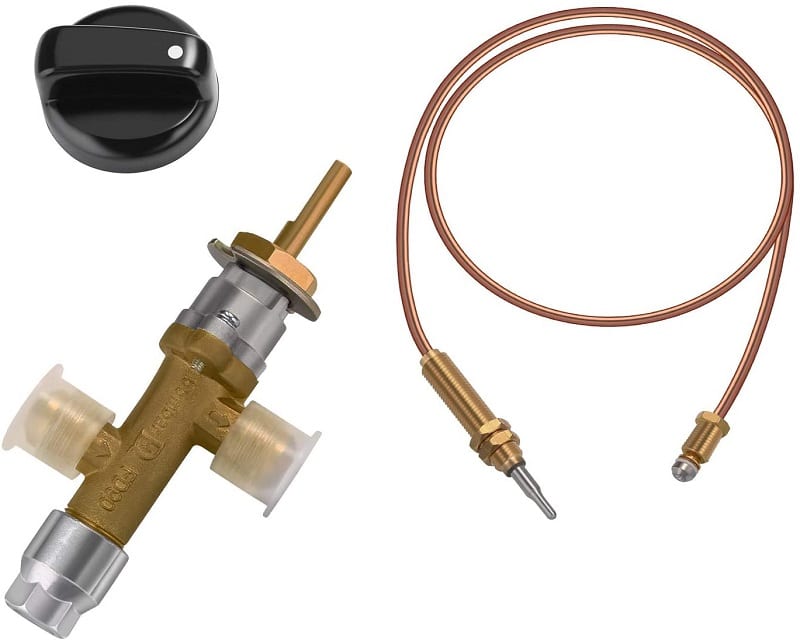 Your fire pit is leaking gas.
You may have a gas leak in your firepit. The leak can reduce pressure in the system. The decrease might be enough to cause your firepit to burn inconsistently.
Fixing a leak can be a simple matter of tightening connections. However, if the leak is caused by a hole in your supply line, you will likely need a replacement.
Do not take leaks in your propane firepit lightly. Gas not contained in the burner of the firepit can lead to fires or explosions.
If you suspect a leak somewhere in your propane firepit, stop using it. Do not use it again until you fix the problem.
There is air in the supply hose.
There may be air in your supply hose. Your firepit won't burn consistently when there are air pockets in the supply hose. You'll notice that it will burn, then go out, and might be difficult to restart.
You can rid the supply line of air pockets by running gas through the hose. Make sure you do this in a space that is well ventilated with ample airflow. This will allow the gas to escape into the atmosphere without causing any harm.
Be careful. Make sure there are no open flames or sparks in your immediate vicinity. These might ignite the gas and cause an explosion.
The control valve is broken.
If you've checked for all five problems outlined above and found nothing, chances are the control valve is broken. If the control valve on your firepit is broken or malfunctioning, you'll run into problems keeping it lit.
You can buy a replacement if your firepit is relatively new. We recently replaced the old control valve in our test firepit with Wadeo's Firepit Control Valve Kit.
The kit consists of a brass valve, a brass thermocouple, and a black plastic knob. We have been pleased with the purchase thus far.
However, if your fire pit is older, finding replacement parts may be difficult. If that is the unfortunate case, then it's time to replace your propane firepit.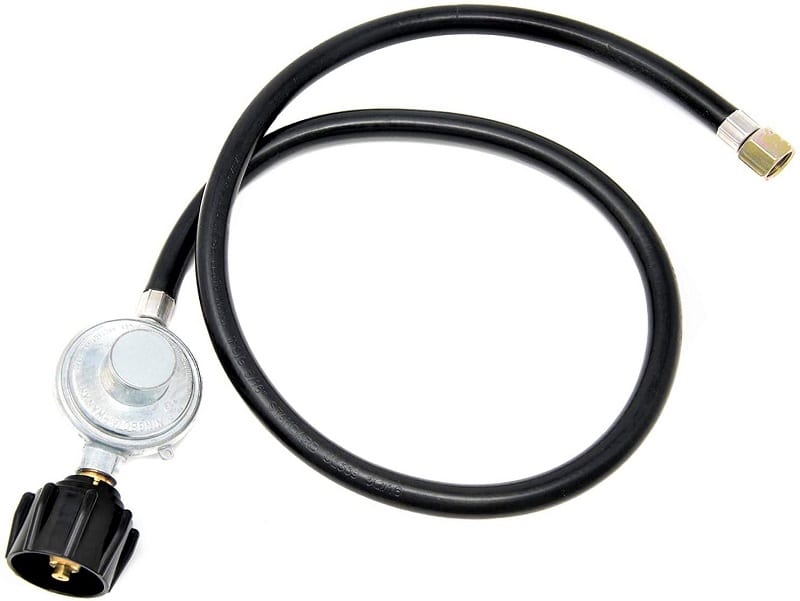 Propane fire pits are an excellent addition to your outdoor space. They make enjoying a fire easy, clean, and safe. If you have the skill and the inclination, we suggest you DIY a propane fire pit.
But DIY or not, remember to keep your firepit free of debris and in good working order. That's the best way to ensure you have a crackling fire burning in your backyard when you want it.
---