In the movie Quest for Fire (1981), a group of cavemen struggles to keep an ember burning while moving across a cold and perilous landscape. The challenge is brutally simple. Keep the fire burning, or else lose the ability to cook, stay warm, and protect your tribe from predators.
Our fascination with fire runs deep. Scientists have discovered sites in Africa with fire residues that are more than a million years old. Some experts even suggest that natural selection may have favoured individuals who learned how to master fire early.
In other words, we may have come into this world pre-programmed to appreciate fire. If so, it's an impulse that's primal and necessary, and the lawn firepit is perhaps its best expression today.
How to Protect Your Lawn While Enjoying an Outdoor Hearth
Many homes have indoor fireplaces or propane stoves. But there's nothing quite like enjoying a fire pit under the stars in your backyard. On balmy summer evenings, you can cook up a feast over your fire. During colder months, nothing compares to a fireside snuggle in your most comfortable chair.
Of course, creating an outdoor space where you can enjoy your fire safety is key. That means the first safety requirement is that you build your fire away from the house or a fence.
Unless you have a purpose-built fireplace away from your grass, the ideal placement for your fire may be on the lawn. If this is the case, you will need to take some steps by using a portable firepit. This will help ensure that your fire doesn't cause scorch marks where it has killed your grass.
Below are a few steps to ensure that your lawn is safe and protected from fire.
1. Have a hose or extinguisher handy.
Make sure you have a hose or extinguisher nearby and keep your fire to a manageable size. Rake out any debris and dead grass that might burn if an ember manages to escape.
2. Raise your fire pit.
Raise your fire pit. If your portable fire pit is not equipped with a stand, then build a platform of bricks or pavers. This will create a heat shield to protect the grass below. The higher the fire, the better for the grass underneath.
Be sure to remove the platform once you are done so that the grass underneath doesn't die.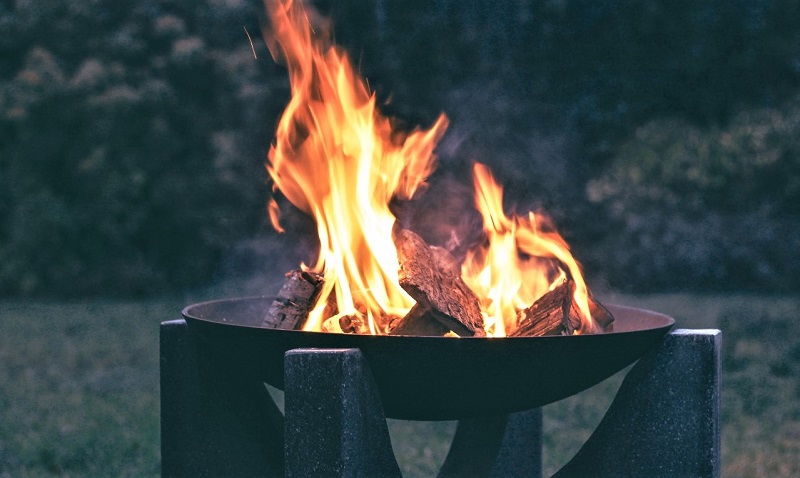 3. Place sand at the bottom of your fire pit.
Place some sand in the bottom of the fire pit. Sand will act as an insulator and help to disperse the heat more evenly.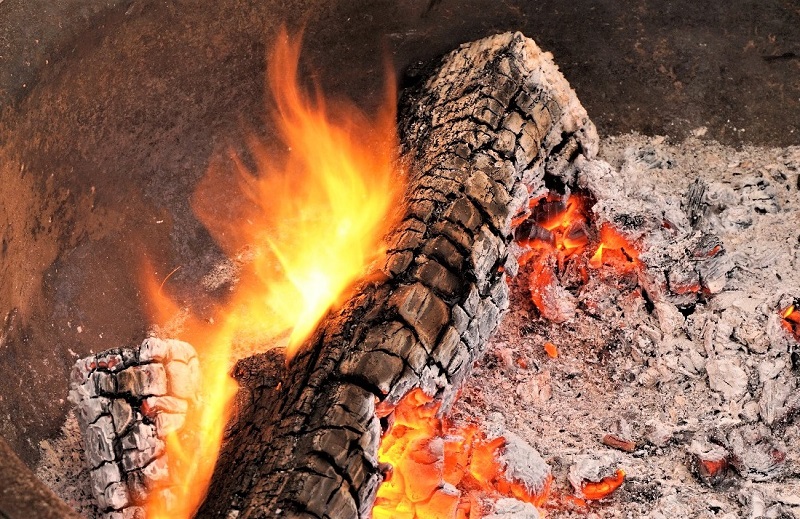 4. Water your lawn.
Even with a raised fire, the grass underneath and around your fire pit can still get quite warm from the heat of the fire. To protect your lawn, water the grass a few times throughout the night – or even before you start the fire.
5. Avoid fuels that create extremely hot flames.
Too much heat can be bad for your lawn. Do not use lighter fluid or other fuels that create extremely hot flames. You want the wood to catch fire naturally and slowly, building hot coals at its base.
Finding the Perfect FirePit
The flicker and snap of fire are at once cozy and mesmerizing. That makes a well-tended flame an excellent companion on both warm evenings and cold nights. But ensuring adequate protection for your lawn and home is always essential to the enjoyment of a good fire.
There are many new types of fire pits available that are raised and adaptable to smaller backyards. Shop around to find one that is perfect for your lawn. Better yet, you can DIY your own fire pit. You'll find it's well worth your effort.
After all, nothing cooks your food and lifts your spirits quite like a crackling backyard hearth. The warmth and pleasure of it are something we've known and cherished since the dawn of time.
---