We are absolutely comfortable in stating that the future of work is at home, not a central office. Current communication standards already allow millions of people across the globe to avoid the daily commute, simply by 'logging in'.  Here at OBN, our two closest co-workers are some 300 kilometres apart. At the other end of the spectrum, I'm separated from my programmer by 12,000 kilometres!  Yet we all communicate as though we are separated by a partition wall. I stopped the commute seven years ago by adding a dedicated office to our then home.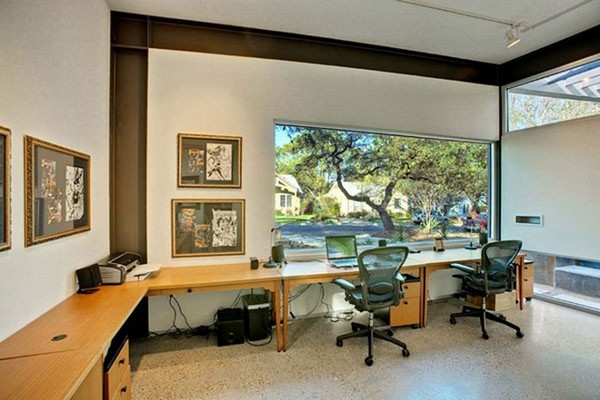 Laurie Frick works mostly alone.  She's an artist and her personal space requirements are modest – in fact, the equivalent of a one bedroom apartment.  But she needs both a studio to create her art and an office to manage her business.  Her solution is to build a 'hoffice' – a building as much for work as it is for rest and play. In coming years, many of us will also be adding dedicated work areas to our homes. Here are the architect's notes:
"The program requirements were for a 1600 sq ft one-bedroom, two bathroom house with an office and a 700 sq ft studio on an infill site. The previous home was moved off the site, leaving a constricted, buildable area located between a Diodora Cypress at the street and a magnificent Live Oak and swimming poll to the rear.
Based on the programmatic adjacencies, the design is comprised of a series of 16 structural steel bays wrapped with a metal clad SIP cowl. Within the cowl, the home is progammatically volumized with Tigerwood and glazing while the studio is defined by integral color stucco. The main entry is activated with a subtle push in to a generous hallway that doubles as a gallery for the client's art collection  Ambient light in the studio and living room is provided by a series of large north facing monitors while the more private master suite is volumized in maple millwork."
Click on any image to start lightbox display.  Use your Esc key to close the lightbox.  You can also view the images as a slideshow if you prefer  

If you're thinking about adding an office to your home, the Tetra-Shed is sure to stimulate your thinking…