OK, I can hear you asking… what has an electric Flymo mower got to do with a DeWALT 20V jigsaw. Well, a surprising amount. Let me explain…
Years ago – OK, so it was many decades ago, Flymo hit the market with a truly innovative idea – a light, easily maneuverable, hovering lawnmower that was electrically powered. Now it so happened that, at that time, I was living in suburbia on a block where the rear yard sloped away to a pond. Mowing up and down was exhausting and mowing across tended to be a balancing act in some spots. So I bought a Flymo and an extension lead. Hmmm… and then another extension lead.
Did it work? Well, yes, but only as far as the lead went. And if I backed up, I had to be extra careful not to either trip over the trailing lead or electrocute myself as I cut the lead in two. I remember thinking at the time that except for the 20 lbs of lead involved – a real damper on hovering – a good car battery was all that was needed to solve both problems. Anyway, my ultimate conclusion was that the unit was perfect for little old ladies with pocket-handkerchief yards as I headed back to the trusty 19″ Victa!*
Fast forward 20 or so years to the introduction of battery-driven drills. I didn't need one but I couldn't resist the technology. It was 9 volt and came with two batteries – unfortunately, NiCAD which, apart from being disastrous for the environment, had little staying power and were guaranteed to give up completely one day after the 12-month warranty expired. And did I mention the weight of those batteries?
Moving from useless to useful to 'must own'…
Fast forward another 20 years and we've progressed through the era of the nickel-metal hydride battery (NiMH) – also heavy and subject to memory, to the wonder of the lithium-ion battery or Li-ion as it tends to get labeled. They're light and powerful, quick to charge, and have such a good life expectancy that some companies warrant the batteries for three years and AEG for five years! If like me, you've been disappointed by battery-powered tools, your time has come!
And so to jigsaws…
My trusty Bosch jigsaw is way past retirement age so I went shopping for a replacement. The last three power tools I've purchased have been Worx brand (sold in the USA under the Rockwell label). They are 20 volts and I've been exceptionally pleased with them. But, for some strange reason, the Worx jigsaw is stuck back in the 12v, 1.3 AH age. I'll admit it's a clever design – it converts to a reciprocating saw in about 5 seconds, but I've become addicted to the extra grunt that comes with 20 volts and I'm not going back.
Quality, design, and great performance for a winning price!
There are some excellent options at the quality end of the jigsaw range including from Hitachi, Panasonic, AEG (now owned by Ryobi), and others, but I found I couldn't go past the 'bang for bucks' currently on offer for the DeWALT DCS331M1 20V Max Lithium-Ion Jigsaw Kit.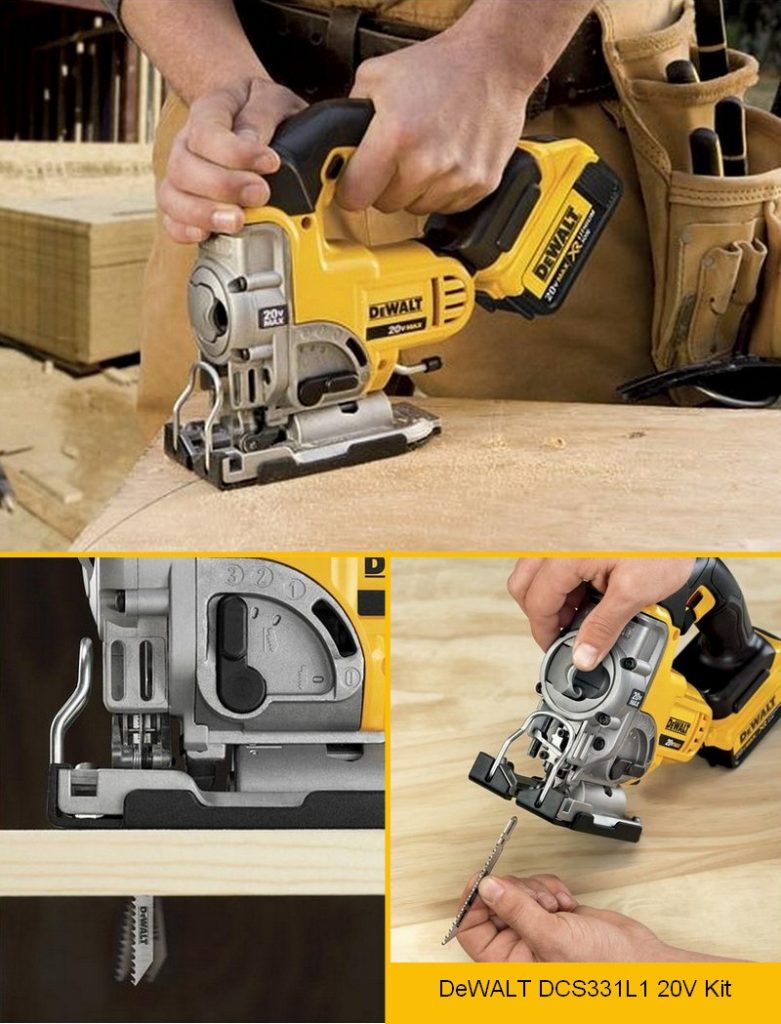 I've only used my new saw for a couple of cuts but I love the power, the smoothness, the way it fits the hand, and the great blade changing design – read safe!
Here are a couple of excerpts from other reviews that I found:
"I can say without a doubt, this is the finest jigsaw I have ever owned or used. It is a very nice unit which weighs about 5 1/2 pounds (2.5 kg) and possesses a mult speed trigger, tool less blade change and easy bevel setting. I am not easily impressed, especially over items like tools, but this baby reeks of high quality and goes well beyond the normal quality of a typical Harry Homeowner type tool. I think any professional contractor who might need this several hours each day would be pleasantly surprised with this unit. The variable speed trigger allows you to ramp up to 3000 rpms (50 Hz) if you need it."
and this one
"This jigsaw has unbelievable power for a cordless tool. Very, very solid and just overall exceptional quality. Grips the blade very well, zero wobble and doesn't go through batteries like butter. Dewalt has great tools overall, but sometimes they really deliver an exceptional piece of equipment that will simply outperform everything else in the category. This is one of those strokes of genius."
Because this is the only battery-powered DeWalt I own, I needed to buy the kit which includes both the battery and charger. If you already have anything in their 20v system, you can just buy the bare tool and maybe a spare battery for big saving. None-the-less, I still feel I got a bargain. This is a tool that I am going to own for a long time. It's the sort of tool that makes you want to make things so it's going to get heaps of use. It will probably get amortized down to cents per cut 🙂
Ahhh yes, the Flymo…
So that brings me back to the Flymo lawnmower. While searching for my jigsaw, I saw a – wait for it – 56-volt Li-ion lawnmower with a three-year battery warranty and a list of testimonials a mile long!  A few decades too late for me since I now live on acreage but perfect for anyone on a suburban lot! I'm trying to get hold of one to review so stay tuned.
And a little bit of parochial (and family) history…
* For all you folk all over the world who have bought a Victa (or any of the million knock-offs), you should know that it was an Australian invention designed in 1952 by a gent named Merv Richardson. By 1958 the business was exporting to 28 countries and employed something over 3,000 people in it's Sydney manufacturing plant. In total, Victa built something like 8 million mowers before leaving Australian shores forever after being sold to USA company, Briggs and Stratton. (Most Victa mowers sold in Australia now are assembled here from a mix of imported and locally produced components.)
I know this history intimately since a relative, who owned a small engineering workshop, was offered 50% of the business before it got off the ground. He declined the offer believing the mower would never sell!