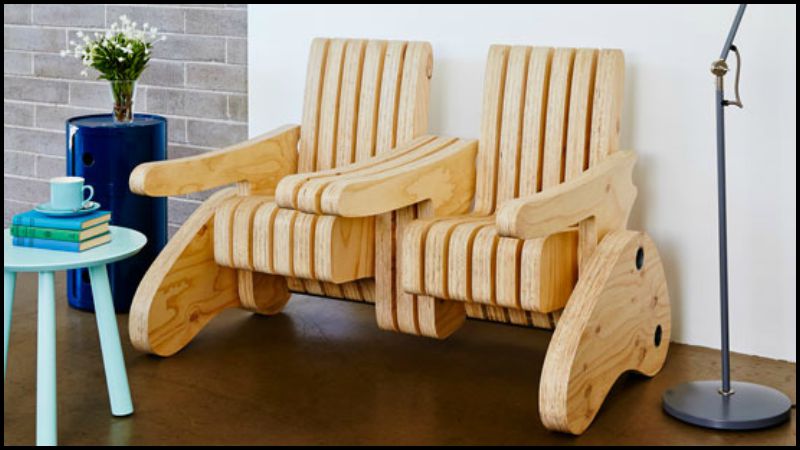 When you consider chairs for something other than their function, you find that the designs behind their making, and the reasons we enjoy them, encompass vast and varied concepts.
Sure, a chair is something you sit on. But it is the very simplicity of their purpose that makes designing a desirable chair so difficult.
This designer two-seater can be several other kinds of furniture for you, depending on your needs. And what's more to like about this elegant piece of furniture is that anyone can DIY it now!
Our Pick
This multi-function seat can transform into a bench, an armchair, a two-seater, a seat with a side table, or a display table in just seconds! But it's not only versatile, but it also looks good too. It is neatly designed with lines seeming like an art piece in a room.
While it may appear complicated, this designer furniture is surprisingly very simple to build. You just have to be a little more patient as it involves quite a bit of shaping and cutting of plywood sheets. Once you're done, you will end up with a sturdy, 120 kg piece of furniture you will always enjoy!
Get your tools and materials ready and watch how it's done below!
You'll need these materials:
17mm Structural CD Plywood
1.8 meter long 50xd Galvanized Steel Poles
250 ml Wood Glue
Bullet Head Nails
Lacquer Finish
And these tools:
Pencil Marker
Drill
Jigsaw
Router with flash trimming bit
Hammer
Sander
Paint Roller
Adhesive Spreader
Click on any image to start the lightbox display. Use your Esc key to close the lightbox. You can also view the images as a slideshow if you prefer

Thanks to Rob Palmer for this great project. You can get step-by-step instructions here…