Area:    Wandsworth
Year Built:    2007 – 2008
Photography:    David Butler
Older cities are littered with remnant spaces, abandoned workshops and other derelict sites. These sites are often outside of current site regulations and development guidelines. They often become dumping grounds for rubbish and sometimes, the homeless.  Undercurrent Architects has been consistently resourceful in finding ways to overcome the many obstacles, resulting in some extremely innovative architecture.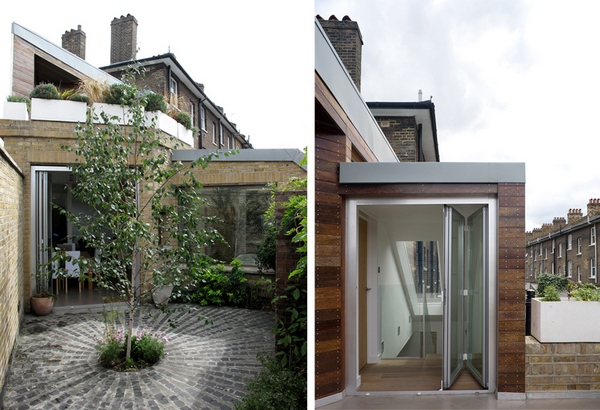 Here are the architect's notes for Palmwood House:
Description:
Palmwood House is a prototype building for problematic urban sites; a small, triangular infill lot severely constrained by height restrictions, acute boundaries, failed development plans and conservation controls. The design works with a gradation of spaces, views and daylight to achieve an extensive living experience despite its restricted volume.
This house looks for opportunities in the constraints and takes advantage of every square inch of floor space, minimising its sense of containment without compromising the high degree of privacy and introspection that provides respite in tight urban living conditions.
Beyond working with site limitations, the design utilises unique material applications to help the building stand out even when dwarfed by its neighbours as well as sustainable practices (low energy, reused materials, advanced building systems) so the building's ecological footprint reflects its small physical one.
Points of interest:
–        pocket sites; squeezing everything from the little you have to start with
–        heavily constrained sites; overcoming constraints and arriving at a design which is more than problem solving
–        brownfield, industrial sites brought back into use
–        total privacy despite high porosity (space, light and views)
–        difficult geometries which bring out unique qualities rather than dominating design
–        Planning Permission despite blacklisted site in Conservation Area
The home has won international recognition for it's design innovation as an infill project. Awards include:
London Design Award:    House of the Year 2009/10 (Wandsworth Council)
RIBA Shortlist 2008
Wallpaper Magazine ;  Worlds Best Architects feature project 2007
Click on any image to start lightbox display.  Use your Esc key to close the lightbox.  You can also view the images as a slideshow if you prefer  

Another mind expanding home by the same architects is Archway Studios…