Thanks to Michelle Loynes of A Noodoll Life for letting us feature their DIY fire pit made from an old washing machine drum.
f you're in the unenviable position of having to replace a broken washing machine, then you'll probably be glad to know there is a way to get every last dollar out of your old model. Before consigning it to the dump, salvage the drum and repurpose it into a DIY fire pit for your backyard.
Our Pick
Wood Burning Fire Pit Backyard with Cooking Grill
The Black round fire pit is designed with an outer ledge around the central fire area allowing for convenient access to drinks and roasting supplies.
Buy on Amazon
We earn a commission if you make a purchase, at no additional cost to you.
11/29/2022 06:04 pm GMT
That's what Michelle and her husband did and now they have a beautiful contemporary fire pit that's excellent for barbecues and storytelling all year round!
Michelle and her family had a break from the rain. However their area wasn't particularly warm, and they wanted to get some garden time, so her husband had an impromptu fire using an old metal bin.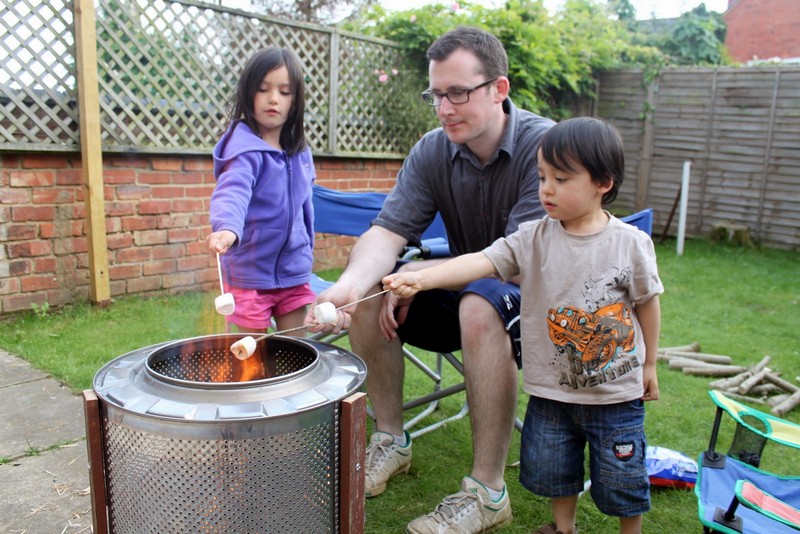 The makeshift fire pit was such a success that they wanted to have a permanent solution. But they're not willing to spend a fortune on a new one.
What are the materials needed to make a DIY fire pit out of an old washing machine?
After a bit of research, they stumbled upon a washing machine fire pit conversion. With a free broken washing machine from freecycle, a couple of pieces of timber from salvaged slats, and spare bolts from previous projects, they built this clever and inexpensive fire pit!
Would you like to have one of these in your backyard?
You'll need these materials:
Metal Drum from a washing machine
Wood Planks – about 3″ wide, for legs
Bolts
And these tools:
Click on any image to start the lightbox display. Use your Esc key to close the lightbox. You can also view the images as a slideshow if you prefer 😎
If you liked this project, you will also like viewing the

DIY Concrete Fire Pit

…