Built area:    88.0 m2
Year built:    2016
Photographs: Lise Bjelland
Selestranda House is a 50-year old cottage renovated to meet the needs of the modern times. The challenge for the architects was on how to balance between old architecture and the new. It has single pitched, gabled roof that reaches the ground. This is so the house can withstand harsh weather conditions.
The house sits on a flat piece of land surrounded by beaches, dunes, and sloping fields. Large glass windows allow the homeowners – a family of four – to thoroughly enjoy the views.
This residential structure is made up of two volumes. The main volume – or the old cottage – houses the living and dining areas and the kitchen. The newly built annex contains the storage room, bathroom, and bedroom.
The interiors of the house possess a no-fuss, no-frills quality. With neutral color palettes, light timber, and minimal furniture, the house is basic but nonetheless functional.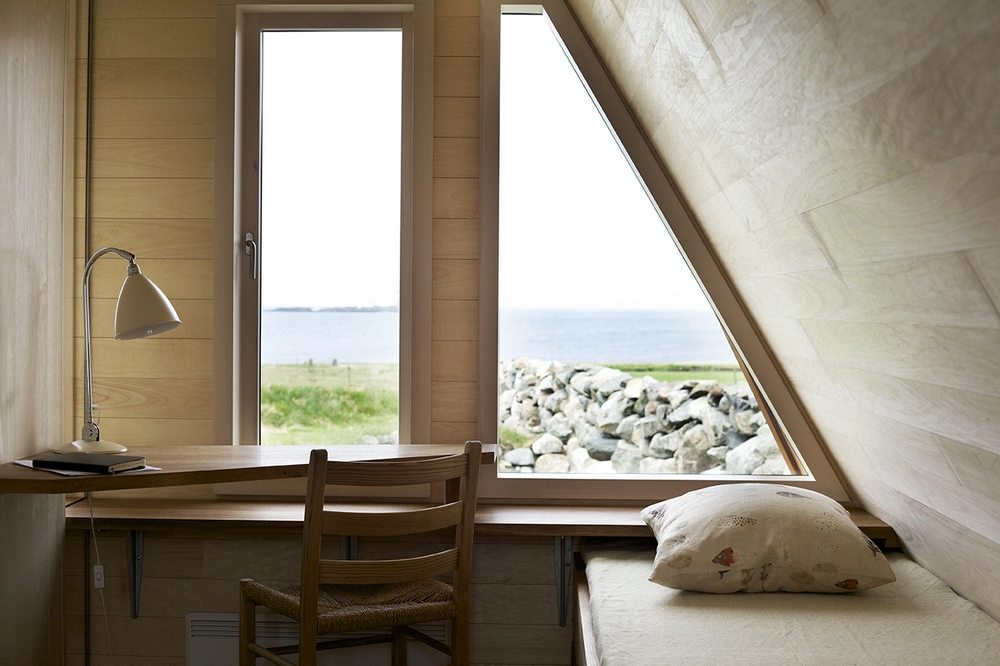 Selestranda House brings a sense of old world charm. The interiors may reflect the modern, contemporary times but the overall feel evokes nostalgia.
Notes from the Architect:
At Sele, on the southwest coast of Norway, a fifty-year-old cottage by architect Atle Sørby needed a total renovation and reorganisation. It was essential to recreate the cabin with a modernized standard, and balancing this need with a respectful approach towards the original architecture.

Built in '61, the architecture contains a symbiosis of elements referencing modernist and local architecture. The main volume's pitched roof with pulled down gables is a reinterpretation of the traditional «Jærhus», a housing typology typical for the region, adapted through centuries to withstand harsh local weather conditions.

Two volumes make up the cottage. The new annex contains a bedroom, a bathroom and a storage room while the main volume now only consist of one large common room, with a shared kitchen, eating and living area.

The surrounding landscape is relatively flat, consisting of long sloping fields, dunes and beaches, only separated by narrow roads and old drystone walls. Because it is situated in a landscape-preservation area, close to the shoreline, the local government paid close attention to the building process.

Local craftsmen carried out every part of the operation, which required substantial tailored solutions. The roof tiles, coming from local brick-factories in Sandnes, were carefully taken down, stored and put up again, one by one.

In the common room, the walls and ceiling has been taken down, creating and an open, airy space. Standing there, gazing through the ribbon window, one has panoramic view across the moody North-Sea horizon.
Click on any image to start lightbox display. Use your Esc key to close the lightbox. You can also view the images as a slideshow if you prefer. ?
Exterior Views:
Interior Views:
Drawing Views:
Norway is a country with interesting houses. Take a look at Cabin Vindheim, a home that blurs the line between nature and architecture.