Project Year:  2016
Area:  65.0 m2
Photographers:  Rasmus Norlander, Einar Elton
Cabin Vindheim blurs the line between architecture and nature. This solitary lodge looks like it is buried deep in snow, with only its rooftop showing. Clad in black-stained pinewood, the cabin looks striking in the midst of glaringly white snow.
The cabin features slanting roofs that forms an uninterrupted ceiling which connects all rooms. It also serves as a slope for sledding, toboggan runs, and ski jumps.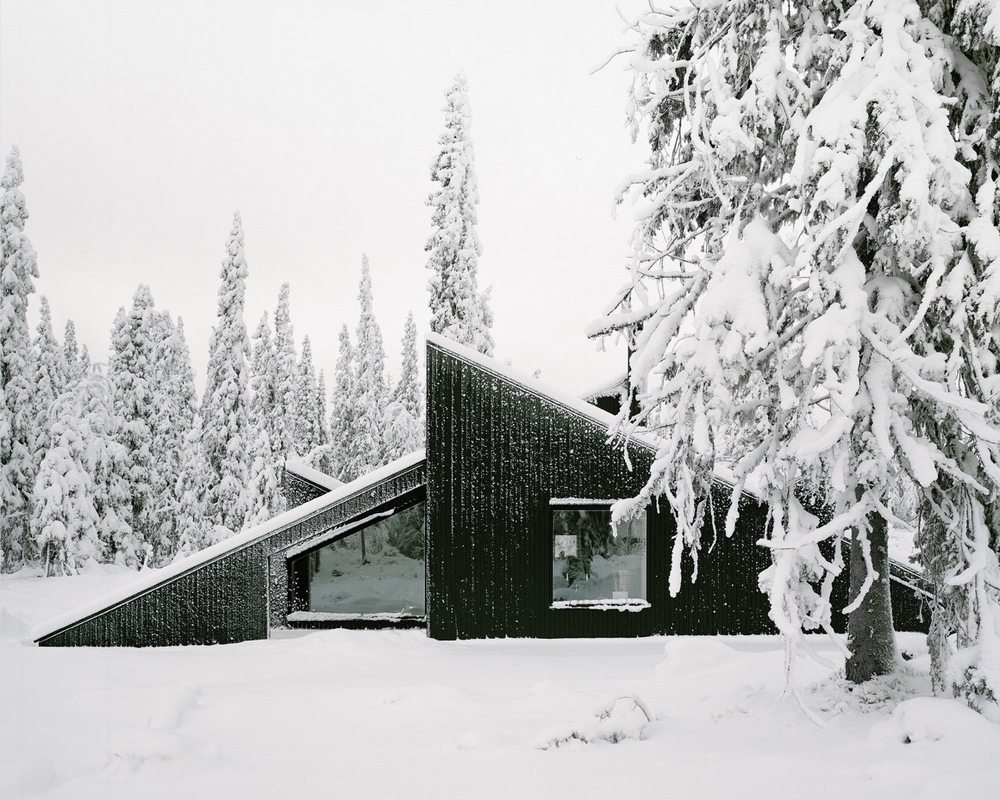 Inside, it is spacious and comfortable. Despite being small in size, the cabin is generous in space. It has a utility room, ski room, living room, bedroom, and a sauna.

There are huge windows and skylights which allow plenty of light to come in.  Its interiors are covered in waxed poplar veneer. Cabin Vindheim runs entirely on a wood oven and solar energy.
The lucky homeowners get picturesque views at night. From their bed, they could stare up the skies and enjoy the northern lights. This may just be the cherry on top.
Notes from the Architect:
Cabin Vindheim is situated deep into the forest, in the alpine landscape close to Lillehammer / Norway. The cabin is inspired by the classic motif of snowbound cabins, which have only their roofs protruding through the snow. When snow covers the structure the division between architecture and nature becomes blurred, and the roof becomes a man-made slope for ski jumping, toboggan runs and other snow-based activities.

In spite of a compact floor plan (55m2) the cabin is spatially rich and generous due to the sloping roof and the various uplifts. From the main bedroom and the mezzanine you can even gaze up at the stars and enjoy the northern light, while lying in bed. When resting in the cabin's bedroom, a large 4m-long window creates the impression of sleeping above the treetops and underneath the stars.

The building, which is composed of a large living room, a bedroom, a ski preparation room and a small annex with a utility room, is clad in black-stained ore pine. The interior is lighter, fully covered in waxed poplar veneer. The uninterrupted ceiling connects all of the rooms.
Click on any image to start lightbox display. Use your Esc key to close the lightbox. You can also view the images as a slideshow if you prefer 

Exterior Views:
Interior Views:
Drawing Views:
Can't get enough of cabins? Check this one out, the PV Cabin…