Yatsugatake Villa – MDS
Location: Hokuto-City, Japan
Area: 110.01 m2
Built: 2012
The owners of this villa are an older couple who left the city to spend their retirement farming. They wanted a low-maintenance home with maximum energy efficiency.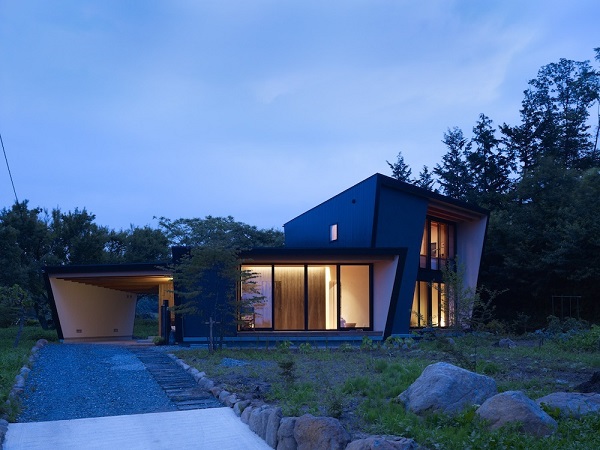 Located in a harsh environment in the foothills of a mountainous region, it was necessary for the house to provide a comfortable interior temperature without relying on air conditioning to stay cool in summer and warm in winter.
To maximise sunlight entering the home during the cold winter, the building is arranged in a fan-shape opening toward the south, so the owners can enjoy the warmth of the sun at any time of the day.
In summer, on the other hand, the extended, gate-shaped, roof and walls block the bright sun and shade the interior. The windows placed on the south and north invite the breeze to cool down the interior.
Inside the house, wooden ceiling beams are left exposed, while doorways with softly curved edges lead between rooms.
A wooden staircase extends up through the centre of the house to connect rooms on the ground floor with a combined bedroom and study room on the first floor.
Click on any image to start lightbox display.  Use your Esc key to close the lightbox.  You can also view the images as a slideshow if you prefer  

Another home you may also like is The Nest…