Total Built Area:     720 m2  (7,776 sq. ft.)
Unit size:     180 m2  (1,944 sq. ft)
Year built:    2009
Photography:    Jaime Navarro Soto
The land was a well established garden, subdivided off an existing home. The brief was to make maximum use of the available codes while providing maximum privacy yet retaining the natural beauty of the lot.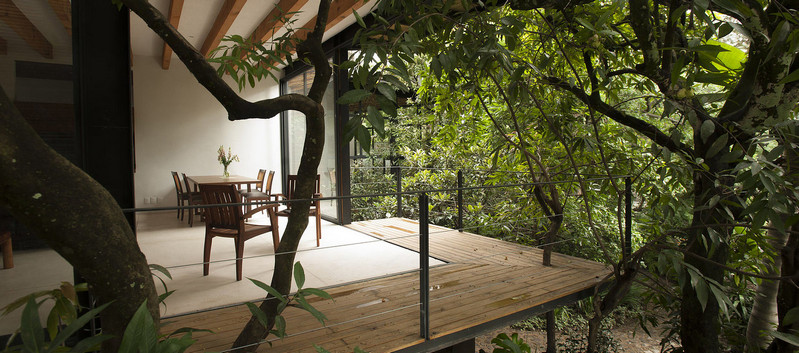 Here are the architects notes:
The Chipicas Town Houses are four independent single buildings, which were built inside a private garden in down-town Valle de Bravo, Mexico. The vertical design was used to salvage most of the vegetation, as well as, a solution to the small footprint. The houses were designed with two sides of the façade made of floor to ceiling windows and two sides with a skin made of wooden lattice to gain a sense of privacy.
Each house is a three-story building with an additional roof garden, and consists of two bedrooms, 2.5 bathrooms, living and dining area, TV room, kitchen, and laundry room. Our philosophy is simple and logical design, architecture that is not pretentious, that is decisive in its use of local materials; timeless and transcendent.
We believe in constant communication with the environment, with the setting, with the pre-existing, as an honest dialogue that entails in-situ awareness. The architectural outcome has to reflect this principle in every aspect: structurally, in function and form, and with its materials.
We feel the architects have met the brief on every score. What do you think?
Click on any image to start lightbox display.  Use your Esc key to close the lightbox.  You can also view the images as a slideshow if you prefer.
If you like this, you're sure to enjoy viewing these vacation homes…