Portland , Oregon 2004
Photography by Cameron Neilson
Great architects seem to have the ability to blend art with function. Robert Harvey Oshatz knew where he was going early in life. In his final years in high school, he worked 30 hours a week in a Los Angeles architectural firm developing construction drawings on multi-story apartments, commercial/retail buildings, and religious structures. The rest is history.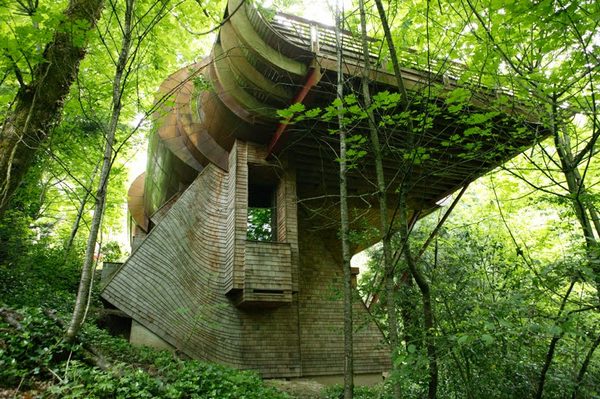 "Located on a flag lot, a steep sloping grade provided the opportunity to bring the main level of the house into the tree canopy to evoke the feeling of being in  a tree house. A lover of music, the client wanted a house that not only became part of the natural landscape but also addressed the flow of music. This house evades the mechanics of the camera; it is difficult to capture the way the interior space flows seamlessly through to the exterior. One must actually stroll  through the house to grasp its complexities and its connection to the exterior. One example is a natural wood ceiling, floating on curved laminated wood beams, passing through a generous glass wall which wraps around the main living room."
Click on any image to start lightbox display.  Use your Esc key to close the lightbox.  You can also view the images as a slideshow if you prefer  😎
If you enjoyed viewing this home, don't miss The Gibson Boathouse by the same architect.