The total Project area:    3050 sq. ft.
Project Period:    16 months
Year built:      August 2009
Photography:      Kushantha and Danushka (Studio U)
Madura is the Tamil word for paradise. Anyone staying in this home, owner or the guest may well feel that they are in 'madura'. The abundant use of natural materials creates an ambiance of relaxation and hospitality.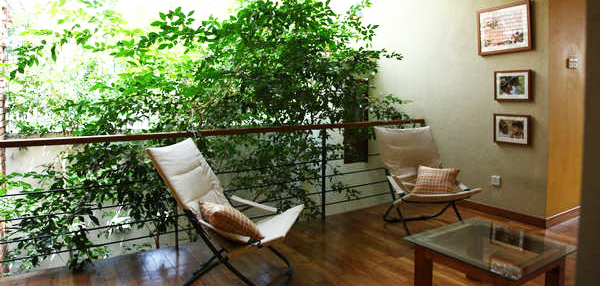 By bring nature inside – timber floors and stairs, doors and furniture, trees and plants, and combining those elements with stone and warm-coloured accent walls the boundaries become blurred.
From the architect:
The greatest challenge was to achieve the desired sense of lightness and void and at the same time confirm to the urban environmental requirements. The design aspired to create a dialogue between solid and void, building and landscape features. This dialogue is evident from the street as visitor walk along the covered path through the front courtyard. The solidity of one volume is put together against lightness of the other; the landscape and built elements fuse with one another. The outside permeates the interior and the home is enveloped with natural light and ventilation.
Click on any image to start lightbox display. Use your Esc key to close the lightbox. You can also view the images as a slideshow if you prefer 😎