Built area:    30.0 m2
Year built:    2016
Photographs: David Barbour
Grassy knolls surround Studio Fiskavaig, a small holiday home in the Isle of Skye, Scotland. The design is basic and simple. It'll only take a year to build, interiors included.
The Studio is a part of three other small homes designed for the same owners. They refer to it as the "baby sibling". They use this as their holiday home and workspace in between rentals.
Studio Fiskavaig shares some common characteristics with the other two homes. They all have corrugated sidings and a mono-pitched roof.
The Studio has a timber-made structure. With walls made of plywood and chipboard walls, the design has a do-it-yourself ethos.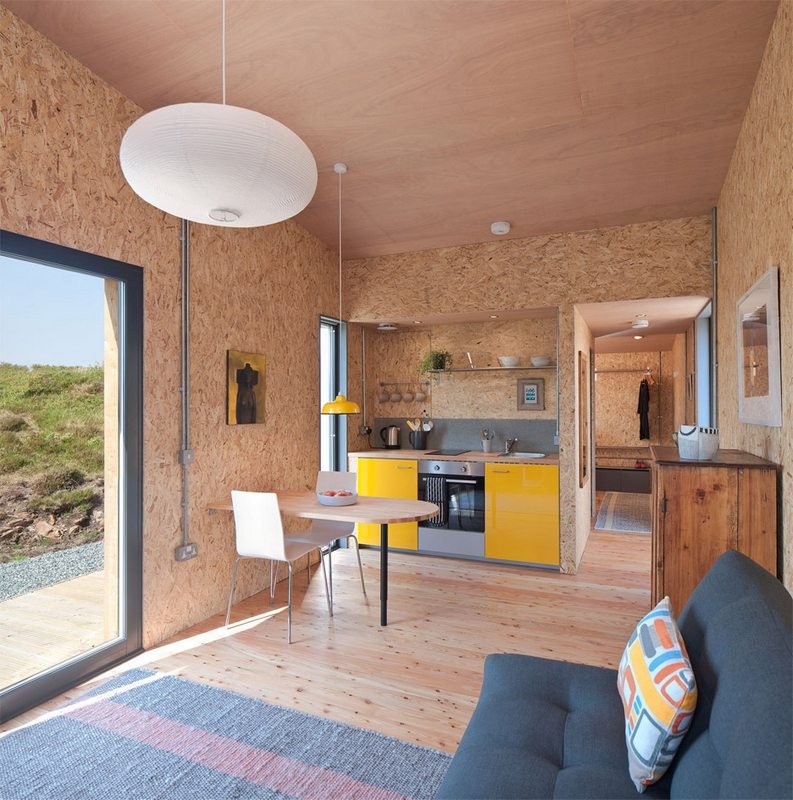 A septic tank is not needed as the home has a composting toilet. Walls are highly insulated, too. There's a panel heater and a wood-burning stove minimizing the need for heating.
Notes from the Architect:
Our clients came to us with a request for a design for a small self-build space on a very small budget. The site, at Fiscavaig on the west coast of Skye, was to be a small hollow set some distance from their house.

It was important that the privacy and views from the existing house were maintained so the design sits very low in the landscape, nestling into a small drumlin. With an angular form that mimics a large fragmented boulder, it does not break above the horizon of the clients' house and sits low beside its more immediate neighbour. The angled south-west facing wall sits at 90° to the long, low-pitched roof, producing an abstraction of the typical form associated with dwellings.

The building is clad throughout with untreated fibre-cement cladding, the most utilitarian of raw materials in the agricultural landscape, reinforcing the frugality of the design. This is relieved only by windows and a simple screen of larch boarding between windows to the north-west elevation. The roof flashings are tight and square due to the relationship between roof ridge and wall.

The studio is a flexible space but although tiny – 30 square metres only – it can be used as a fully functioning micro-house. The interior is clad in the same thrifty manner as the exterior with unadorned OSB boarding, structural ply and surface-mounted services.
Click on any image to start lightbox display. Use your Esc key to close the lightbox. You can also view the images as a slideshow if you prefer. ?
Exterior Views:
Interior Views:
Drawing Views:
Quiet spaces are sanctuaries. Like the Writer's Retreat in Brazil.