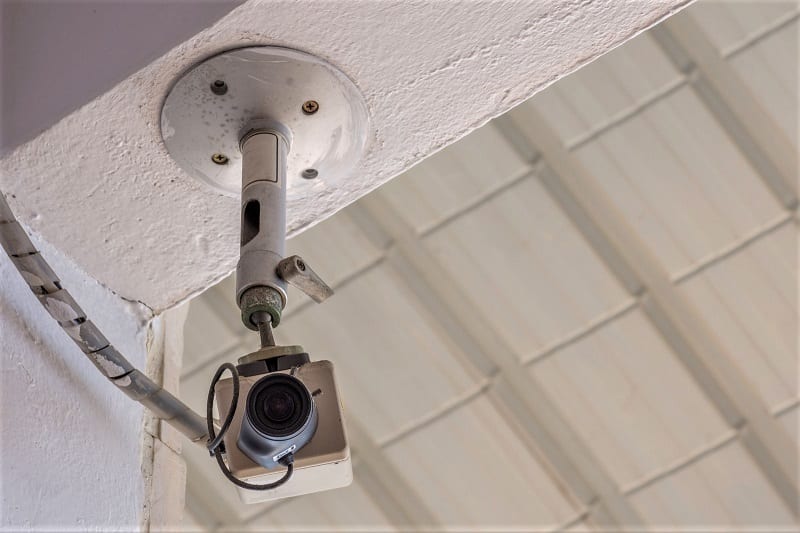 Have you ever had a package stolen from your porch? If so, chances are, the thief got away long before you even realized you'd been victimized. There is an even better chance you'll never find out who stole from you.
If that sounds familiar, it's time to invest in an outdoor security camera. These tough smart home devices are designed to withstand bad weather and extreme temperatures. They'll also alert you when someone or something is out there – even when you're away.
Should anyone take a package from your porch again, the cameras will record a video of the incident. Should a burglar attempt to break into your home, you'll have a record of the event.
Depending on its features, an outdoor security camera might even let you talk to whoever is on your property.
Not All Outdoor Security Cams are Created Equal
But not all security cameras are created equal. Some are loaded with useful features. Others, on the other hand, focus only on the basics.
Choosing the right one for you can be difficult, given the range of options. That said, below are three of the best outdoor security cameras on the market right now.
Wyze Cam V3 Security Camera
The Wyze Cam V3 1080p Security Camera looks like the Wyze Cam V2, but there are subtle differences. The V3 has rounded edges while the V2 has sharp corners. The V3 also has an IP65 weatherproof rating. This means you can use it both for indoor and outdoor home security.
The cube-shaped V3 measures 2.2 by 2.0 by 2.0 inches and sits atop a square base with a hinge. The hinge gives you 180 degrees of vertical movement. The system uses a swivel mechanism for 360 degrees of horizontal maneuverability.
The front of the camera holds the lens, a microphone, and an LED indicator. You'll find a speaker at the back of the camera, along with a hardwired USB power cable. The bottom holds a micro-SD card slot and a reset button. Both of these are protected by rubber covers.
The Wyze Cam V3 comes with a 6-foot USB power cable, a USB power adapter, and a mounting plate. You'll also find mounting screws and a quick start guide in the box.
Installing the camera is easy. Simply download the mobile app and create an account. Tap the plus icon on the upper left corner of the app's home screen. Tap Add Device, then tap Cameras and select the Wyze Cam V3 from the list.
Follow the on-screen instructions to plug the camera into a power outlet. Confirm when the LED is flashing red. The app will walk you through the next steps of the setup. We had no problems registering the device and including it in our test WiFi and Alexa networks. All in all, you should be done in about 10 to 20 minutes.
This camera impressed us during testing. The V3 uses a Starlight sensor that enables color night vision. The camera delivers 1080p video at 20fps with a 130-degree field of view, too.
The unit has a built-in 80dB siren. You can use it with the Wyze Spotlight Kit, which is triggered when the camera detects motion. But the kit is sold separately and will cost you around $100.
When the V3 detects motion or sound, it will record a 12-second clip. The system will store the clip in the cloud for free for 14 days. But there's a 5-minute cooldown period between events in which the camera will not record.
However, if you install a 32GB microSD card, you can enable 24-hour continuous recording. This will allow you to view images in time-lapse mode.
The Wyze Cam V3 has several other useful features. With the app, you can create rules to have the camera integrate with other Wyze devices. These might include smart light bulbs, motion sensors, and door locks.
The system supports Alexa, Google Assistant, and IFTTT applets, which allow it to integrate with other smart devices. We were surprised to discover that it will not work with Homekit, though.
You can enable Motion Tagging, which places a box around whatever is triggering the motion sensor. Two-way audio is adequately loud and clean, as well.
The system's sound and motion detection worked as intended during our tests. But we recommend that you adjust the sensitivity levels on both. This is just to avoid unnecessary alerts from background noise and motion from pets.
The alerts arrive immediately when triggered. The built-in siren was loud enough to be heard throughout our test home.
The recorded video is just as sharp as it is life, and the camera identifies human motion quite accurately. The system had no problem responding to Alexa voice commands, too.
So how do we rate this camera? We liked the excellent 1080p video, the color night vision, and local and cloud storage. We were particularly impressed by the system's intelligent motion and sound detection.
All in all, we say the Wyze Cam V3 is an excellent product for the price it commands. This is easily one of the most feature-rich home security cameras on the market right now.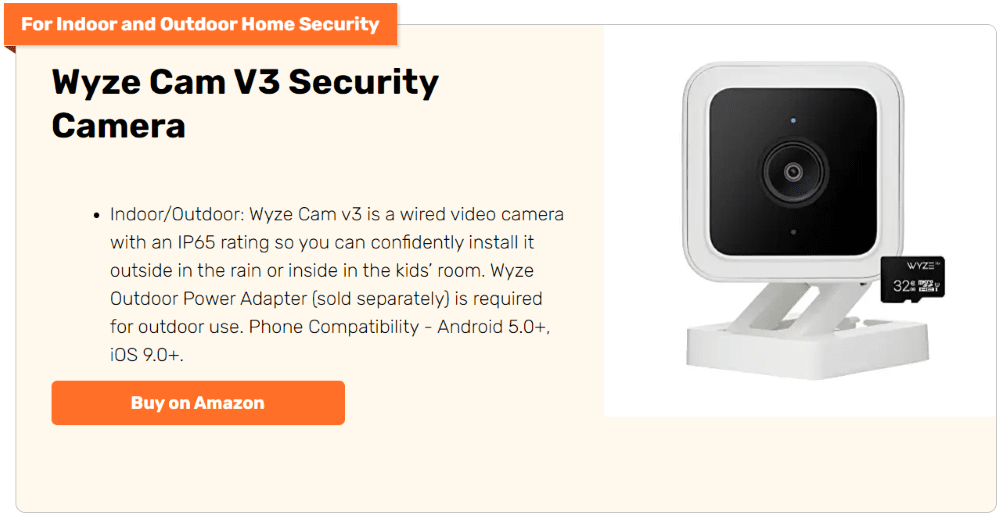 Blink Outdoor Wireless Security Camera
The Blink Outdoor Wireless system comes with a small 2.7-by-2.7-by-1.2-inch camera and an even smaller 0.7-by-2.3-by-2.5-inch Sync Module. The module connects to your home Wi-Fi network.
The camera is black and has an IP65 weather-resistance rating. The device is powered by two AA batteries that are rated to last two years.
The Sync Module is powered by a mini-USB AC adapter. The module contains a 2.4GHz Wi-Fi radio for connecting to your home network. It also has an RF radio for communicating with the camera.
Setup and installation were a breeze. Just download the app, create an account, and follow the on-screen instructions to install the Sync Module. We encountered no problems connecting to our test WiFi system.
The Blink Outdoor uses the Blink Home Monitor mobile app for Android, Fire OS, and iOS devices. The app opens to a home screen with panels for each installed camera.
Each panel contains a still image of the camera's field of view. Each has a button for taking a snapshot and a button for launching a live stream.
You'll find a USB port on the side of the module. You can use that port to connect a USB storage device to store event-triggered video clips.
If you prefer to store video in the cloud, you can subscribe to one of Blink's Cloud Storage plans. The basic plan gives you 60 days of rolling storage for one camera. The subscription also allows you access to Blink's Photo Capture feature.
The capture feature has the camera take a still image every hour. The images are later assembled into a short video clip. The clip allows you to see what transpired right before a motion-triggered event.
The Blink Outdoor delivered excellent 1080p daytime video during our tests. You can view the live stream in full-screen mode by turning your phone sideways. You can initiate two-way talk by pressing the Talk button. Everything worked as advertised.
The black-and-white nighttime video appeared quite sharp up to around 10 feet. Objects beyond that range began to blur depending on the distance.
We received motion alerts promptly, too. We did get a few false alerts, but they were not enough to be bothersome.
We had no problems viewing video on an Amazon Echo Show using Alexa voice commands, as well. But we were disappointed to discover that the system does not support Homekit or Google Assistant.
Our verdict? We liked Blink Outdoor's long battery life, 1080p video, and easy installation. While it requires a hub to connect to your network, it comes in the box.
The USB port for local video storage is quite useful and the camera did perform as advertised. We say this is a good choice for anyone looking for an affordable outdoor security camera.
For Easy Setup
Arlo Pro 4 Spotlight Camera
The Arlo Pro 4 Spotlight Camera's weatherproof enclosure measures 3.5 by 2.0 by 3.0 inches. The slide-in camera assembly is glossy black and holds a removable, rechargeable lithium-polymer battery pack. The battery is rated to last up to six months between charges.
On the base of the enclosure are a magnetic charging port and a button that releases the camera assembly. You can attach the Pro 4 to your house or any other structure using the included magnetic mount. (You can purchase a separate screw-in mount if that's what you need.) You'll find a magnetic USB charging cable and mounting hardware in the box, too.
Like most security cameras these days, the Pro 4 was quite easy to install. Just download the mobile app and create an account.
Once you have the app installed on your phone, scroll down to the bottom of the Devices screen. Tap Add New Device. In the Cameras menu, select Pro 4.
The app's Settings screen is where you enable/disable Smart Notifications, and configure Package Detection, e911, and Call Friend options. You can also check the camera's battery level and configure motion detection and activity zone settings.
You can connect the camera to your home's smart hub, too. The camera works with Alexa, Google, and Siri voice commands. You can also integrate it into a Samsung SmartThings or Apple HomeKit home automation system. The Pro4 will interact with other third-party smart devices with IFTTT applets, as well.
Follow the on-screen instructions to connect to your WiFi network. From there, the setup is simply a matter of inserting the battery into the camera.
The camera uses a 4-megapixel sensor and HDR technology to capture video at 2K resolution. It has a 160-degree field of view and 12x digital zoom. T
The system uses two infrared LEDs for black-and-white night vision. That said, the product comes with a motion-enabled spotlight that provides color night vision, too.
The camera is equipped with a noise-canceling microphone, a speaker, and an 80dB siren for scaring off unwanted visitors. The device also offers auto-zoom and motion-tracking capabilities.
The motion sensor has a 130-degree range. The system is capable of detecting whether a person, a vehicle, or an animal has triggered the sensor.
The Pro 4 will record video when motion is detected. But you'll have to subscribe to the Arlo Premier Smart Plan to access the feature. That is unless you have a Smart Hub with an attached USB drive.
The Arlo Pro 4 performed wonderfully in testing. Daytime 2K video showed excellent image detail with rich colors. The black-and-white night video was well-lit. The contrast was good. The color night vision was also sharp, but colors weren't quite as vivid as daytime colors.
For Higher Quality Recording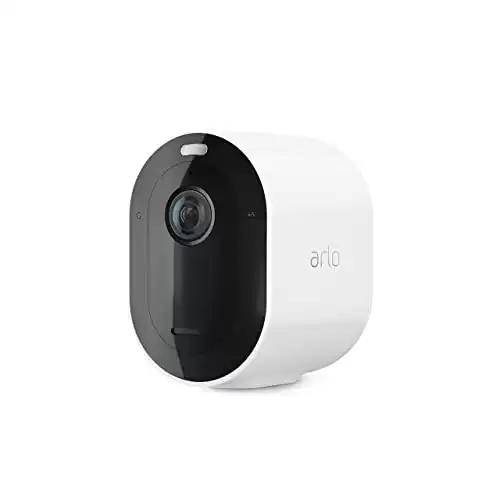 Arlo Pro 4 Spotlight Camera
See a bigger picture - The security camera has a wide 160° diagonal viewing angle lens for auto image correction and reduction of the fisheye effect to make this surveillance camera ideal for protecting medium to larger spaces. Controller Type: Amazon Alexa. Connectivity protocol: Wi-Fi.Power source type: Battery Powered
Buy on Amazon
We earn a commission if you make a purchase, at no additional cost to you.
11/29/2022 10:58 am GMT
Overall, the Arlo Pro 4 is by far the best camera in this line-up. We say this is a top-notch product. All its advertised bells and whistles worked flawlessly during our tests. The device certainly has a wealth of features you won't find in the Wyze Cam V3 or the Blink. And that's with or without a subscription to any of Arlo's services.
The only downside here is the price. The street price of a single Arlo Pro4 is about $200. Many homeowners might find that too steep and go for multiple Wyze V3s or Blink Outdoors, instead.
---