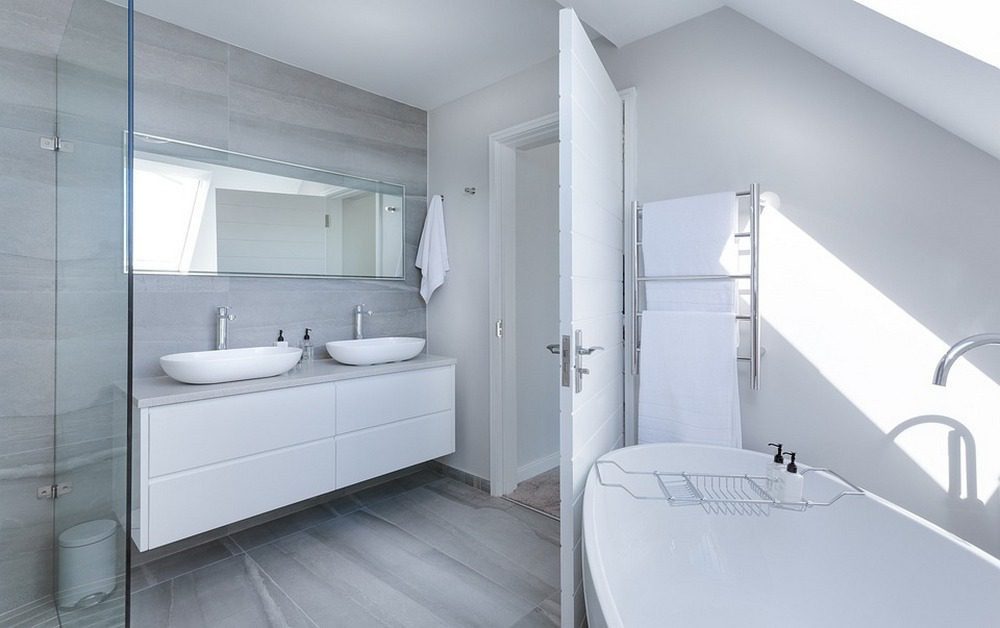 Whether you're looking to put your creative stamp on a freshly-bought home or refresh an existing space, upgrading the bathroom is one of the most satisfying ways to transform any interior quickly and easily.
How to Upgrade Your Bathroom?
Minor improvements can elevate your restroom environment, from adding fresh new towels and luxe accessories to repainting walls and installing bath fixtures. However, some upgrades may require the help of an experienced professional. If you have scheduled a full day for your bathroom makeover, here are a few budget-friendly ways to upgrade it.
Start With the Walls
A new coat of paint can completely transform an outdated bathroom into a modern, airy space. Consider choosing lighter colors for your walls to give the illusion of more space, or if you're feeling daring, you can integrate an accent wall to add visual interest.
You can also give your walls an entirely new look by covering them with wallpaper. Some wallpapers are water-resistant, so there's no need to worry about splashes or steam. If you're not into wallpaper, try adding a few pieces of art representing your style and color scheme.
Remember to choose paint, wallpaper, and art that will maintain its luster over time. The last thing you want is for your walls to look worn and faded months after completing your bathroom makeover.
Refresh With Accents
Add a few luxe touches to your bathroom with accessories that reflect your style. Hang fresh towels with matching colorful accents on the wall, or place them in an open basket. Add a new shower curtain liner, rug, or shower mat to the mix, and you've just added a pop of color and a hint of texture.
Invest in quality bathroom fixtures such as modern faucets, drawer pulls, knobs, and cabinet handles. These are great ways to upgrade your space without spending too much money. If you want to bring life into the room, try adding a few potted plants like ferns and succulents.
These will bring in much-needed oxygen and liven up the space. A good rug or mat can also add a touch of personality to your bathroom. Choose one that is machine-washable and water-resistant for easy cleaning.
Install New Fixtures
You can always go right with replacing old fixtures with modern ones. Try to find models that match the design of your bathroom and complement its existing color scheme. Consider changing out all the faucets or installing a new backsplash for a complete transformation.
If you're feeling adventurous, install an entirely new bathtub or shower. This can be a bit more costly, but it's a great way to upgrade your bathroom and make it the retreat you've always wanted.
Also, replace any outdated lighting fixtures with modern ones that match the new look of your bathroom. Choose energy-efficient bulbs to reduce your electricity bills while providing ample light in the room.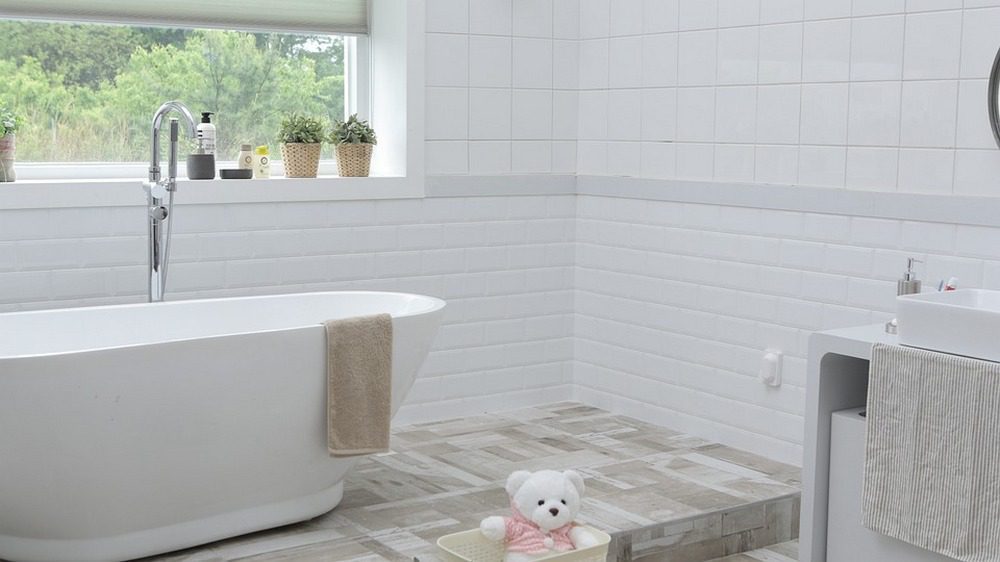 Hire an Expert
Sometimes, hiring an expert is the best way to upgrade your bathroom. An experienced professional can help you find ways to maximize space and suggest fixtures and materials that fit within your budget.
Even if you have a limited budget, achieving significant results with creativity and hard work is still possible. You can turn your bathroom into a stylish and inviting space with the right vision and resources.
Professional designers can also suggest ways to make your bathroom more energy efficient. This is a great way to save money on utility bills while enjoying the luxury of a modern bathroom.
Add Storage Space
A tidy bathroom is a happy bathroom. Even if you have limited space, there are plenty of ways to add more storage without sacrificing style. Install shelves above the toilet or on an unused wall to store extra towels and other items. Try adding stylish baskets for additional organization; these can also be used as decorative accents.
For cabinets, opt for models that are larger and more spacious. This will give you enough room to store lotions and other accessories without taking up too much wall space.
Storage options don't have to be boring; choose ones that match your décor for a cohesive look. The key is to find the right balance of style and functionality.
Take Care of the Details
Once all the significant changes are taken care of, it's time to focus on the smaller details. Add new towels, artwork, and accessories to give your bathroom a personalized touch. Try hanging pictures above the sink or adding a colorful rug for an extra pop of color. Reorganize items under the sink to ensure that everything has its place.
Remember to accessorize! A few candles and diffusers help create a peaceful environment while adding a hint of fragrance. You can also bring in some potted plants for natural beauty without requiring too much maintenance.
Adding a bit of greenery will help complete the look of your refreshed bathroom. With a few thoughtful touches, you can have a modern and stylish space perfect for relaxation or entertaining.
Clean the Bathroom
Bathrooms tend to accumulate a lot of dirt and dust over time. The grout between the tiles can also become stained and discolored. To make your bathroom look new again, it's essential to clean it deeply.
Start by scrubbing down all surfaces with an antibacterial cleaner. This will help remove any dirt and grime that build up over time. Make sure to pay extra attention to areas like the shower and sink, as these are prone to more dirt accumulation.
Once scrubbing, use a steam cleaner or damp cloth to wipe away any soap scum or residue. You can also use a grout brush to remove tough stains between tiles. Finish off with a glass cleaner for a streak-free shine.
Get a New Shower Head
Even the smallest changes can make a big difference. For example, replacing your shower head is an easy way to transform your bathroom instantly. Look for high-quality models that provide a strong and steady stream of water for optimal performance.
As a bonus, many modern models are water-efficient, saving money in the long run. When picking out a new showerhead, take the time to experiment with various settings. This will help you find one that suits your needs and preferences. You should also consider installing a timer to help save on water bills.
It's essential to take the time to maintain your bathroom. Regular cleaning and maintenance can preserve its appearance and prevent any potential issues from arising.
These are just a few ways to upgrade your bathroom on a budget. With some creativity and effort, you can create a beautiful space that will be the envy of all your friends and family.
Conclusion
With just a few simple steps, you can transform your bathroom into an oasis of relaxation and luxury. Whether you replace the shower head or add stylish storage solutions, upgrading your bathroom doesn't have to be costly or time-consuming.