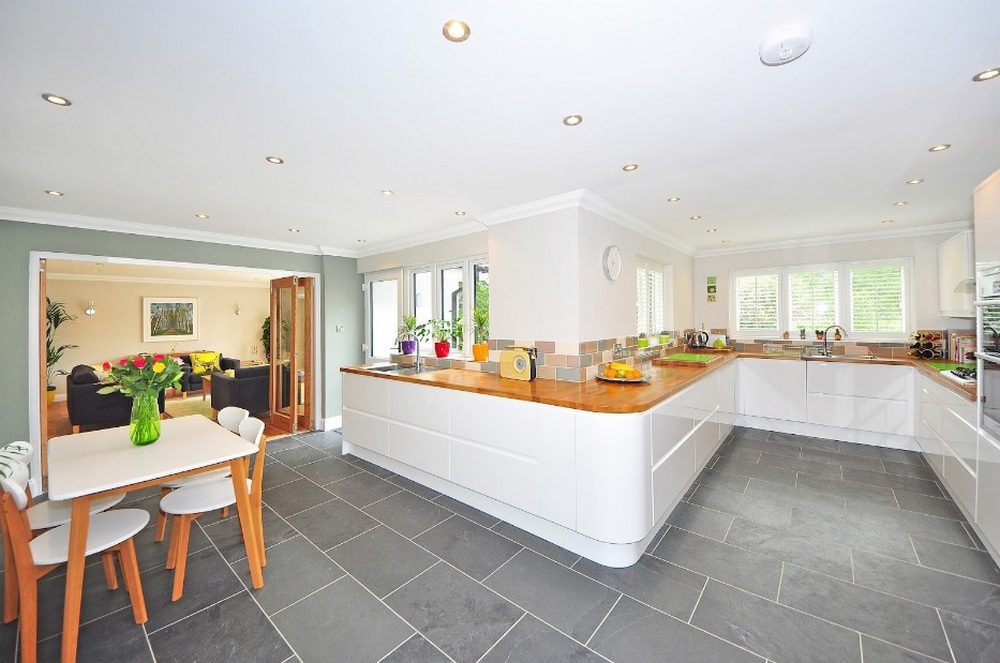 Are you feeling uninspired by your kitchen? Let us help you transform it into a lively, inviting place where you can happily whip up delicious meals. In just a few simple steps, you can make your kitchen the perfect spot to cook up a storm!
Easy Ways to Bring Back Life Into Your Kitchen
Are you ready to transform your kitchen from drab to fab? In this blog post, you will learn how to bring life back into your kitchen. We will cover topics such as adding color to the walls, updating the kitchen equipment and appliances, and creating a more functional kitchen layout. With these tips and tricks, you'll be on your way to creating a kitchen that is both stylish and inviting.
Play with New Light Fixtures
In any kitchen, lighting is key! Whether you're trying to brighten up a dreary space with more natural light or give your space a dramatic makeover, adding a few lighting fixtures can make all the difference.
For a quick and easy fix, start by rearranging the existing kitchen lighting for a fresh new look. If you want to go a step further, try experimenting with different light fixtures. From task lighting to ambient lighting, you can give your kitchen a whole new atmosphere with just a few strategic changes.
With the right lighting, your kitchen can be a place of relaxation and creativity.
Add Some Eye-Catching Accessories
A kitchen can often be the most neglected room of the house, but luckily there are plenty of ways to bring it back to life and show off its potential. One easy way to spice up an outdated kitchen is to add some eye-catching accessories!
Whimsical kitchen accessories have an uncanny ability to catch the eye and make a statement. Whether you go for vintage pieces or the latest trends, adding the right accessories can do wonders for your kitchen.
With fun and functional gadgets like a juicer or a smoothie blender, you can turn your kitchen into the perfect place to whip up healthy snacks and meals! Be amazed at how easy it is to inspire healthy eating habits!
Revamp the Colour Scheme
If your kitchen looks a bit dull, a little color can go a long way in reviving the atmosphere. A fresh coat of paint on the walls or a cheery new color in your cabinets can make a world of difference.
Examine the shades of your culinary kingdom, and consider how you can make it more interesting. Inspect your walls and furniture – should you revamp the wall colors? Can you do some cabinet refinishing?
Let your creative spirit soar! Inject some vigor into the room with a navy blue and daring yellow pairing. Or, for a more serene atmosphere, go for a tranquil blend of white, grey, and green. Either way, you can't go wrong!
Whatever route you take, don't be afraid to experiment; the possibilities are limitless!
Add Some Statement Artwork
Spice up your kitchen with some statement artwork! You don't have to be an interior designer to know that hanging up a few pieces of artwork can bring a room to life.
In the kitchen, statement artwork can also serve as a conversation starter and mood booster. Whether it's a vintage poster, a printed canvas, or even a framed photo, whatever you choose will add a unique touch to your kitchen. Hang it up and watch your kitchen become alive!
Rearrange the Furniture
One of the easiest and most cost-effective ways to give your kitchen a makeover is to simply rearrange the furniture.
Move the kitchen table to the center of the room and create a breakfast nook for morning coffee or tea. Place bar stools around the kitchen island for a comfortable spot to chat with friends. Add a few potted plants to bring life and greenery to the space. 
With just a few changes, you can make the kitchen feel brand new.
Upgrade your Appliances
The kitchen is the heart of any home, and it's often the space that needs the most love and attention. A great way to bring life back into your kitchen is to upgrade your appliances.
From a new fridge to a modern stove, these modern kitchen appliances can make all the difference in how your space looks and feels. Not only will they give your kitchen a fresh look, but they'll also make your life easier and your cooking more efficient. Plus, with all the energy-saving features available today, you'll be saving money and the environment, too.
Maximizing your remodel investment can be a piece of cake ーjust check out what kitchen refurbishments can do!
Spruce up Your Storage Boxes
Whether you're a master chef or an amateur in the kitchen, we all have these storage boxes and containers that can use a little sprucing up.
Start by sorting through all your storage boxes and throwing out any that are damaged or no longer needed. All it takes is a few simple steps to have an organized kitchen that looks and feels brand new.
Then, pump up the remaining containers, and give them a new look! Give them a new swipe of paint, decorate with decals, or spice things up with stencils. Get creative and let your style shine through! Transform your kitchen into a work of art!
Make Use of the Vertical Space
If you want to spruce up your kitchen, don't forget to turn your gaze upwards. Give your cooking space a little lift with some sleek and stylish organization and vibrant decor to make your kitchen feel like new. Your kitchen will be looking fabulous in no time!
Hang up some hooks on the walls to store your pots and pans, or even add a few shelves to keep your plates and dishes. You can also hang up a kitchen clock to decorate and make sure your kitchen is as efficient as possible.
The Takeaway
Bringing life back into your kitchen is all about adding personal touches that reflect your style and make you feel comfortable. Whether it's bright colors, unique textures, or art pieces, all of these additions can make a huge impact on the overall look and feel of your kitchen.
With these few tips, you'll be well on your way to transforming your kitchen into an inviting and inspiring space. Are you ready to start bringing life back into your kitchen?