Built Area:     139.8 m2
Year Built:     2011
Photographs:    Aryeh Kornfeld
Noguera House is a contemporary residence made of two overlapping rectangular boxes. These are rotated to a certain degree. It's a simple house with a fuss-free design. Despite its simplicity, the façade exudes quiet elegance. The basic concept makes everything clear and legible.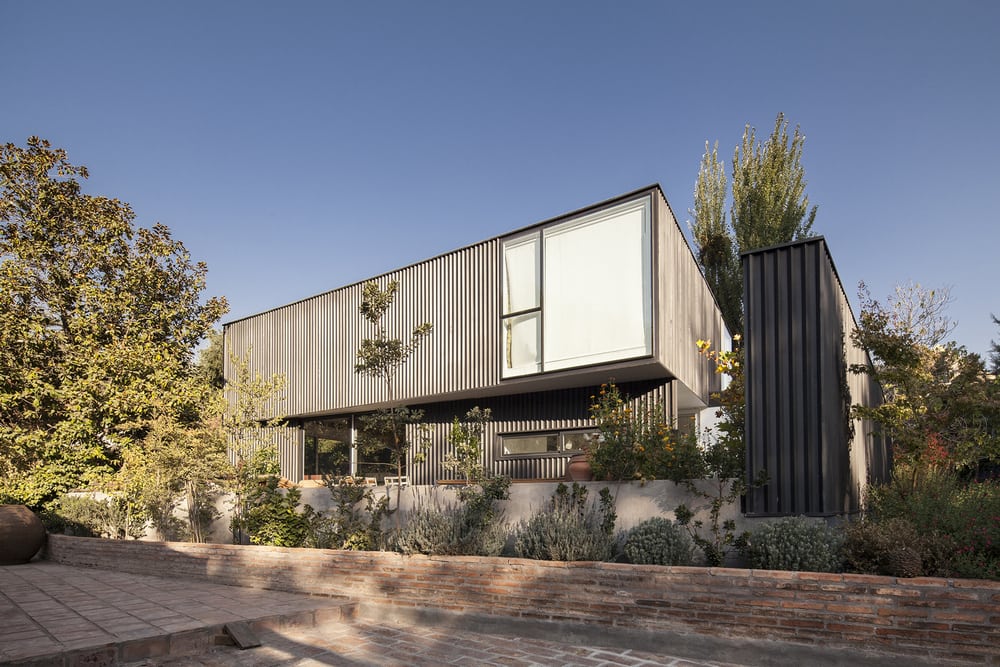 The client wanted a home that is pretty straightforward – just the usual spaces needed in a home. A specific request though, is an area for artwork display. An interesting feature of the Noguera House is a large double ramp. It dominates a big part of the living spaces and connects the lower part of the house to the library wall.
Notes from the Architect:
The commission consisted of a simple program: a space for various public activities in the house: living, working, and eating, in addition to integrating an exhibition area for pre-Columbian artworks, with an independent kitchen, bedrooms and bathrooms.

The main difficulty was to achieve a quality space for the owner, who was used to living in large areas, and was building a detached house for a new period of life.

The site was an old plot with houses and existing park, subdivided among the children, leaving a remnant where the new house would be located, with access and parking for the entire site, disrupting as minimum as possible the trees and vegetation.

These conditions combined with the views and sunlight, define clear relations with the outside, which were conditioned and defined. The south and west facades should be closed, the former due to regulations and the latter due to the parking area.

To continue to maintain the visual relationship with the park, we opted for a second level connected through a ramp, which seeks to predict an uncertain future and allows easy access to the library wall.

The house is configured as 2 rectangles turned on the first and second floors. Looking for the best visual and sunlight orientations, these are connected through a double height and the ramp-library. This turn generates intermediate spaces, which on one side give privacy to the various uses, exposing the pre-Columbian figures, concentrating in one space the entire public space required. Outside, through these walls and turns, 5 courtyards of different qualities are built, creating openings and closings that condition the relationship with the outside and the existing landscape.
Click on any image to start lightbox display. Use your Esc key to close the lightbox. You can also view the images as a slideshow if you prefer. ?
Exterior Views:
Interior Views:
Drawing Views:
Check out the Mood Ring House for another interesting piece of architecture…