Built Area:     114.0 m2
Year Built:     2017
Photographs:    Peter Bennetts
Back in 2008, the architects have designed K2 House, a pad fit for a young bachelor. Nearly a decade later, the firm was tasked to make some changes to the design. The clients wanted to upgrade the house to cater to the needs of their young family. However, they still wanted to maintain the original design. They just needed the spaces to be more versatile.
The house is a modern structure that puts emphasis on internal and external cohesion, creating continuity. The dark façade features a triangle-shaped metal cladding. Geometric forms encircle the deck extending toward the new addition.
To add visual interest, perforated metal elements were added by the architects. These provide shelter, shade, and privacy to the home.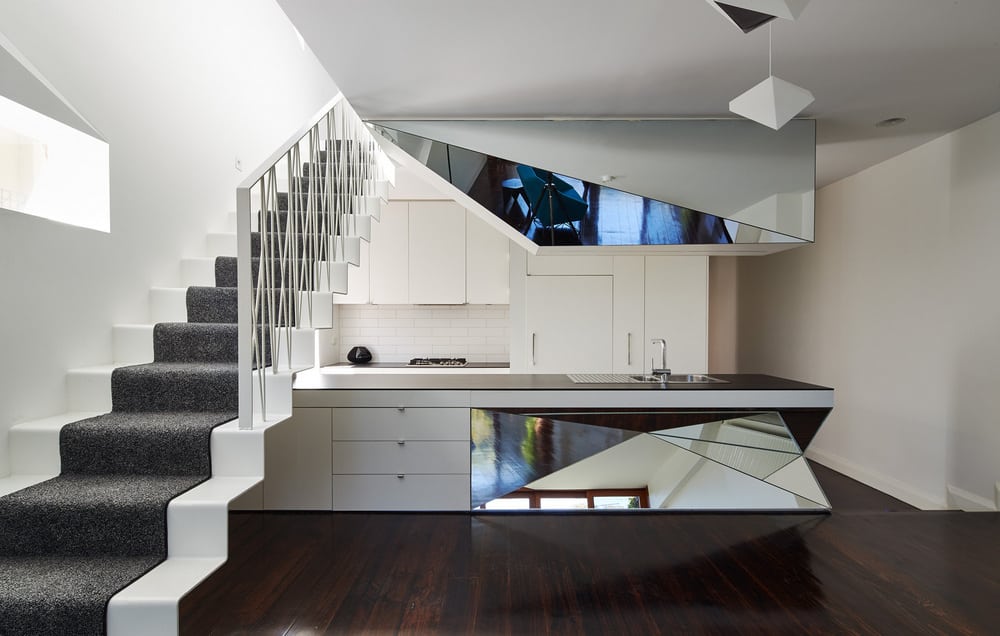 The new extension of the K2 House allows maximum benefits offered by a small property. With the advantages of high quality design, the house is now more versatile – just as the clients wanted.
Notes from the Architect:
K2 House is the second stage upper floor extension to a renovation completed by fmd architects in 2008. The original brief for a young bachelor, was revised to now meet the needs of a young family with pets. The clients wanted to maintain the initial design intent while adding further versatile spaces to a bustling home.

The original design intent, of angular forms deriving from the tight planning constraints, extends through the upper floor of stage 2. This cohesion of external and internal forms are further expressed through the light reflecting faceted internal elements being expressed on the dark exterior with triangular metal cladding and geometric forms wrapping around both the deck area and new build. The perforated metal elements providing both privacy, shelter and shade whilst creating a sense of depth and transparency to the extension.

The sites constraints draw lines through the building, creating reference points to inform the large triangular window and bar joinery in the new upper floor lounge. This idea continues through the bathroom, stair balustrade and joinery details creating dynamic and structural spaces through the house.

As with the former renovation, retaining the existing building footprint was a key consideration, as outdoor spaces were already limited replanning within the envelope to achieve the required spatial and environmental considerations were major drivers behind the design approach. Hence the dwelling went vertical with a first floor extension including a new living space, deck area and bedroom with walk in robe. In order to fit within council setbacks and adhering to street sight lines, the extension is concealed from view from the street, internal areas worked into the existing roof line, maximising all available space.

The projects growth and versatility is testament to the enduring merits of quality design, by utilising the existing house envelope along with strategic skylights and angled ceiling lines – the extension enables the dwelling and family a new life whilst maximising the footprint of a small property.
Click on any image to start lightbox display. Use your Esc key to close the lightbox. You can also view the images as a slideshow if you prefer. 😎
Exterior Views:
Interior Views:
Drawing Views:
Another interesting renovation project is the Small Residence in Hawthorn…