Fayetteville, United States – SILO AR+D
Project Year:  2017
Area:  178.3 m2
Photographers:  Timothy Hursley
This unassuming T-shaped house sits on a sloping site surrounded by trees. It's basically made up of a long rectangular bar that was stacked on top of a box. Nothing special about that, really – at least not until night falls.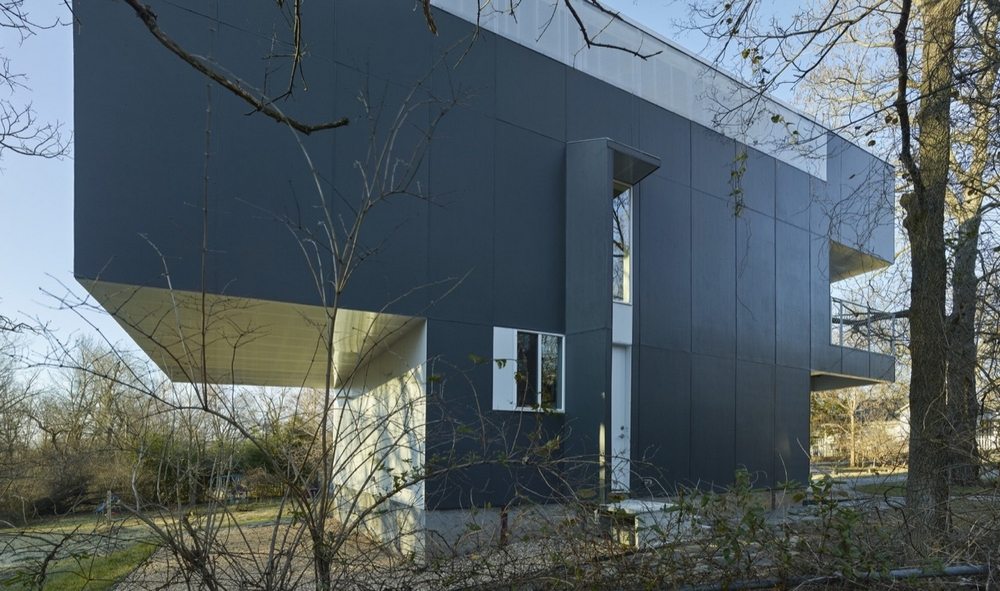 The plain-looking house transforms into a colorful architectural piece by night. This is because the architects had installed multi-colored LEDs underneath the cantilevers. These lights are controlled via a smartphone, the colors changing depending on the owner's mood.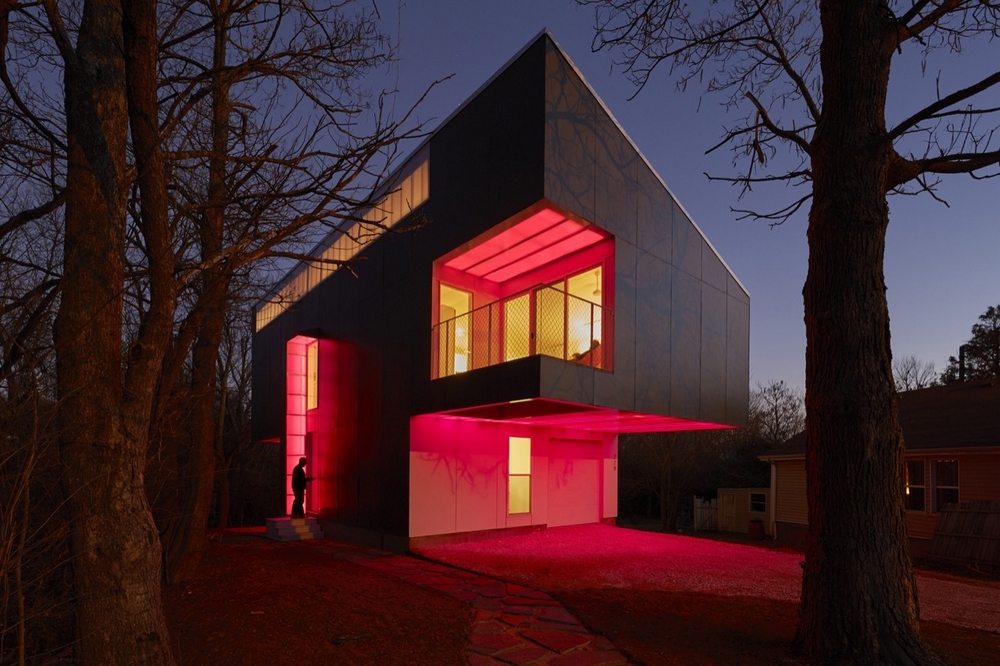 The walls inside the house are white, with timber floors and neutral-colored furniture. This is in direct contrast to the colorful facade during the night. The Mood Ring House teaches us the wisdom behind not judging the book by its cover.
Notes from the Architect:
Mood Ring House is an exploration of how architecture can have different day and night presences with distinct experiential and spatial qualities.

This unique house is located in an eclectic neighborhood near the town center of Fayetteville, Arkansas. The "T" shaped volume is born out of a mix of site limitations and opportunities, economic constraints, and programmatic requirements.

With a skewed alignment to the lot lines, the siting preserves two established monumental trees, orienting the house to take advantage of north light from a clerestory, and south and west facing views of the immediate forest and distant mountains, all while fronting the main intersection near the property. A live-work space, work functions are consolidated on the ground, with a majority of living spaces above. The small base aids in reducing the footprint, preserving existing trees, and reducing foundation costs, which are a premium in the unstable Arkansas soil.

The cantilevering upper level, in concert with the dramatically sloping site, affords views to the living spaces, creating a private enclave amidst the tree canopy. Beneath overhangs is a carport on the west facing front and an outdoor room on the east facing rear.

The shed roof, open to the north, when coupled with an inverted truss profile, flood the interior volume with natural light. At night, illuminated soffits construct volumes out of projecting colored light from concealed LED fixtures. Colors are derived either automatically from the temperament of the house or directly by owners' desire.
Click on any image to start lightbox display. Use your Esc key to close the lightbox. You can also view the images as a slideshow if you prefer 

Exterior Views:
Interior Views:
Drawing Views:
Speaking of colors, what do you think of these villas done in pink? I'm talking about the Miryang Pool Villas…