Area:     169.0 m2
Year Built:     2017
Photographs:    Paul McCredie
The Korokoro Bush House is contemporary dwelling infused with the rich heritage of its owners. It sits on a sloping site in the midst of a dense bush land. With such a dramatic setting, the architects made sure that the inhabitants enjoy optimal views of their surroundings.
The L-shaped layout of the house allows the separation of the private and living areas. Due to the homeowners' Sri Lankan heritage, cultural elements were incorporated into the design. Timber beams and courtyards are important features that were given a contemporary twist. Courtyard spaces serve as an alternative outdoor area. It offers shelter especially with the ever-changing wind conditions in the area.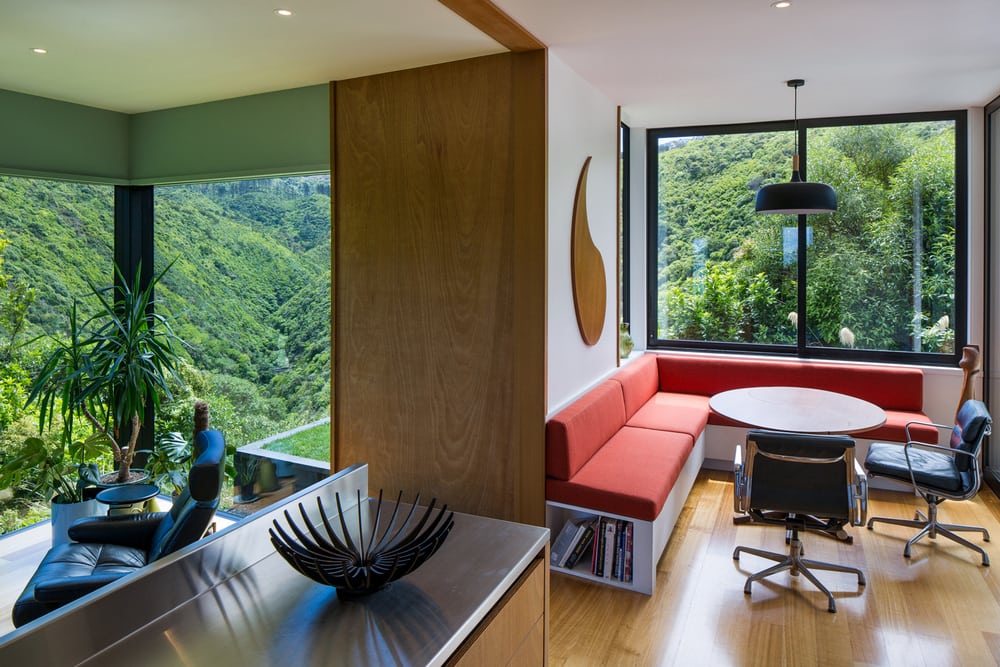 Korokoro Bush House made use of environment-friendly materials: bamboo and stained cedar weathboards. This allows the house to blend well with the landscape. There is a sense of calm to the place. It celebrates the beauty of the naturally lush setting while being able to stand its own ground.
Notes from the Architect:
The house was designed for a family of 6 with children of varying ages. It sits on an elevated site with expansive views over Wellington Harbour to the south and a narrower view down to a green valley at the lower end of the Belmont Regional Park to the north. The owners were attracted to the site because of the different views, outdoor area and connection to green space.

Because of its elevation and location, the house is hit by both the southerly and northerly winds. We created an 'H' shaped plan containing both south and north facing outside spaces that are sheltered in different winds and sunny at different times of the day, connected through the very glazed central living room. The north facing outdoor area is excavated into the hillside so that when planted it will both filter and deflect the wind over the top of the house. Bedrooms are positioned in a variety of different ways to pick up the different aspects of view, with 2 children's rooms at the east end of the house located around an activity area as extra living space. There are 2 main wings to the house with a split-level between. To the west, bedrooms sit over the main living areas and to the east, bedrooms and smaller living space sit over the garage. Further to the west across the lawn is a guest house which in the future will become connected to the house with landscaping.

Each wing of the house is wrapped in a corrugated colorsteel sheath in the form of a roof that extends down the east and west walls and meets over the link-way joining the 2 wings. The owners have a strong interest in colour. Together with the clients we have explored brighter colours in the living spaces and more subtle natural colours in the bedroom areas.
Click on any image to start lightbox display. Use your Esc key to close the lightbox. You can also view the images as a slideshow if you prefer. 😎
Exterior Views:
Interior Views:
Drawing Views:
If being surrounded by nature is your thing, you'll definitely like Upper Jeptha Lake Retreat…