Area:     117.0 m2
Year Built:     2016
Photographs:     Tatjana Plitt
Building Tess+JJ's House presented several challenges. The site was compact and old and should fit a family of four. There should also be very minimal neighbourhood disturbance. Pulling this off was quite a feat for the architects.
The single-window façade gives very little clue to the modern, light-filled home that it really is. In a neighbourhood populated by Victorian-era homes, the residence manages not to stand out. It has the same proportions to other houses in the street. From the outside, it looks like a single-story home.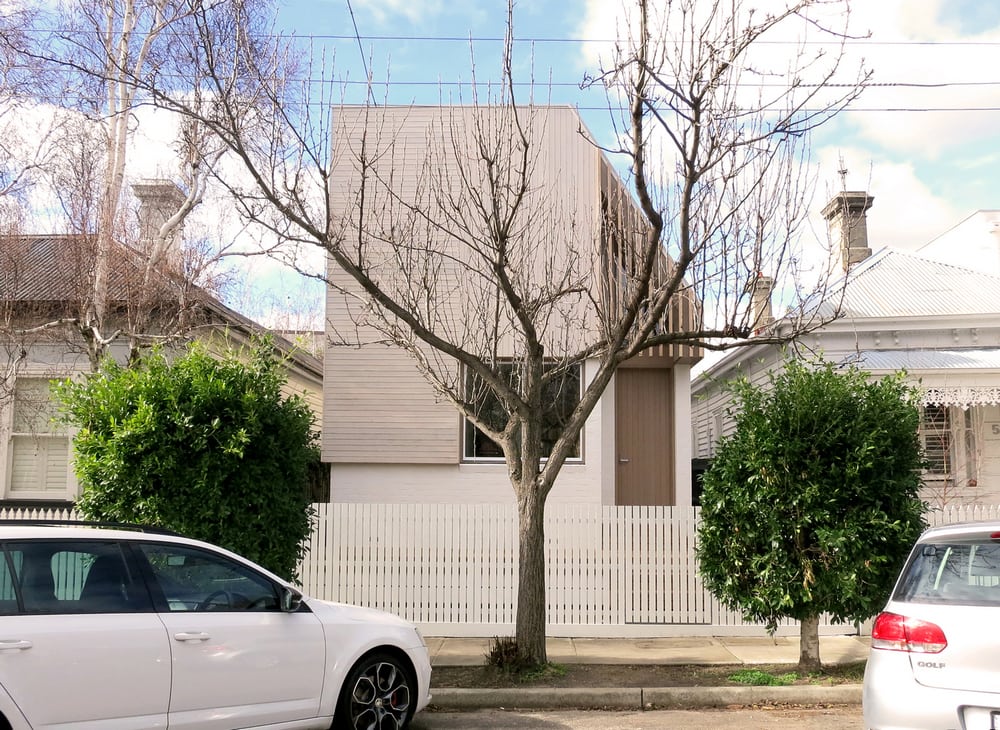 Stepping inside the home is another story. A narrow hallway leads to the dining area and a double-height kitchen filled with light. These spaces are important for the family who loves to cook and entertain guests. These areas open to the outdoors, too.
Outside are two courtyards. These create spaces inside spaces, giving every room a garden of its own. Despite its bland and seemingly boring exterior, Tess+JJ's House offers delightful surprises inside.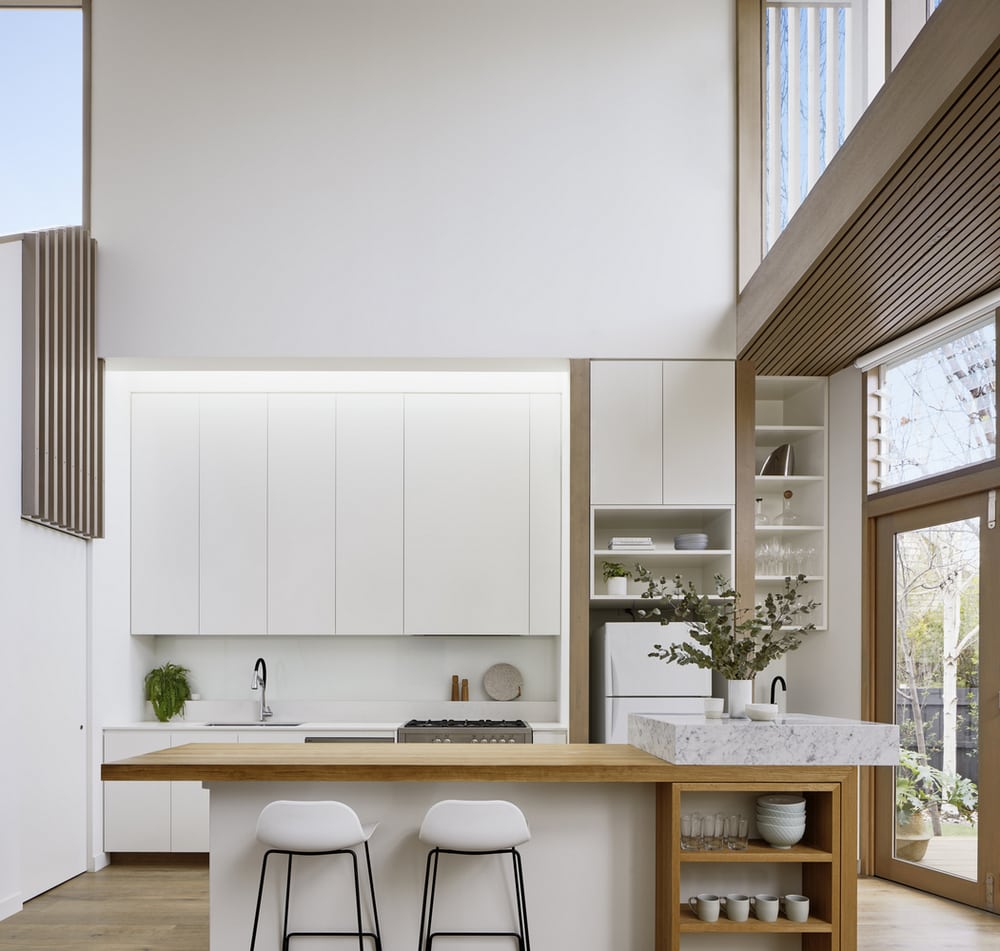 Notes from the Architect:
Tess + JJ's House is located on a small site in a heritage context in South Yarra, Melbourne. The brief was to create a new two-story house that wouldn't upset the neighbors, on a small footprint with all the amenities needed for a young family of four.

The double story frontage reinterprets the single window and front door arrangement of its Victorian period-style neighbors. This illusion of an over-scaled single-story house sits quietly within the character of the street, despite the raised floor level required to satisfy the flood overlay requirements, and conceals the open and sunny living areas to the rear, which focuses its views towards the garden and sky.

The internal experience was the starting point for the project. A darker, compressed entry hallway leads to a contrasting light-filled kitchen and dining area – a generous and welcoming double height volume, central to the lives of a family who love to cook and entertain. With views to the sky to the east, a small deck, and garden and established birch trees to the north, it's a space where family and friends can gather and feel distant from its urban context.

Counter to the lofty, upwards-focussed central volume, the family room to the rear directs its view downwards towards the pool, providing complete privacy from the apartment blocks beyond. The open plan living is fractured by two courtyards, which define the rooms and provides garden aspects from all vantage points. Upstairs, the kids' zone was designed to feel like a cubby – with battened screens at either end of the shared play area for spying on the grown-ups below.
Click on any image to start lightbox display. Use your Esc key to close the lightbox. You can also view the images as a slideshow if you prefer. ?
Exterior Views:
Interior Views:
Drawing Views:
For more houses like this, check out another home in Australia, Mills House…