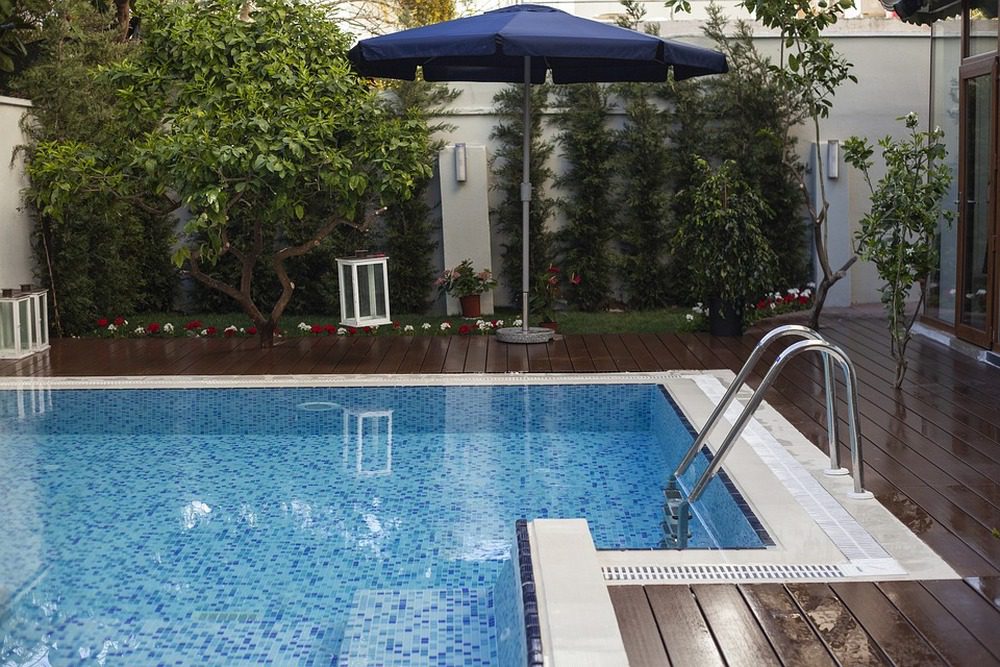 Turning your backyard into a paradise you and your family can enjoy is every homeowner's dream. However, with so many design elements to consider and the practical implications of adding one, choosing and installing a swimming pool might feel overwhelming.
How to Integrate a swimming pool into your landscape designs?
With thoughtful planning, creating the perfect landscape design with an integrated pool is possible. Here's what you need to know about incorporating a swimming pool into your existing exterior space.
Choose a Style
Think carefully about the pool style you want to create in your yard. While some people may prefer the classic in-ground pool, others may opt for a modern above-ground model. Make sure to consider your budget and space when selecting the perfect pool for your yard.
You should also consider the architectural design of your home. A traditionally styled home may look great with a rectangular or kidney-shaped in-ground pool, while a contemporary home may benefit from the sleek lines of an above-ground pool. Additionally, consider the size of your yard and how it will affect how you incorporate a pool into your landscape design.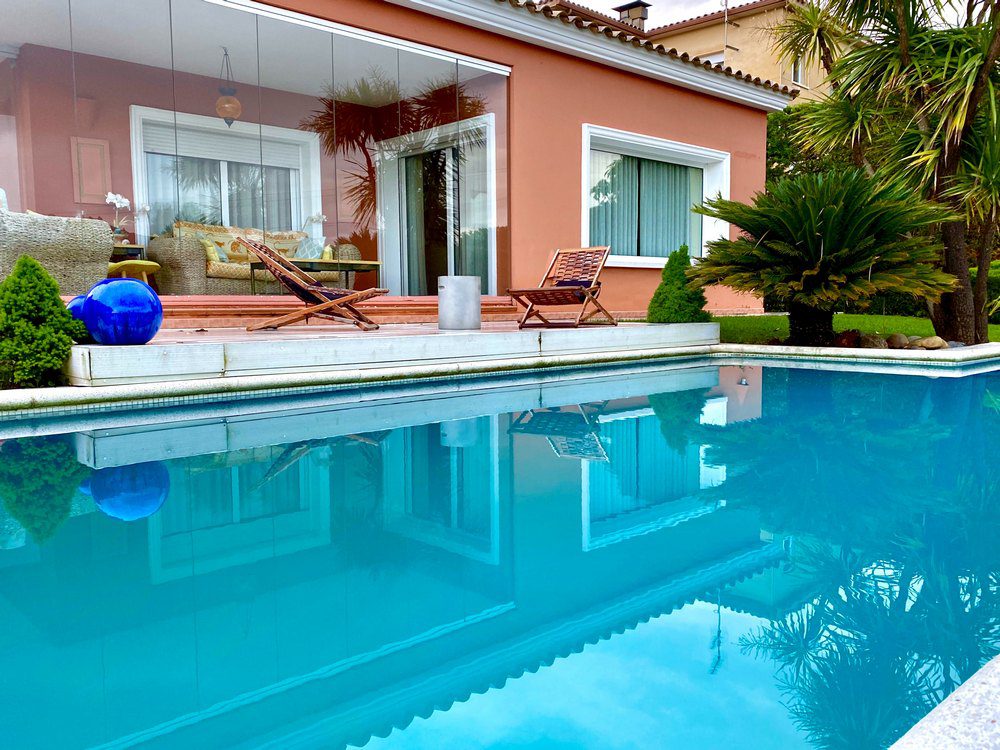 Think About the Size
The size of your pool will depend on the space available and how you plan to use it. A small plunge or wading pool may be a great option if you're looking for a spot to cool off during the summer or want something fun for the kids.
For serious swimmers or looking for a more luxurious backyard experience, a larger pool, complete with a lap lane and deck, is the way to go. It's important to consider who will use the pool and how often you will use it before making a final decision.
Determine the Features You need
Incorporating a swimming pool into your landscape design also requires deciding which features you need or want. Automated pool covers, for example, offer safety and convenience and can be custom-made to fit any shape or size of the pool.
Alternatively, consider investing in a heat pump if you'd like to reduce your energy use and save money on heating costs. These energy-efficient pumps are designed to maintain the temperature of your pool throughout the day and night.
Consider installing a water feature or fountain if you're looking for something to add a unique touch to your outdoor space. Not only will it create a tranquil atmosphere for your backyard gatherings, but it can also mask pool noise for a more peaceful environment.
Take Advantage of Existing Features
Integrating your swimming pool into your existing landscape design doesn't just mean choosing the right style or finish – it also requires thoughtfully incorporating existing elements in your yard, such as trees, plants, and walkways. Consider the size and shape of your pool and how it can be incorporated into existing features such as a patio or garden bed.
You should also consider additional features you'd like to include in your outdoor space, such as an outdoor kitchen, hot tub, or lounge area. These elements can transform your backyard from a simple pool area to an outdoor entertainment space.
Think About Drainage
Proper drainage is essential when it comes to installing a swimming pool. If your landscape doesn't have adequate drainage, it can lead to flooding and other problems. It's essential to assess the grade of the area before you start building your pool and ensure you are taking steps to create efficient runoff that won't damage your landscape.
You should also consider any pool drainage systems needed to keep your pool and surrounding landscape looking their best. A sump pump, for example, can help prevent flooding in heavy rains or melting snow.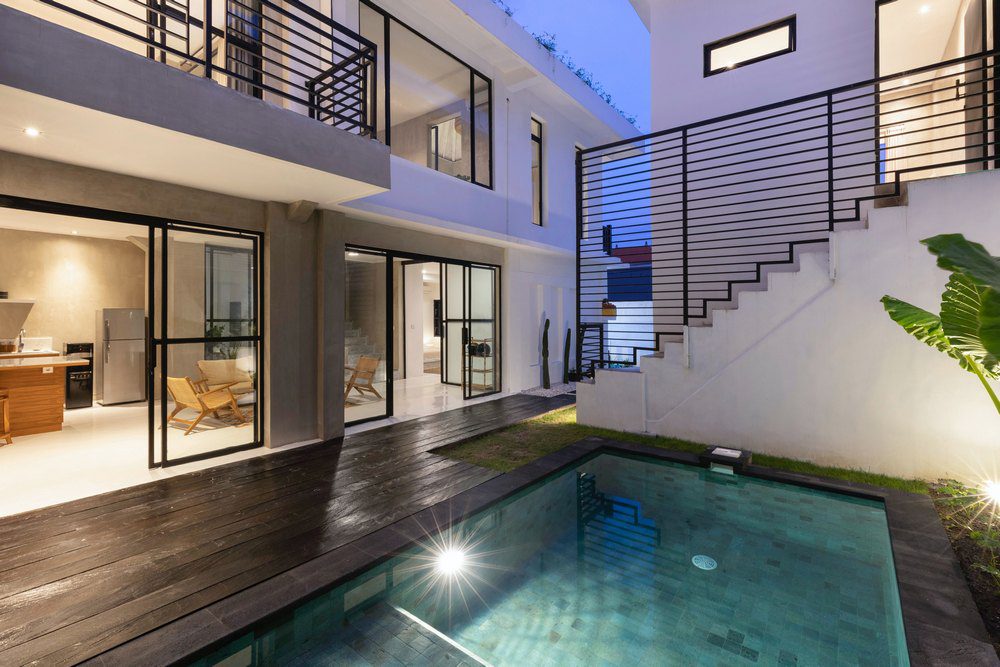 Invest in Pool Lighting
Lighting is essential when integrating a swimming pool into your landscape design. Strategically placed lights can create ambient lighting for evening gatherings or illuminate the walkways around your pool. You can also use spotlights to highlight a particular area or feature.
Don't forget about underwater lighting. Installing lights around the pool can help create a beautiful evening atmosphere. If you choose to install light fixtures in your pool, ensure they are waterproof and suitable for use with chlorine or saltwater. The proper lighting can help enhance the beauty of your swimming pool and create the perfect outdoor oasis.
Consider Maintenance Needs
Installing a swimming pool is a significant investment, and it's vital to ensure you take the necessary steps to maintain it. Regularly checking the water chemistry, cleaning skimmers and filters, and ensuring there are no cracks or leaks in the structure are essential for keeping your pool in tip-top shape.
In addition, you'll want to make sure the surrounding landscape is well-maintained. Keeping plants and trees trimmed and healthy will help create a cohesive look for your outdoor space.
Pool maintenance often involves using chemicals and other cleaning supplies, so be sure to take safety precautions.
Look for a company that supplies a range of pool maintenance products to help you keep your swimming pool looking its best. The right products can also help prevent algae growth, reduce chlorine use and keep your pool free of bacteria.
Use Landscaping to Enhance Your Pool
You can use landscaping around a swimming pool to create a beautiful and inviting space. Using plantings, pavers, boulders, and other elements can help you customize your outdoor area for the perfect look. Incorporating plants into your landscape design can provide additional shade for those hot summer days and help block noise from nearby roads.
The right landscaping can also make your pool area more inviting and give it a natural look. Adding a few trees, shrubs, or other plants can provide privacy if you don't have any fencing installed.
Safety Is Essential
No matter what type of swimming pool you're installing, it's essential to consider safety first. Installing pool fencing and gates can help prevent small children from accessing the area unsupervised. It's also vital to ensure everyone in your family knows how to swim and understands basic pool safety rules.
Ideally, you should also have safety equipment, such as a life preserver and a first aid kit. Finally, ensure you are familiar with local laws or regulations regarding pool installation and maintenance.
Endnote
A swimming pool is an excellent addition for those looking to create their dream backyard oasis. With the right planning and design, you can create a beautiful outdoor area perfect for parties, relaxation, or just having fun with friends and family. Considering these tips before starting your project, you can ensure your pool and landscape are harmonious.