When picking out a door for your home, the choice you make is of the utmost importance. Not only will it provide security and safeguard your space, but it could also knit together the aesthetic of your home, creating a warm and welcoming atmosphere.
There are many factors to consider when selecting a door, including size, material, design, and cost.
When selecting a door for your home, there are several features to consider.
Do you want a single door or a double door?
What type of material do you prefer?
What size should it be?
When selecting a door for your home, there are several questions you should ask yourself. These choices are important to consider before deciding on a style that best fits your home. Then, understand what basic types of home doors are available to better know your options.
In this blog post, we will explore the various types of home doors, the many materials they are crafted from, and the range of sizes available. We'll also look at the price points of all the options so you can figure out which door is the perfect fit for you in terms of style and budget.
Basic Types of Home Doors
1. Barn Door
Barn doors are not only a beautiful addition to any home, but they also offer a number of great benefits that you will not find with other door styles. From adding a rustic charm to your home to providing an extra layer of privacy, barn doors are a great way to give your home a unique and stylish look.
One of the most obvious benefits of a barn door is the unique style it adds to any home. Barn doors give your home a unique and rustic vibe that truly stands out. They also come in a variety of styles, so you can choose one that best suits your home's aesthetic.
For a country-inspired vibe, you can opt for a barn door with traditional wooden panels and decorative iron hardware. If you're going for something more contemporary, try a slatted barn door with sleek metal accents. You can even find barn doors with intricate designs and unique stained glass panels; perfect for a home that exudes a more eclectic flair.
2. French Door
When it comes to adding a touch of timeless elegance to any home, the French door is the way to go. Boasting two or more doors side-by-side, they feature multiple panes of glass and are usually made from wood or metal.
Step up your home decor game with the French door. This sophisticated addition to your home will instantly transform your space into a chic, stylish abode that's perfect for impressing your visitors. Not only does the French door's unique design add instant charm, but it also lets the sunshine in for those beautiful summer days.
3. Sliding Door
The traditional sliding door has a timeless charm that can bring a retro feel to any home. This type of door slides along a track for smooth, easy opening and closing. The sliding door can be made from a variety of materials, such as wood, glass, or metal.
It is often used in closets, pantries, and other places where space is limited or as an entrance or exit to the outdoors. Its classic design and easy operation make the traditional sliding door a great choice for any home.
4. Hinged Door
If you're looking for a timeless and classic look for your home, a hinged door is for you. Whether it's single, double, or even triple, this classic beauty adds an air of sophistication and elegance to any home.
A hinged door can also be customized to fit your home's unique style, with a variety of options to choose from such as different materials, colors, textures, and designs. Whether you're looking for a modern twist or something more classic, a hinged door is a great way to make a statement.
Transform your living space into something special with a door that perfectly accents the design of your home. Match it up with one of these 7 stunning window treatments to elevate your interior.
Single Hinged Door
A single-hinged door is a thoughtfully designed piece of hardware that makes life a whole lot easier. It is the perfect solution for areas where space is at a premium, or if you simply want to create a minimalist aesthetic. The simplicity of the design means that it will not take up too much space, but will still provide reliable security.
Plus, the ability to adjust the tension of the hinge makes it a great option if you're looking for a door that's easy to open and close. The sleek and contemporary look of a single-hinged door can make any entrance feel welcoming and inviting.
Double Hinged Door
The double-hinged door is a thing of beauty; a marvel of modern engineering. It stands tall with two heavy hinges at its side, beckoning you to open it and explore what lies beyond.
With a simple turn of the handle, the door swings wide, allowing you to step through and into a new world. The door is strong, sturdy, and reliable. It can withstand even the strongest of winds. And when you close it, it locks securely and firmly, keeping your space safe and private.
Ready to select that ideal door for your home? Check out these tips and you'll be ready to pick the perfect one.
Home Door Considerations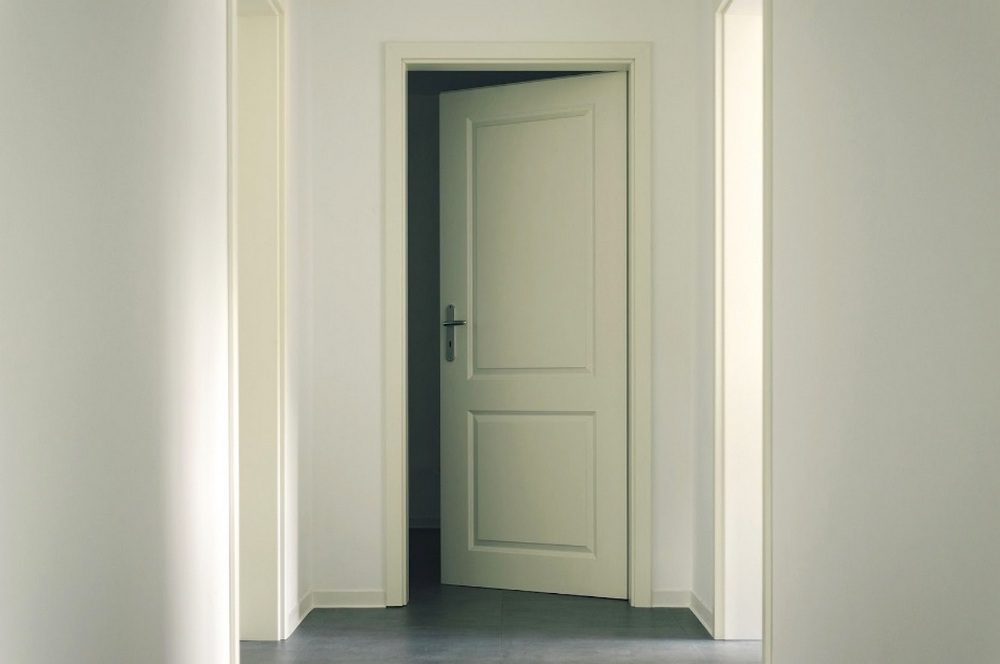 1. Aesthetic Appeal
The most important factor to consider is the aesthetic appeal of the door. After all, a door is a crucial part of the exterior of your home, so you want it to look its best!
Before taking the plunge, why not pause and consider a door that will truly bring out the beauty of your abode? If you have a traditional-style home, a classic aluminum door can be the ideal pick for you. Find a reputable company to ensure the highest grade of aluminum door installation.
Then again, if your residence has contemporary vibes, you can consider something with a more modern flair.
2. Functionality
Why settle for a door that's simply pretty? Opt for one that not only looks great but also functions flawlessly. Make sure it opens and closes smoothly and securely. Take into account the size, too ⁠— you don't want to have to squeeze through it! Ultimately, an attractive and highly functional door is the way to go.
Additionally, consider the type of locking mechanism that you'll need to ensure the door is secure. Different types of hinges, latch systems, and handle designs can help create a door that functions exactly how you need it to.
3. Benefits
Research the types of doors available to you. Doing so will help narrow down your choices and provide you with a better understanding of the benefits each type of door can offer.
There are wide varieties of doors available, from security doors to decorative doors, each of which brings unique features and advantages to your home. Take some time to explore the different door types, their features, and their benefits to find the perfect door for your home.
4. Budget
When it comes to choosing the right type of door for your home, budget is always a factor. Before you decide on any other type of door, make sure you take into account your budget.
Consider all the costs involved with purchasing, installing, and maintaining your chosen door. You also need to think about the longevity of the door, as a cheaper option may not last as long as a more expensive option.
Now, you can shop around for a door that will fit your budget and still look great. Make sure you price out your options and find the best one that fits both your budget and style.
5. Accessories
When it comes to doors, don't forget the little touches that make all the difference. From weather stripping to hinges and knobs, these are the details that can take a door from just okay to truly special. Make sure to look for high-quality accessories that will stand the test of time and complement the style of your home.
You should also consider how you want the door to open and how long you want it to last. The choices you make here will affect the overall success of your home door installation.
The Takeaway
Overall, choosing the right type of door for your home is an important decision and should not be taken lightly. Consider your home's style and the level of security you need. Think about how much space you have to work with and your budget.
With so many doors to choose from, you can easily get confused but with the right guidance and knowledge, you can find the perfect door to install in your home.