Type:     Modular/Prefabricated
Built area:    100m2
Year:     2004
Designed for a bachelor,  the home sits on 10 acres of beautiful indigenous bush overlooking the Bay of Islands. Only the house site has been cleared and the views are through dense black ti-tree. The structure comprises a series of black steel portals that march rhythmically along the length of the house, with a flat roof slung underneath.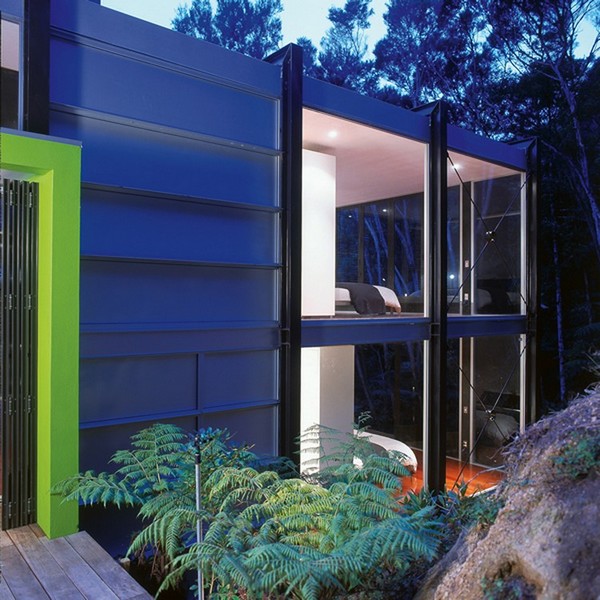 The portals are lightly enclosed by mostly sheet glass, while the floor extends beyond the building to form suspended and cantilevered decks pushing out into the bush.  The floor 'splits' to two levels at the eastern end, following the natural contour of the site to create two identical bedroom 'suites'.
The main outdoor living happens behind the house on a deck which is sculptured by the natural amphitheatre in which it is placed. The transition from interior to the rear space is framed by the 'seasonal' deep wall which in spring is coloured bright green to reflect the new young life of the environment.
A blackened horizontal timber lattice screens the building and shades it on the northern side. A horizontal 'eyelid' lifts up to the view, and three garage-type doors fold up and over to open the living to the bush. A vertical 'door' in the screen opens the shower deck up to allow for natural outdoor bathing.
NZIA Jury Citation:
"The expressed frame and textured skin that enclose this house were designed to reflect the nature of the dense bush that surrounds this private and isolated retreat. The simple plan and the comfortable relationship of outdoor living areas are key elements to the house. The interior fitout is dramatic and well detailed yet reflects the owner's need for an easily maintained, lock-and-leave home."
Click on any image to start lightbox display.  Use your Esc key to close the lightbox.  You can also view the images as a slideshow if you prefer  

Another clever modular design from the same architect is the iPad – without the Apple…