Project Year:  2018
Area:  175.0 m2
Photographs:  Thomas Mayer
The first design of the Fort Keeper's Residence was made in 2009. However, zoning problems prevented the actual building process. Six years later, the project finally came to life.
It is basically made of timber panels with beams screwed together. The result is a compact, no-frills house with a stunning facade.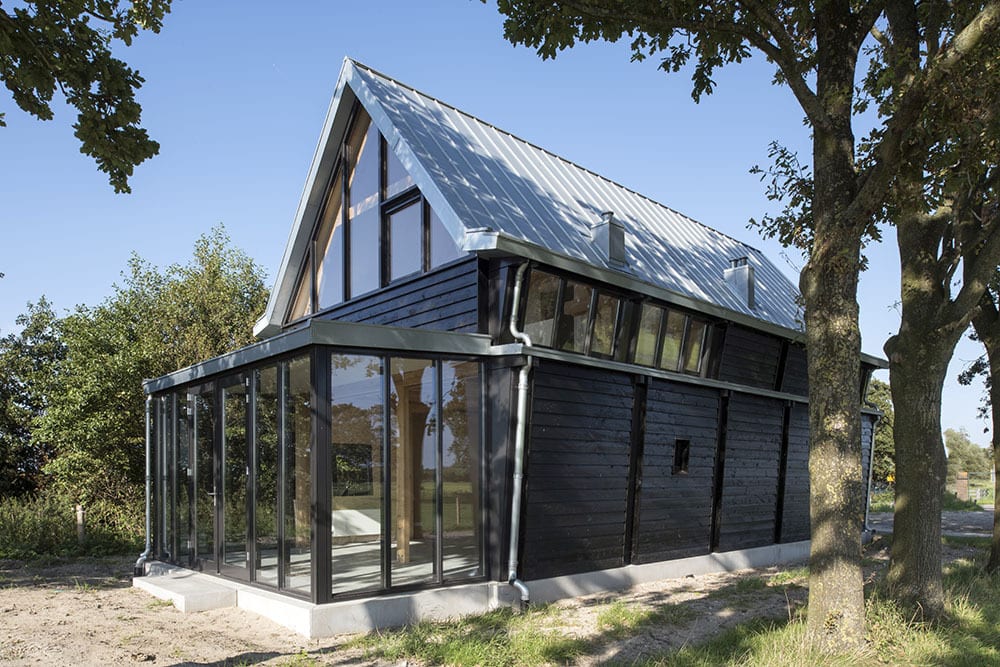 The house blends well with the landscape. However, it does stand out in terms of design. Although it isn't grand and luxurious, its black exteriors is certainly striking.
Inside is a warm space that is light and comforting. The neutral color palette of the simple finishing materials makes the house feel cozy.
The Fort Keeper's Residence is classic in appearance thoughtfully mixed with modern touches. This is a home that will remain relevant for many years to come.
Notes from the Architect:
We were commissioned to design the fort keeper's residence back in 2009. Due to organisational changes, the project did not go ahead at the time. When the conversion of the fort was activated again in 2015, it seemed that our plan for the house had not been forgotten. We were asked to revive the original plans and develop them further.

The new-build fort keeper's residence stems from the requirement that a manager lives there. This function is identical to the original one. So we were given the task of realising a new fort keeper's residence for a fort with a new purpose. The new residence had to be adapted to the requirements of our time. The first design in 2009 was inspired by the fort, the surroundings and the desire to use a contemporary, fitting construction method.

A huge batch of beams formed the starting point for the design. The original fort keeper's residence was made out of wood. By pragmatically incorporating the beams combined with sheet material, we were able to make a "new" fort keeper's residence. The beams, that are screwed together with nuts and bolts like a construction kit and floors and walls finished using sheet material, could fit in with the way in which a military engineer constructs a prefab home.We have been working on developing this construction concept and adjusting it to suit modern (living) requirements. The design was constantly adjusted in order to bring it as close as possible to the original plan and objectives.

The result is now a house made from beams and panels, with the size and proportions of a wooden (fort keeper's) residence. The colours and materials have been chosen to suit the character and the construction method of the surroundings. The character of the house is modern and classical at the same time, both in construction method and appearance.
Click on any image to start lightbox display. Use your Esc key to close the lightbox. You can also view the images as a slideshow if you prefer 

Exterior Views:
Interior Views:
Drawing Views:
Trish House Yalding is another home with a stunning black facade.