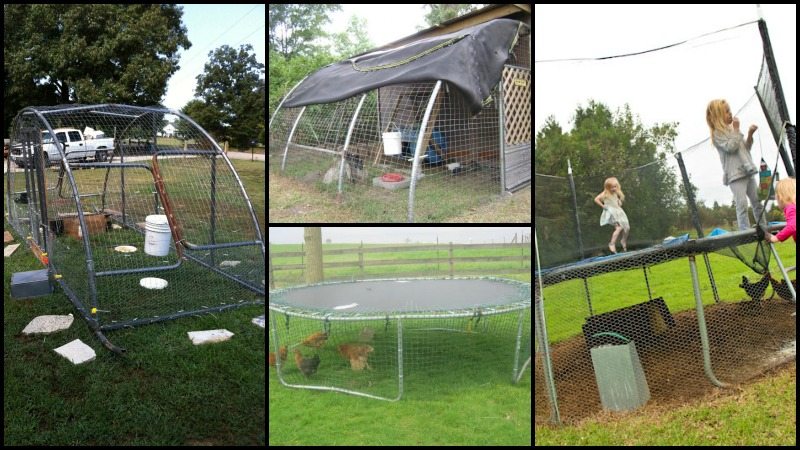 Have you got a trampoline that could do with a new life? Why not turn it into a DIY trampoline chicken coop?
Old trampolines could be more than just a backyard bounce fest. With a little creativity and a DIY attitude, you can transform that forgotten trampoline into the ultimate chicken coop!
It is the perfect project for the busy bee who wants to raise some feathered friends without the hassle. Plus, your chickens will love their new digs – they will have plenty of room to strut their stuff and even toss in some acrobatics on the trampoline.
Don't let that old trampoline gather dust; repurpose it to create the ideal chicken paradise! It is renowned for its strong and resilient structure, which ensures your chickens' safety at all times.
A trampoline's durability can give your chickens a dependable shelter that can resist a variety of weather conditions and potential threats, ensuring their sustained comfort and security.
Creating a trampoline chicken coop could be as simple as enclosing the trampoline with chicken wire and lumber or you can add plywood extensions for an improved trampoline chicken coop. Some made drastic changes to the trampoline frame to provide a better, well-ventilated interior.
Enhance their playground with a few extra feet of chicken wire fence surrounding the trampoline. Say goodbye to runaway chickens and hello to endless adventures!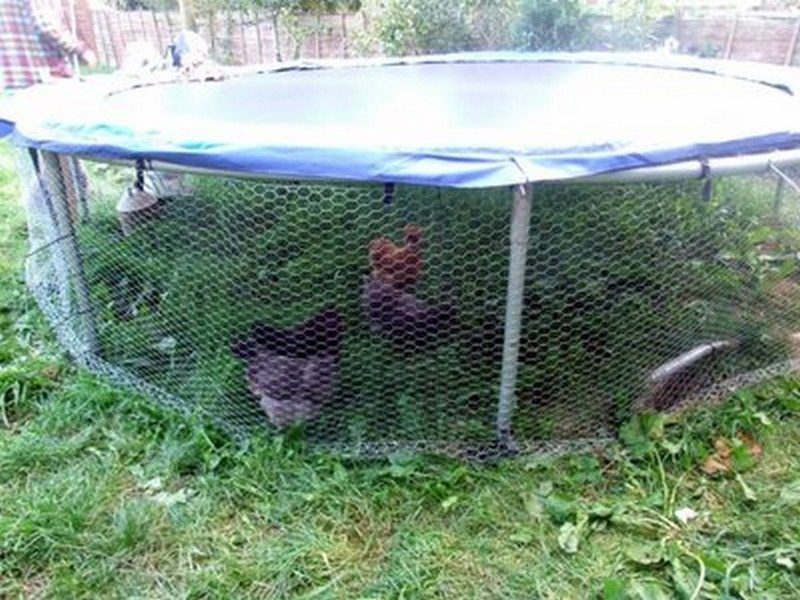 Want to give your trampoline chicken coop an extra boost of security? Look no further than the trusty zip tie! Fasten that fence to the trampoline frame and voila – your feathered friends will be safe and sound. And with a few simple add-ons, you can protect your precious poultry from even the toughest elements. Don't let your coop go unprotected – upgrade!
A savvy solution is to pop a tarp over your chicken coop! Not only will it shield your bouncy fun from sun and rain, but adding stakes will keep it from flying away in blustery winds. Want even more protection? Tack on a few extra tarps to the sides of the coop and you'll be weatherproof and worry-free!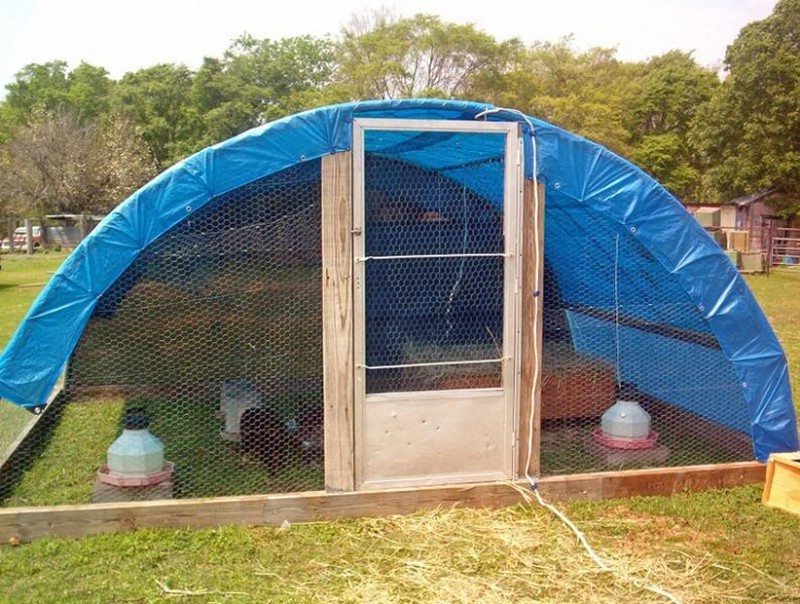 Things to consider when making a DIY trampoline chicken coop:
Building a trampoline chicken coop is the ultimate way to keep your poultry pals safe while adding a dash of whimsy to your homestead. But before you start bouncing around, make sure you think through some key factors. Don't wing it – plan ahead and give your feathered friends the coop of their dreams!
The size of the trampoline.
Before you bounce into the trampoline trend, make sure it's spacious enough to pamper your poultry posse in style. A spacious coop promotes a healthier and happier environment, reducing the chances of overcrowding-related stress and territorial squabbles among your feathered companions.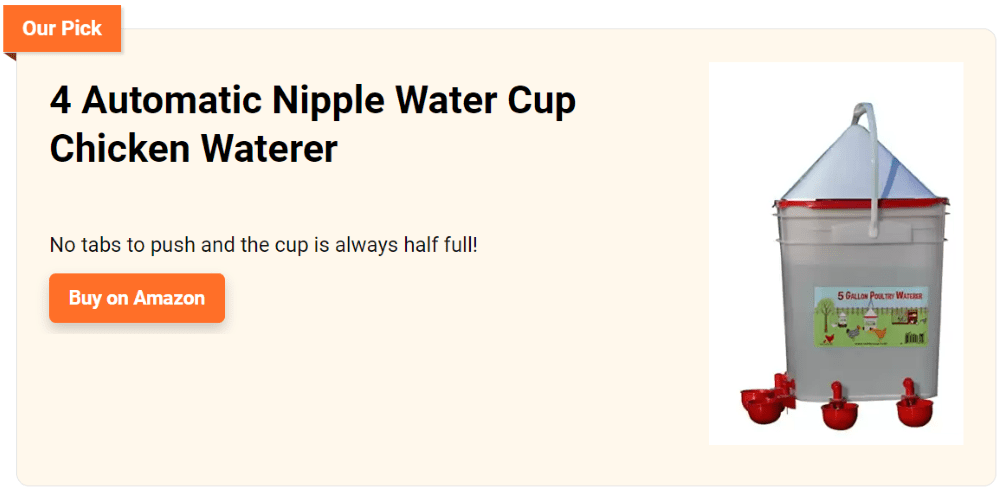 So, before you set your sights on this project, calculate the square footage needed for your specific flock size, ensuring they have sufficient space for a comfortable living environment.
The condition of the trampoline.
Transforming an old, weathered trampoline into a flawless chicken sanctuary is a dream many homesteaders entertain. However, it's essential to recognize that a trampoline, no matter how beloved its bouncing days may have been, won't seamlessly transition into a perfect chicken coop.
These feathered residents demand more than just a whimsical wireframe; they require a fortress of safety and reliability.
The location of the trampoline is very important.
You know those sweet little fluff balls need shade and water to survive, right? Trampolines could be so hot. And not in the cool, trendy way. So, if those bouncy contraptions are in the wrong place, your feathered friends might just be feeling the heat!
Yep, they might get too hot and start feeling like they're melting. Nobody wants that! So, make sure your feathery friends have a way to escape the sun and chill out with some refreshing H2O. Happy chickens make for happy peeps. Don't let the heat get you or your birds down!
A good drainage system.
A trampoline is a great way to provide your chickens with a dry, safe place to sleep. However, it is important to make sure that the trampoline has a good drainage system to ensure that the chickens do not get wet.
Wet chickens can easily become sick, so it is important to make sure that they have a dry place to sleep.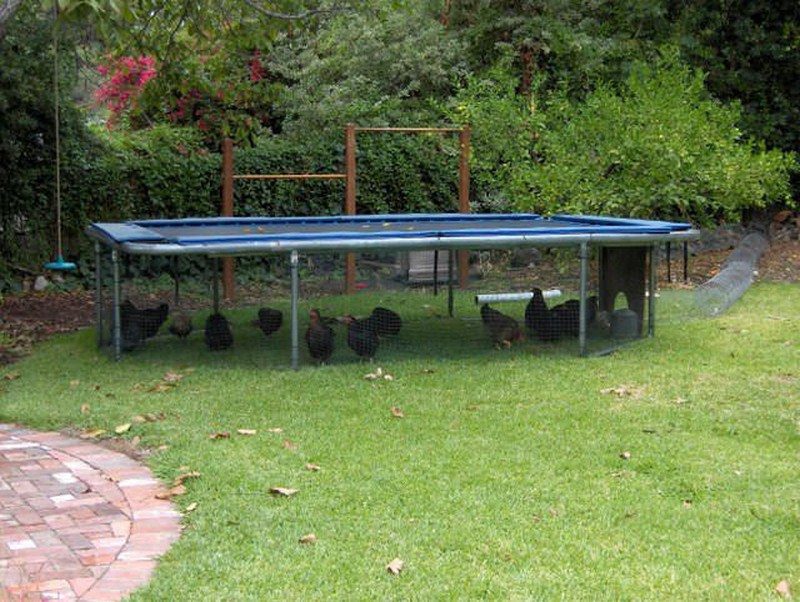 Be inspired and see the various ways you could turn an old trampoline into a trampoline chicken coop!
You'll need these materials:
Old Trampoline
Chicken Wire
12mm Plywood
1×2 Lumber
Covering Material
And these tools:
Saw
Hammer
Measuring Tape
Looking to build a chicken coop but don't want to spend a fortune? Check out our free chicken coop plans here…
Click on any image to start the lightbox display. Use your Esc key to close the lightbox. You can also view the images as a slideshow if you prefer 😎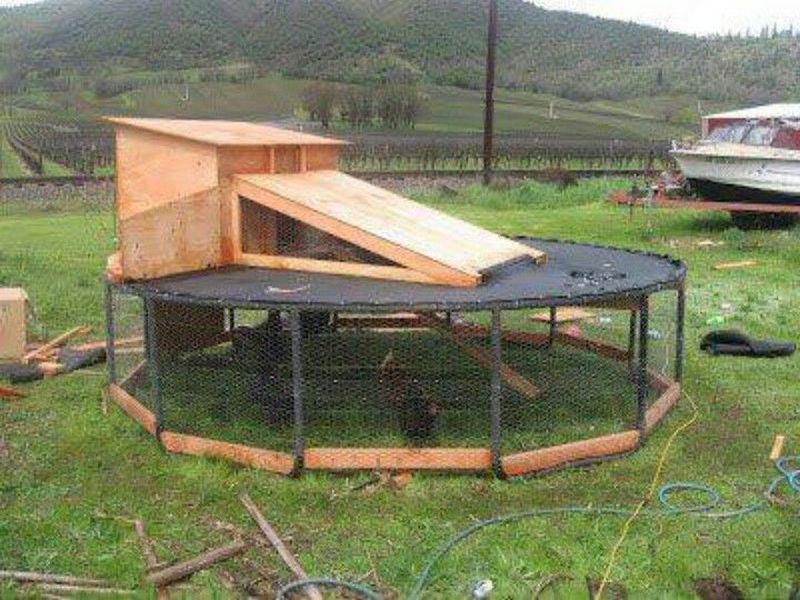 Crafting the Coop
Remember the four vital considerations to ensure your coop is as cluck-tastic as it is creative. From determining the ideal coop size to ensuring impeccable structural integrity, these considerations lay the foundation for a successful trampoline chicken coop project.
It's about their comfort and your ability to effortlessly manage their space. Additionally, by prioritizing functionality, you will create a coop that not only meets your feathered friends' needs but also showcases your exceptional DIY skills.
Taking this considerate approach will produce advantages that go beyond just the contentment of your feathered friends. It will serve as evidence of your clever conversion of a basic trampoline into a remarkable and practical chicken coop.
Yes, your trampoline chicken coop will not only provide for your chickens' comfort and welfare but will also stand as a unique display of your resourcefulness and imagination.
Now, are you ready to create a stunning trampoline chicken coop?
Thanks to American Nettings for this great trampoline chicken coop project. You can get the step-by-step instructions here…
If you liked this project, you will also like viewing these chicken coop ideas…