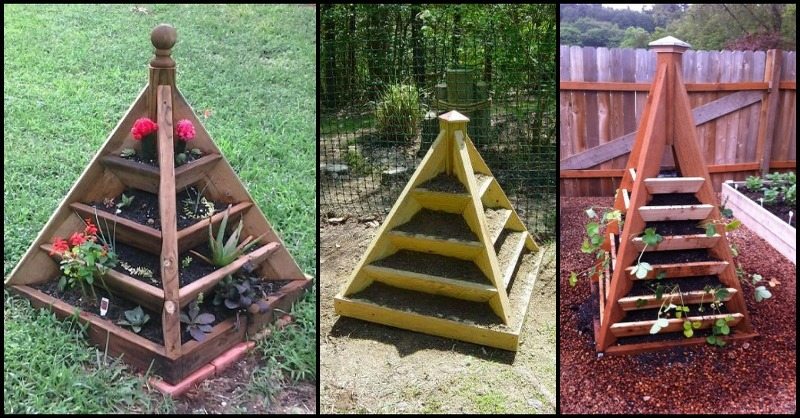 The finest strawberries you'll ever taste will have to come from your own orchard because fully ripened strawberries that you've grown yourself will taste sweeter and juicier than any store-bought fruit.
Nothing compares to biting into a sun-warmed strawberry that's been picked at the peak of ripeness and eating it right then and there. The experience is truly magical and something that you'll never forget.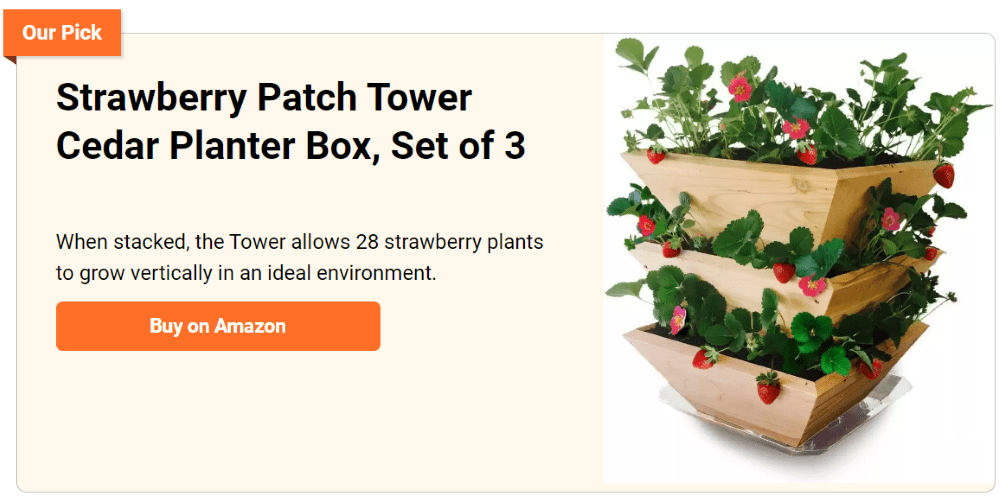 Strawberries are one of the easiest fruits to grow at home, but they can take up a lot of room when planted in a traditional "strawberry patch". You need to give strawberries room for runners by planting them 18 inches apart.
That entails a considerable amount of space if you intend to grow even just a handful of plants. But there are ways to grow strawberries in a smaller space by using creative pots and containers.
This project will give you homegrown strawberries while taking up only a fraction of the space of a typical garden. A pyramid planter is an ideal way of growing a great quantity of garden produce in a limited garden space.
This is a great project for those who want to enjoy fresh strawberries but don't have a lot of space to dedicate to a traditional garden.
The strawberry pyramid planters are easy and inexpensive to build, especially when made from leftover timber from your previous projects. This project should only take you a weekend to finish, as long as you have all the materials and tools needed.
Materials needed to build your own strawberry pyramid planters:
1 – 4″ X 4″ X 6′ Cedar Wood – for main centre post
11 – 1″ X 4″ X 8′ Cedar Wood – for structure
1 – 3′ X 3′ Plywood – for base
1 – 2″ X 2″ X 8′ Cedar Wood – for top
4 – Wheel Casters
75 – 1 1/2″ Deck Screws
Wood Glue
Gravel
Dirt
Varnish
Wood Glue
Drill
Table Saw
Clamps
Brush
How to build your own strawberry pyramid planters?
1. Cut the timber into equal pieces.
If you want your pyramid planter to turn out perfectly, you'll need to make sure that you cut your timber into three equal pieces, each length. This is a crucial step in the process, so don't skip it!
2. Screw the board together.
Drill holes into the boards, making sure that the holes are big enough for the screws. Then, screw the pieces of timber together at the corners to form a pyramid shape.
Be sure to leave a gap at the top of the pyramid, as this will be where you insert the final piece of timber, forming the point of the pyramid.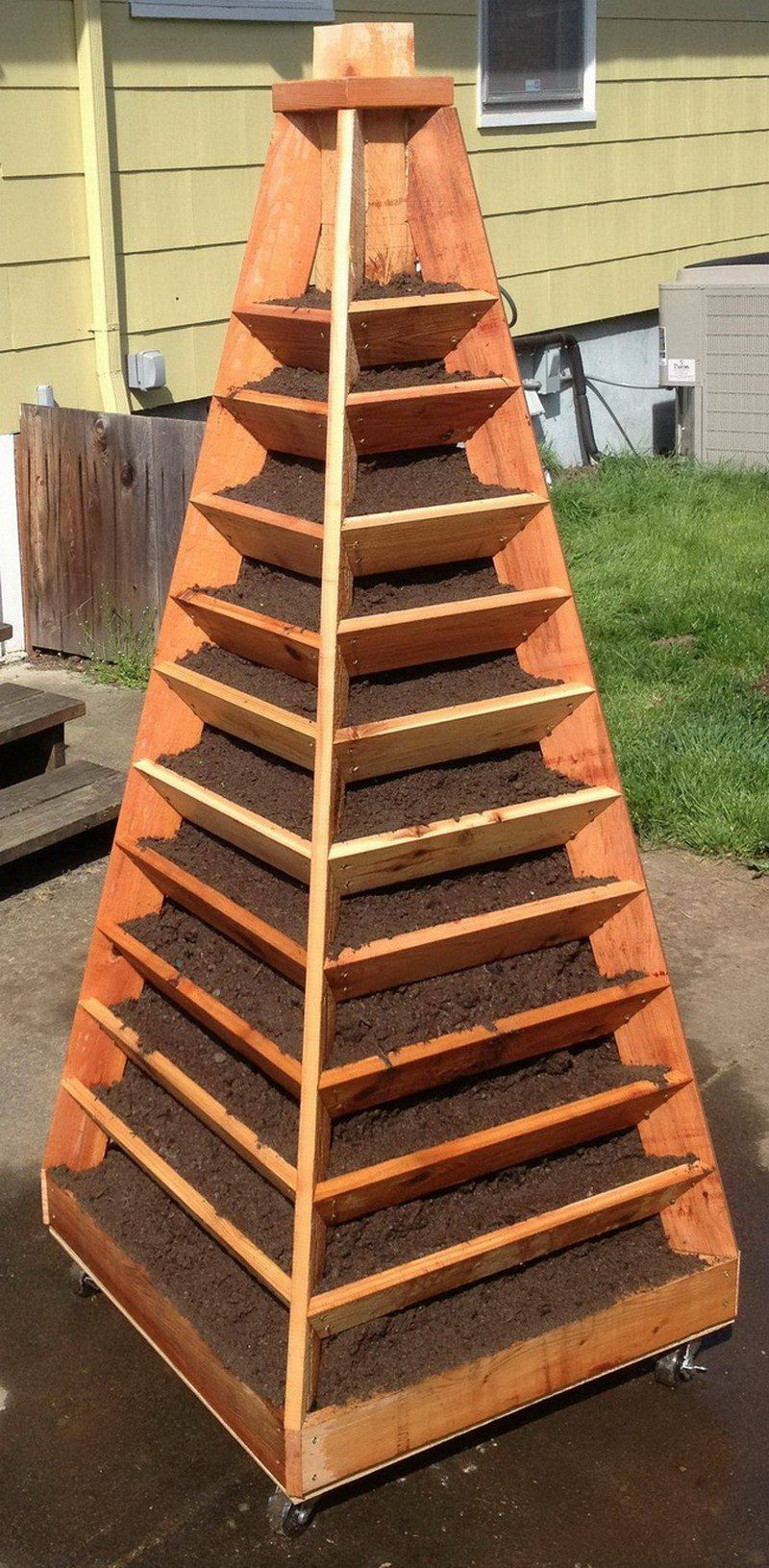 3. Drill holes in the sides of the pyramid planters for drainage.
You'll need to drill some holes in the sides. This will allow any excess water to drain out, preventing your plants from becoming waterlogged.
To do this, simply use a drill with a bit that's the right size for the holes you need. Start at the top of the pyramid and work your way down, drilling a few holes in each row.
4. Finally, fill the pyramid with soil and plant your strawberries.
Make sure to compact the soil around the plants so that they are secure, and water them well. You may want to add a layer of mulch to help retain moisture and keep the strawberries clean.
If you're looking for a fun and rewarding gardening project, why not try growing strawberries?
Strawberries are relatively easy to grow, and they make a delicious and healthy addition to your diet. Plus, there's nothing quite like the taste of freshly picked strawberries from your own garden.
Amazing DIY Strawberry pyramid planter designs
Click on any image to start the lightbox display. Use your Esc key to close the lightbox. You can also view the images as a slideshow if you prefer 😎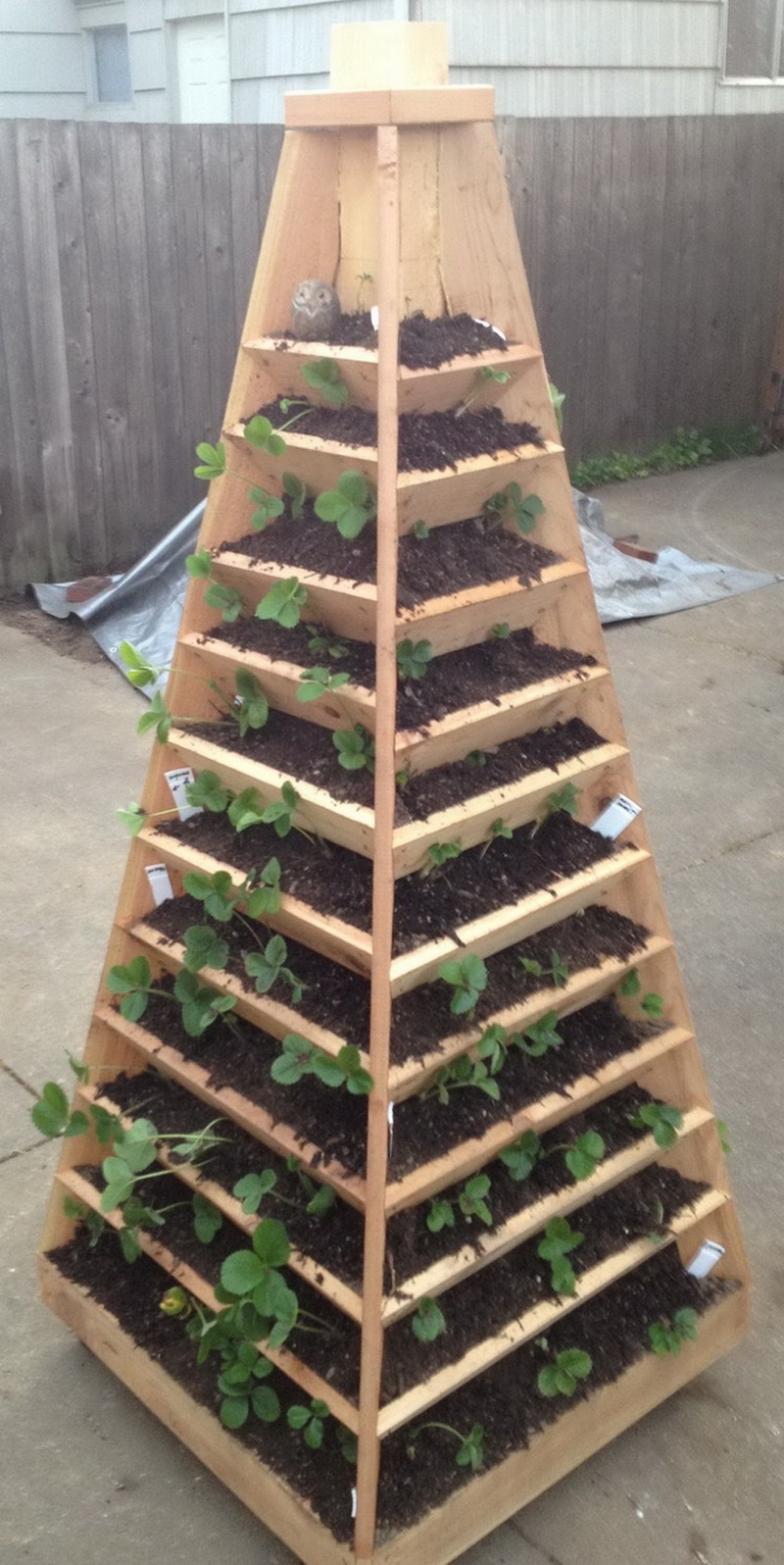 Thanks to Remove and Replace for this great project. You can get step-by-step instructions here…
And here's another twist on a strawberry tower: