Want to add a little whimsey to your garden? Flowers and colorful plants surely bring life into our homes, but sometimes we still feel the need to add more to make it merrier. If you – or your children, think your garden needs more life, these garden art ideas can turn your yard into a wonderland!
If you have little kids at home, make it a family affair! You can make some of these DIY garden projects with them. They'll learn how to recycle, repurpose and reuse as they're also having lots of fun.
These beautiful garden art ideas will bring more life and fun to your home while giving you the opportunity to save — Mother Earth and your wallet! 😉
If you had all of these in your garden, you might have to hire a traffic controller! What do you think?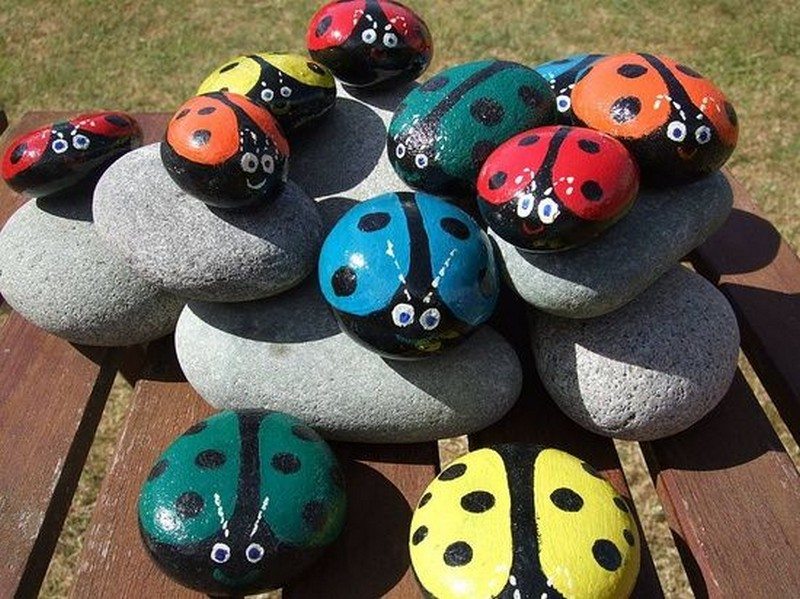 Click on any image to start the lightbox display. Use your Esc key to close the lightbox. You can also view the images as a slideshow if you prefer?
Hubcap Flower
Dads may have a couple of old hubcaps lying around the garage. Why not make colorful flower decors with them? Now that's one less 'trash' in the garage area!
Old Tires
Flat tires in the garage as well? Turn them into cute 'sculptures' such as cartoon characters or giant teacups!
Soda Cans
You can also use colorful empty soda cans to make butterflies and flowers. But we hope you're not drinking too much soda enough for a bouquet! 😀
Ceiling Fan Blades
Aren't these giant dragonflies cool to have around the garden? Simply put together ceiling fan blades and a table leg, and paint away!
Drum Barrels
If you love painting, then you can definitely add more color to your garden by making your masterpiece on your rain barrels or drum planters!
Stones
This lady bug rocks idea is for the kids! Make it their weekend project, yes?
Terra Cotta Pots
These terra cotta examples definitely bring more life to the garden. I can imagine having friendly gnomes to protect my house. How about you?
Old Jeans
They could be creepy at first, but we think this would make a good and different version of a scarecrow! It's also another great way to upcycle small jeans. What do you think?
We hope this inspired the creative gardeners in you! Do you have new ideas to share? 🙂
If you liked these garden art projects, you might also like these easy DIY projects…