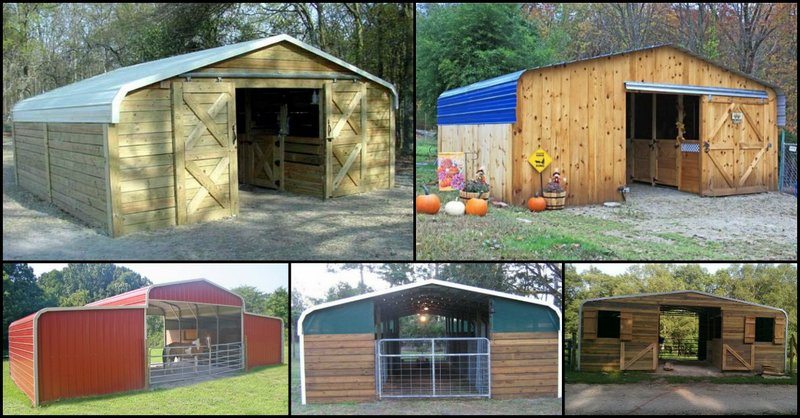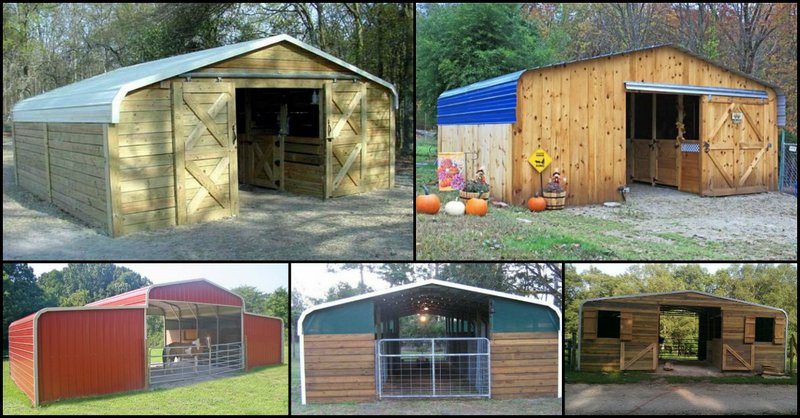 Carports are great for keeping your car protected from the worst of the weather. But there are other ways to use them. If you want your carport to become something more than just a space for your car, you'll need to plan a conversion project.
Since carports are meant to shelter vehicles, most of them are open on one or more sides to allow ventilation. They are also often attached to a house. Many accommodate two or more vehicles, as well.
Some carports are free-standing. Many are built of wood, metal, or plastic. Free-standing structures are generally easier to build and install than those that are integrated into a house. They are also easy to disassemble.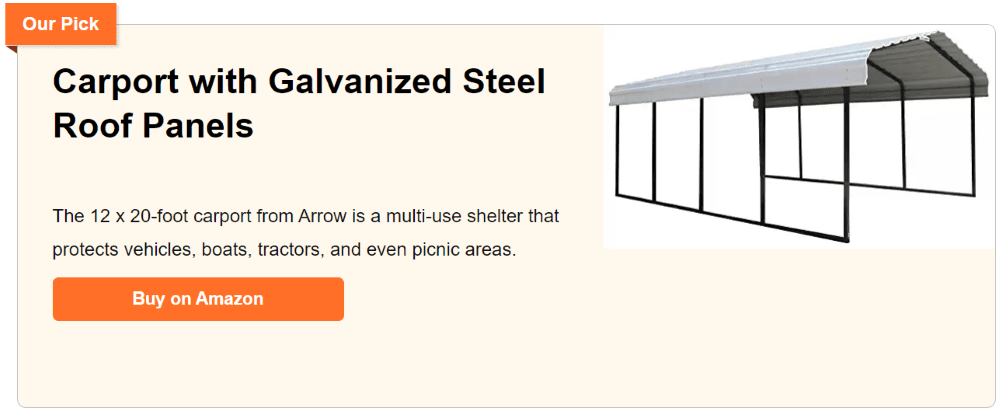 Some vehicle owners like the convenience of being able to transport their carports to different sites. We're sure you've seen them in advertisements. Low-cost car stalls make you consider if it would be a worthwhile endeavour to turn one into a barn or a woodshop. But you aren't quite sure how to go about the conversion.
Of course, before you even start planning such a project, you should first consult the building regulations in your area.
Are you even permitted to build a barn? What are the engineering requirements for an additional stricture on your property? Once those questions are settled, then you can start pre-preparing for your project.
You can purchase an off-the-shelf carport. After assembling it, you can then clad it with timber and add a swinging door. You would have yourself an awesome and inexpensive barn.
Planning Your Carport Conversion Project
If you don't need space as big as a barn, you can convert a smaller off-the-shelf car stall to build a tool shed, workshop, or hobby room. The possibilities are limited only by the imagination. Can you think of other ways to use a converted carport?
Of course, you'll need to think about the design of your barn. What features do you need? How much space do you require?
If you're planning a storage structure for farm equipment, a simple shed design should be adequate. However, if you're planning to clean, repair, and maintain the equipment, you may want more space. You might even need some kind of loft for tool storage.
If you intend to convert one for livestock, you'll need to plan the conversion based on your animals' needs. Will you store feed in the barn? Do you need windows or other ventilation? If you're not sure about your animals' needs, consult a veterinarian or the local extension office.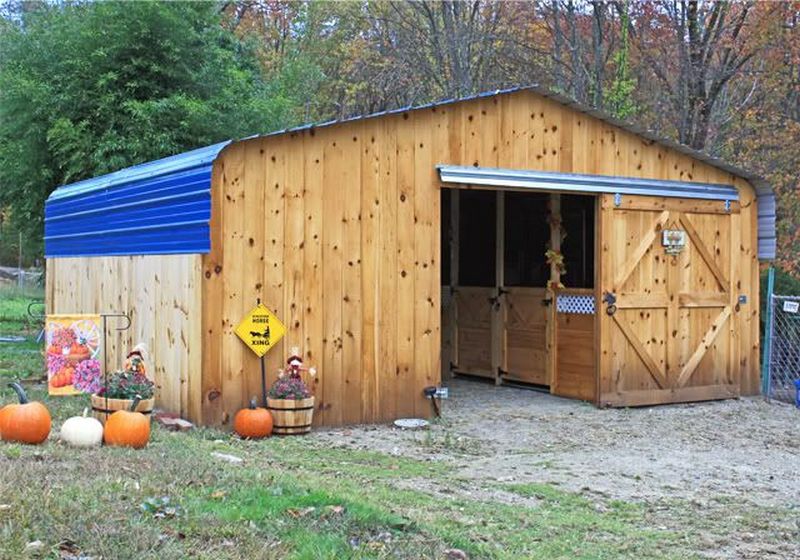 Three Ways to Convert a Carport into a Barn
Converting a lean-to or carport into a barn is easier than building a new structure from scratch. You'd be able to use its roof, the walls, and the metal framework.
But you should remember that the sides of the structure will probably be made from lightweight metal. Those would not hold up to livestock.
This means you will need to line the first four feet up from the ground with boards or plywood. Make sure the support structure is sturdy enough to keep livestock from damaging the metal walls.
You can also put on your own metal siding – just make sure you use a heavier gauge. You will probably still need to line the interior with wood.
1. Enclose the sides and the back
You may enclose both sides and the back of the carport – or you can leave the back open, depending on what you need. You can seal everything off save for an entrance and exit, if you like. You may also consider installing windows and doors. You can use boards and treated lumber for that.
2. Install dividers and stalls
We recommend installing dividers inside the structure. These will help to form separate stalls for the horses and other animals.
When converting carports into barns for horses, most DIYers choose to build stalls for each horse. If you intend to do the same, you will need to decide how many stalls you want in the structure.
Note that cattle should have between 14 to 20 square feet of space per animal. If they are going to be in the pen overnight, then you need to triple this number, according to experts at Mississippi State University.
You will also need to factor in the behavior of your animals. If one is hostile to the others you will need either a larger space or a separate area.
Will you be raising horses? A standard stall size for a large horse is 12' x 12'. If your horse is smaller, you may go for a 10' x 12' or 10' x 10' space. You will need more space if your horses are going to be spending long periods of time in their stalls.
Sheep do not require that much space. You can allow about 16 to 25 square feet for each ewe and her lambs. If your sheep aren't lambing, they should be fine with 8 to 10 square feet each. If you are raising goats, they will need about a 4' x 5' space each.
3. Install swinging or sliding doors
If you have enclosed the barn with walls, make sure to install swinging or sliding doors. If it is open at the front or back, then the swinging doors will only be needed on the stalls.
In warmer climates, people sometimes cover the bottom 4ft and leave the upper half open – or covered with just wire – for better ventilation.
There are two types of doors for barns. You can install either a sliding door or a rolling door. Either way, we recommend that you situate the entrance and exit away from the main direction from which storms or bad weather often comes.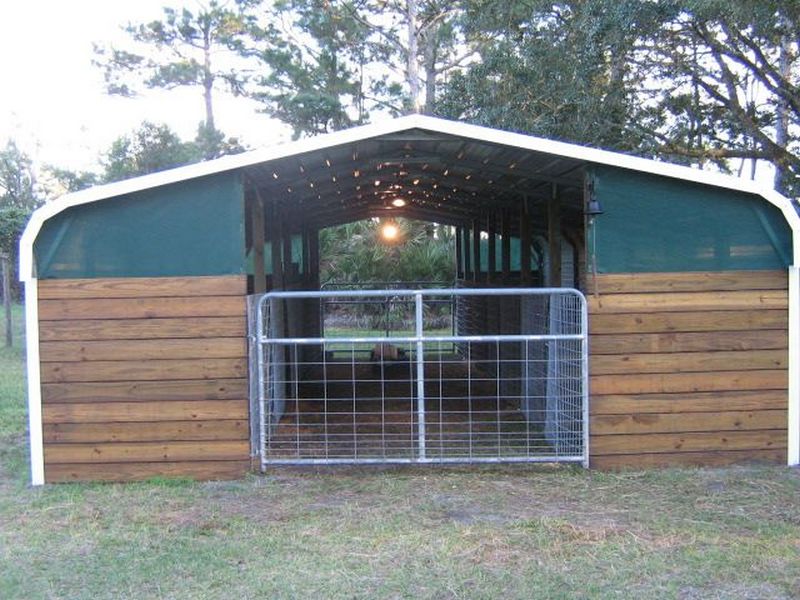 Sliding barn doors are a beautiful feature of any barn. They are the perfect choice for a barn that has an existing door opening. Sliding doors are also easier to install. Barn doors that swing open take a lot more work.
Below are images of a few creative ideas to convert old carports into barns.
Click on any image to start the lightbox display. Use your Esc key to close the lightbox. You can also view the images as a slideshow if you prefer 😎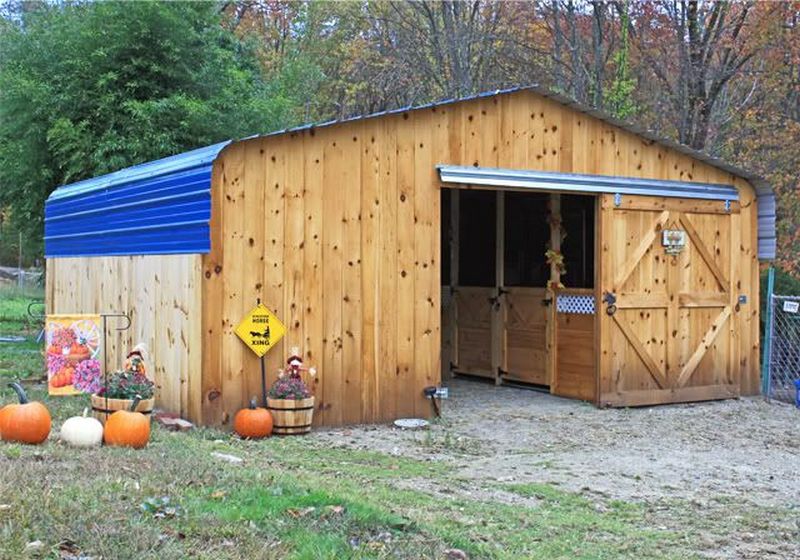 If you liked this project, you will also like viewing the Barn homes and Barn Conversion…