Do you know what's going on in your home right now?
There were more than a million home burglaries in the United States alone in 2016, according to data from the FBI. That works out to around one burglary every 30 seconds!
These numbers alone build a strong case for installing good security cameras in your home. But they aren't the only reasons.
Burglars don't discriminate. You might not think of yourself as particularly wealthy, but that won't stop crooks from breaking into your home.
Criminals are creatures of opportunity. They will strike wherever there's an opportunity, whether it be in a big city or small suburb. That's why every home needs a security camera system no matter how "safe" the neighborhood.
Choosing the Right Camera
Choosing a security camera isn't as easy as you might think, either. There are countless systems out there and not all of them will fit your budget or requirements.
To help out, we've assembled a list of the best home security cameras in the guide below. Each has undergone testing by experts in the field. Each has its pros and cons.
From here, choosing the right camera should be a simple matter of judging your needs, weighing your options, and considering costs.
Most of our picks are panning cameras. They swivel horizontally and tilt vertically. This means you can see much more of a room without installing cameras in every corner. This of course helps to reduce security costs and installation work.
Wyze Cam Pan
When correctly situated, the 1080p Wyze Cam Pan offers a 360-degree view at 15 fps for a surprisingly affordable price. The system comes with free 14-day cloud storage, too.
You'll have to use a MicroSD card – or pay for cloud storage – for nearly every other device on this list. If you want longer clips with no breaks in between, though, you can subscribe.
The Wyze Cam Pan records 12-second clips when it detects motion. The system boasts clear two-way audio, as well. You can configure it to automatically show a scan of your home when you check the live feed. Or you can manually check your home using the controls on the app.
Night vision lets you see up to 30' in absolute darkness using 6 infrared (IR) LEDs. You can also connect Wyze to the Noonlight app to contact emergency services directly from your camera feed! The system supports two-factor authentication and it's simple to set up and use with the Wyze app.
The cons? Motion notifications are slightly delayed, and the video's color quality isn't as good as those of some of the other cameras on this list. There's no separate pet detection, although the manufacturer says it's coming soon.
1st Pick
Wyze Cam Pan
Buy on Amazon
We earn a commission if you make a purchase, at no additional cost to you.
11/28/2022 04:54 pm GMT
Nooie Cam 360
Nooie's camera would've been first on our list had it offered a way to store clips without a subscription to its cloud service. The only way to do that with the system now is by installing a MicroSD card.
Nooie's Cam 360 nevertheless has all the specs of a good camera. The system boasts accurate motion detection, two-way audio, 1080p video, and two-factor authentication for added security.
The images are superb. Zooming in will be a digital crop, resulting in a slightly degraded image the further you zoom. Night vision is equally impressive
Like most panning cameras, including the Wyze, it can't swivel a complete 360 degrees. If you pan all the way to one side of the room, you'll have to turn back to scan the other end.
Again, like the Wyze, the Nooie camera also lacks pet detection, which could've reduced unnecessary motion-detection notifications.
2nd Pick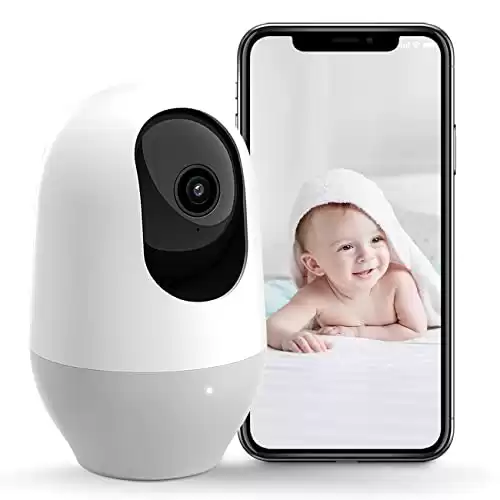 Eufy's Indoor Camera 2K
Unlike our two top picks, Eufy's Indoor Camera 2K allows you to set an activity zone for your pet, like the living room couch. When the camera detects your dog or cat in that area, it activates a recorded audio message. The pet will hear your voice and stop chewing on the throw pillows!
As its name implies, the camera captures video at 2K resolution. The camera has a 125-degree field of view and an 8X digital zoom. Eight infrared LEDs provide up to 33 feet of black-and-white night vision. The camera contains a microphone and a microSD card slot for storing event-triggered video locally.
The slot will accommodate SD cards of up to 128GB. Beyond that, you'll have to supply your own media, or you can subscribe to a Eufy Cloud storage plan.
3rd Pick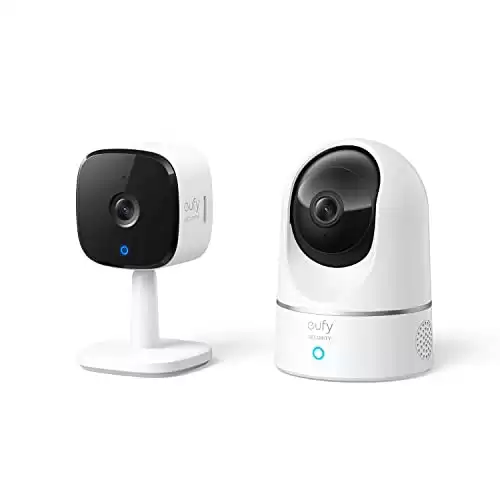 Kami Indoor Camera
The Kami Indoor Camera is operated with the Kami Home app, which supports all Kami-brand cameras, sensors, and base stations. This camera also pans and tilts to cover an entire room. The app allows you to easily control where the camera is looking. Motion tracking notifications means you won't miss anything even when you're not viewing the live feed.
The Kami's motion tracking system is not without flaws, though. The camera will sometimes focus on shadows instead of what's going on in a room.
Still, you can set location marks, like the front door or bedroom windows. This feature allows the camera to focus back on critical areas in a room instead of fixing on moving shadows.
Subscribe to the Emergency Response plan and you can contact emergency services using integration with the Noonlight app. The camera doesn't have two-factor authentication, but you can establish a pin separate from your password to view the live feed.
4th Pick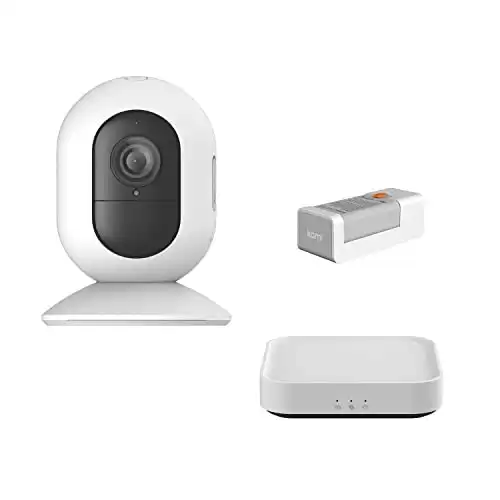 Arlo Q
The Q is one of Arlo's oldest cameras, but it still gets the job done. The camera is a breeze to install and set up, and the 1080p video quality is clear. Like the Wyze, the Q includes seven days of free cloud storage.
The live feed is a few seconds behind the action, and it takes a while for a motion-detection video to show up in the library. The Q isn't cheap, too, but it is more affordable than some of the other models out there. We've also seen the price drop recently, so you just may be able to get it in a timely sale online.
5th Pick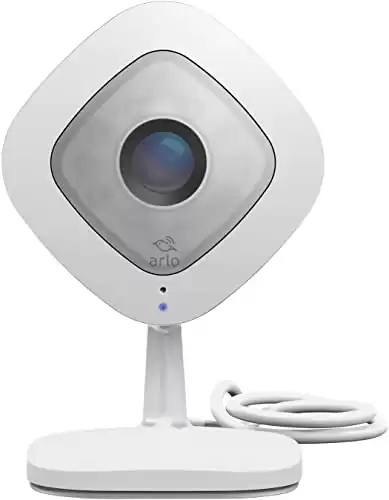 Arlo Q
Buy on Amazon
We earn a commission if you make a purchase, at no additional cost to you.
11/28/2022 09:56 pm GMT
Panasonic Homehawk Window
The Panasonic Homehawk Window sticks to the inside of a window. The setup allows you to keep an eye on the outside of your house without mounting anything else. You'll find the image quality clear despite the glass or screen of the window. You can set detection to just people, too, to avoid notifications for every car that drives past.
This is not a cheap camera, though, and it offers no cloud storage. You'll need a MicroSD card to view anything other than a live stream. The app is also rather difficult to use than those of others on this list.
7th Pick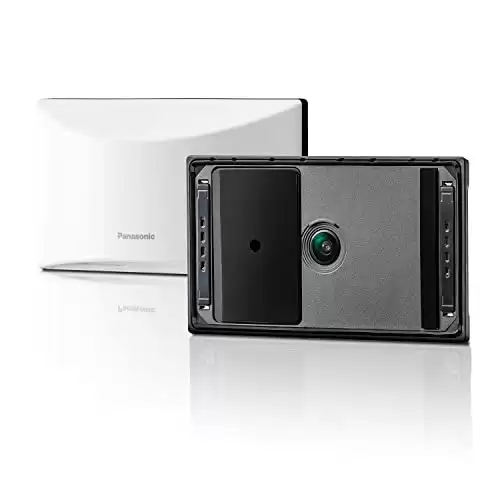 Nest Indoor and Outdoor Cameras
Nest's Indoor and Outdoor cameras are excellent but pricey. The indoor camera boasts facial recognition and Supersight, which tracks people's faces to make sure you don't miss any activity.
But you probably don't need to spend money on this camera unless your home already has Nest or Google Assistant devices. Several of the cameras we've recommended can be controlled through Google Assistant or Amazon Alexa, if that's what you need.
7th Pick
DIY Smartphone Security Camera
If cost is really a concern, then you don't need to spend money on a new security camera at all. You can use an old smartphone as long as it can still connect to Wi-Fi.
Just download a popular app like Alfred to your old and new phones. You can then sign in with the same email address. You'll have to find a good spot to mount your device and keep it charged. But that's a small price to pay for some peace of mind.
Your current phone will be able to view the live camera feed. The downside is, of course, that a static smartphone won't offer the same 360-degree field of view as other security cameras.
Alfred is available for iPhones and Android. Just like your upscale security cameras, the app allows motion detection. The software will set off an alarm when the camera detects someone in your home.
Always Follow Basic Precautions
While security cameras can help protect every part of your home, they can also create a false sense of security. That might lead you to be less careful.
So, always remember to follow basic precautions even when you've got cameras installed in your home! Lock all doors and windows when you're out of the house.
In about 40 percent of break-ins of unoccupied homes, the offenders gained access through an unlocked door or window.
You should display your security system's yard and window signs, too. These signs are an easy way to dissuade the bad guys from trying to burglarize your home in the first place!
---