When you own a home, you need tools. Even if you don't plan to DIY any major home improvements or repairs, there will still be minor things you'll need to take care of — hanging pictures, putting together flat-pack furniture, and doing minor repairs.
But what tools do you absolutely need to buy right away, and what tools can you skip until a job comes up that requires them?
There are so many purchases that a new homeowner needs to make, and stocking a toolkit is one of them. Make sure to put these tools in your home toolbox.
Hammer
You'll need a claw hammer for tapping in picture hangers, putting together furniture, and assembling birdhouses, raised beds, and other small household jobs.
You can buy a fancy hammer with shock absorbers in the handle, but that's not really necessary for an occasional-use tool. Choose a 16- to 20-ounce hammer with a smooth face and a fiberglass handle. A straight rip claw is best for household use, and a nail-starter notch can come in handy.
Screwdriver
A screwdriver set, or a multi-bit screwdriver, will come in handy for assembling furniture and tightening up furniture screws, as well as for some small repairs.
You can use the screwdriver bits in your cordless drill to drive or remove screws.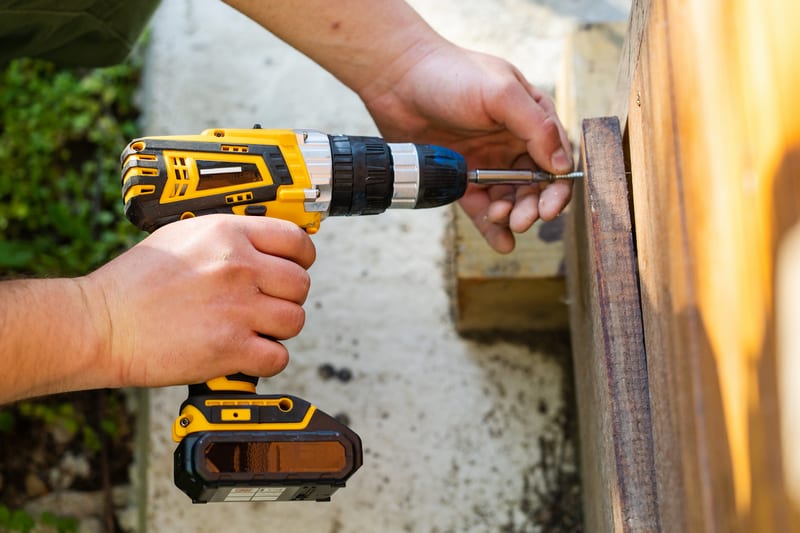 For work on electronics and appliances, a precision screwdriver set has tiny bits suitable for removing the smallest screws.
Measuring Tape
Whether you need to replace an appliance or buy new furniture, a measuring tape is essential for measuring fit.
A ¾-inch model with a lock will serve most purposes, but you can also pick up a pocket-sized tape for shopping trips.
Level
If you want to hang a floating shelf or a picture frame, you need a level to make sure it's, well, level. If all you plan to do is hang small shelves and picture frames, a small level will do. But if you intend to do any DIY home improvements or major repairs, grab a four-foot level.
Wrenches
You'll need a set of wrenches to perform most plumbing jobs, even the simplest ones. They're also good for assembling, maintaining, and repairing the kids' skateboards and bikes.
In fact, cars, lawnmowers, exercise equipment — all of it might require the use of a wrench during repair and maintenance.
If you plan to be turning a lot of nuts and bolts, grab a socket set, too. Either way, add a set of allen wrenches (also known as hex keys) to your home tool box — practically every flat-pack furniture item you'll assemble requires an allen wrench, and your own hex tools will be easier to manipulate than the tiny keys packaged with furniture parts. You can even buy hex bits for your multi-bit screwdriver.
Pliers
Pliers are essential for grasping small objects. They can even be used to pull, bend, and twist metal.
Grab a pair of needle-nose pliers, a pair of combination pliers, and a pair of locking pliers.
Utility Knife
From breaking down boxes to trimming carpet edges to releasing a painted-shut window, a utility knife has many uses around the home. Grab a box of extra blades, too. You can get a box of 100 blades for under $10.
Flashlights
You'll need more than one flashlight in your tool box, unless you live alone. Flashlights are great for shedding light on a dim place, such as under the crawl space, up in the attic, or underneath a sink.
Flashlights are also essential tools for blackouts and investigating bumps in the night 🙂
You can buy rechargeable flashlights or battery-operated ones, and there are LED flashlights available now, too.
Buy several flashlights in different sizes and styles — hand torches, head lamps, and even camp lanterns.
Cordless Drill and Drill Bits
If there's one power tool you definitely need in your home, it's a cordless drill. A drill will speed along many household jobs, and it's good for more than just putting holes in things.
There are numerous bits and saws you can attach to your drill. You can even buy brush attachments for your drill to clean your shower grout without aggravating your tennis elbow.
You can buy specialty bits for mixing concrete, mortar, paint, and grout; sanding wood services; removing rust from metal; planting bulbs; and turning screws or hex bolts. Brands like Ego power tools offer a wide range of cordless drills and impact drivers.
Plunger
There are ways to unclog a toilet without a plunger, but it's still a good idea to have one next to the toilet. You should also buy a sink plunger to keep under the kitchen sink — it can help loosen blockages and might save you a call to the plumber.
Extension Cord
Extension cords can be a lifesaver when working in any corner of the house or yard where there's no powerpoint handy. Make sure to get a cord rated for outdoor use if you plan to use it outdoors. For computer equipment, electronics, and power tools you use indoors, an indoor-rated cord is fine.
Homeownership can be challenging, especially when something breaks. But with the right tools in your tool box, you'll be ready to handle any minor home repair — and some larger ones, too.