Amateur weather enthusiasts and meteorologists are no strangers to the home weather station. This clever device collects data related to weather and the environment using sensors. The sensors gather information from your home area to provide a detailed look into the moods of Mother Nature.
By recording data several times a minute, home weather stations offer real-time insights long before weather disturbances become imminent. This can be useful for people living in areas where extreme weather events are a common occurrence.
The Best Home Weather Stations
The least expensive weather stations track temperature and humidity outside and within your home using a thermometer and hygrometer. They often have clock and calendar functionalities and can alert you to certain weather conditions.
More advanced systems can have all that and more. Some have a rain gauge, an anemometer, a barometer, and an actinometer for checking UV index and solar radiation.
Below are the best home weather stations on the market right now.
The Best Budget Choice
The Arizona-based company, Ambient Weather, has one of the most recognizable brand names in the industry. If you're shopping for a budget weather station, you may have already come across Ambient Weather's WS-2902C. The Osprey is a solar-powered wireless device that uses Wi-Fi to process data.
The new version has a revamped web-based dashboard and LCD screen. The device itself offers many options for storing and sharing data. You can also connect it to other services and schedule actions dependent on specific weather conditions.
The Osprey's integrated sensor measures temperature, humidity, wind, rain, UV, and solar radiation. It can calculate the heat index, dew point, and wind chill, as well. You can calibrate the device to present the information in either the imperial or metric units of measure.
Many people will not splurge on a weather device. That's understandable, but spending less – in this instance – does have its trade-offs. The Osprey's sensor array feels flimsy. You'll also need to find a pole on which to mount it.
The device arrives completely unassembled. You'll need to spend some time putting everything together. The mounting system – which relies on two metal U-bolts tightened by a tiny wrench – doesn't feel stable, either.
That said, if budget is a significant deciding factor, the WS- 2902C merits consideration. Given that it's the most inexpensive home weather station on this list, it does its job quite well.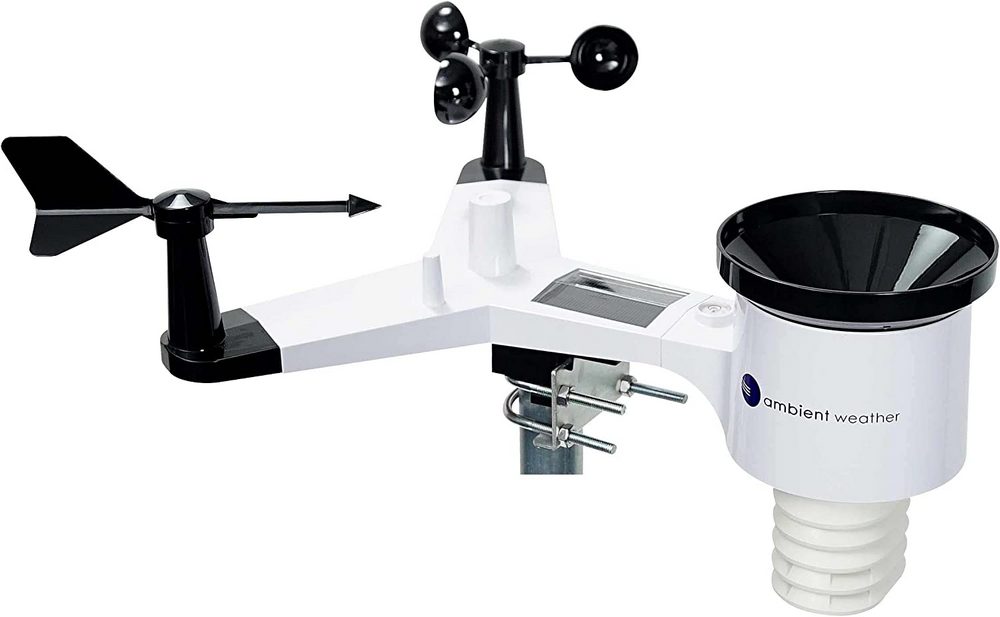 The Best Stickler for Accuracy
AcuRite is no stranger to those who regularly use weather stations. The company is behind some of the best weather stations on the market. The company's latest product, the AcuRite Atlas, is the first enthusiast model from the company.
The Atlas is an all-in-one device, so the initial setup process is quick and easy. What is apparent right out of the box, though, is that the hardware is both substantial and clunky.
You'll need a pole 1-inch to 1.25-inch thick on which to mount the integrated sensor suite. But the setting that up should be a breeze, as well, lasting no more than a few minutes.
The system includes an impressive full-color high-definition display. We liked its top-notch quality, viewing angle, and well-designed layout, which made the information so much more compelling.
The Atlas detects indoor and outdoor temperatures, humidity, wind speed and direction, UV and light intensity, barometric pressure, and rain. AcuRite also offers an optional module that detects and records lightning up to 25 miles away.
But getting this information from the Web or the AcuRite app requires connecting the device to WiFi. That can prove exasperating. Previous reviews have lamented the frustrating process involved in connecting to AcuRite's temporary website. We now know why.
Still, once it's up and running, the Atlas performs like a champion. Its temperature readings are near perfect, with an average variance of about a degree or two from actual temperatures.
Our verdict? If a perfect forecast is your most important criterion, then Atlas is for you. We think it's well worth the price it commands in that respect. Ultimately, though, it's just too complicated and difficult a device to recommend for most home users.
The Best Newcomer
The Weatherflow Tempest is a new entry to the market. Industry insiders say it took a long time coming, too. WeatherFlow had promised investors a station by 2017. But manufacturing issues pushed the Tempest's launch back a number of times. Now that it has arrived, it's making its mark.
There isn't much to do when it comes to setting up this device. The entire sensor suite comes preassembled and it's small and light at 3.5 lbs.
If all goes well, you should have this station up and reporting data in just five minutes. You don't have to bother calibrating the sensors. The Tempest is self-calibrating.
To install the station, you can attach it to the top of a mast or a pole. But the Tempest isn't finicky. In fact, you can screw it on top of just about anything using its standard tripod mount.
This device includes a Wi-Fi base station, which the device uses to connect to your home network. The entire setup process is within the app.
Unlike many weather stations, the Tempest does not have a console. You don't get the typical indoor measurements that you get with other home weather stations. The smartphone and web-based apps act as your console, which updates once every three seconds or so.
The app is simple and easy to use. You get every weather variable you'd need and more. The device detects and measures temperature, humidity, wind speed and direction, and rain.
The station also has a built-in lightning detector and a UV and light sensor. The latter reports everything from the UV index, to brightness, to solar radiation.
We found that its temperature readings tend to run high. The device missed by an average of about 5.2 degrees. This is probably why its weather forecasts were the worst in this lineup.
That's baffling because forecasting is supposed to be Tempest's forte! Weatheflow does expect the station's machine learning to "significantly improve the forecast over time," though.
We like the Tempest despite its flaws, which a few software updates should fix. We are particularly impressed by the quick and easy setup and the compact hardware. But this device commands a price of more than $300. We think that's a bit much for what you actually get.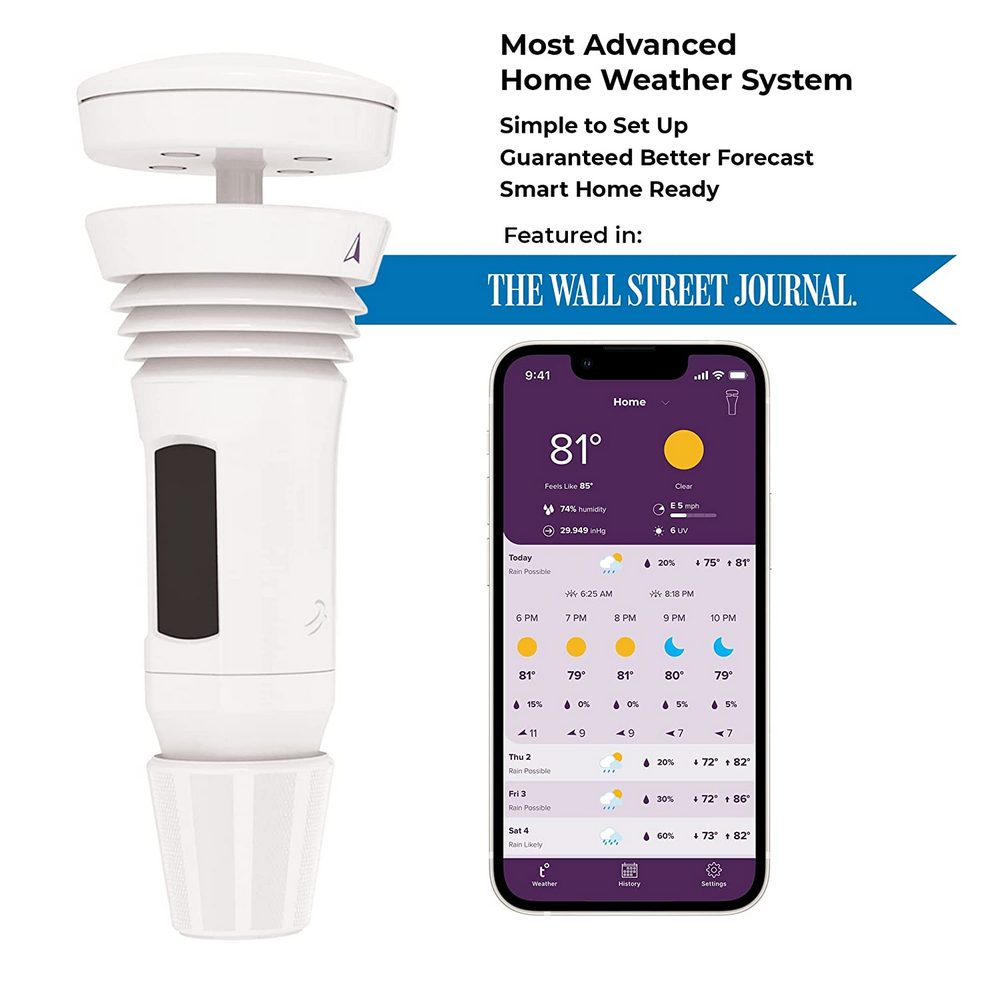 The Best of the Best!
You won't find a more streamlined weather station than the French-made Netatmo. But that is far from all that the aluminum-bodied device has to offer. Its modern design, pinpoint accuracy, and easy-to-use functions have earned it accolades from Wired, Good Housekeeping, and Wirecutter.
Netatmo's base model includes two sensors. The slim, battery-operated outdoor tower tracks temperature, humidity, and barometric pressure. The AC-powered indoor sensor – which you situate near your router – measures CO2 and sound levels.
Right out of the box, you'll note that setting up the Netatmo is a complicated and buggy endeavor. Netatmo's approach will have you install each component individually.
What's worse, you need to press buttons and remove and reinstall batteries at just the right time. That can be a bewildering exercise.
Once they're running, the outdoor sensor talks to the indoor sensor, which relays the data to the web and the Netatmo app. For a more complete picture of what's outside, though, you'll need to buy the compatible rain gauge and anemometer. That doubles your investment.
Buying a full complement of gear, including both gauges, will cost you a total of more than $300. A complete set of peripheral equipment will provide measurements of indoor and outdoor temperature and humidity and barometric pressure.
You'll receive the measurements in the Netatmo Weather app or its website. You can be confident that Netatmo's measurements are always spot-on.
The app is pleasantly intuitive. The easy-to-read graphics and charts of real-time and historical data are well-laid out and rather captivating. You'll have access to a reliable seven-day forecast, as well.
You can pair the Netatmo with Amazon and Apple smart speakers. Do that and you can request weather reports from Alexa or Siri! Pairing should be easy if you're already living in a smart home.
Despite its issues, the Netatmo home weather station does its job exceedingly well. We like its performance and overall value.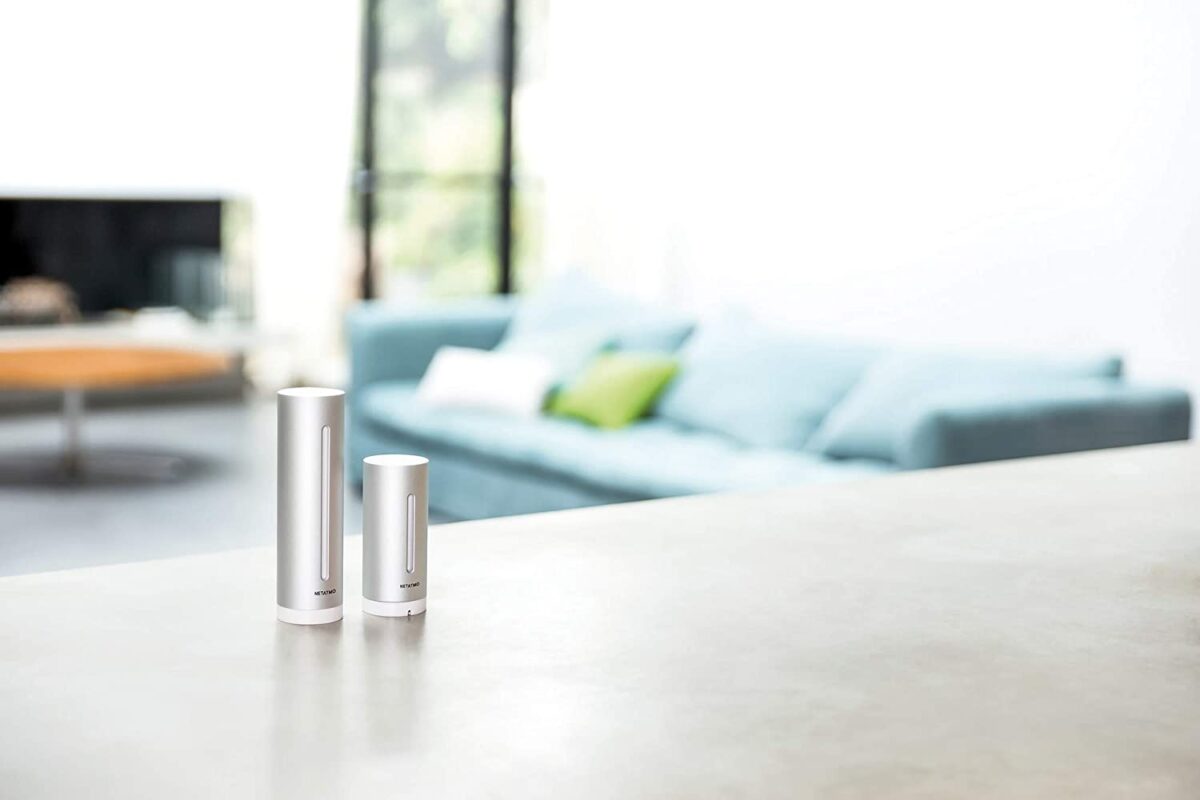 Do you own a home weather station? If not, do you think buying one would be a good investment, given today's unpredictable weather patterns? Please feel free to share your views in the comment section below.
---