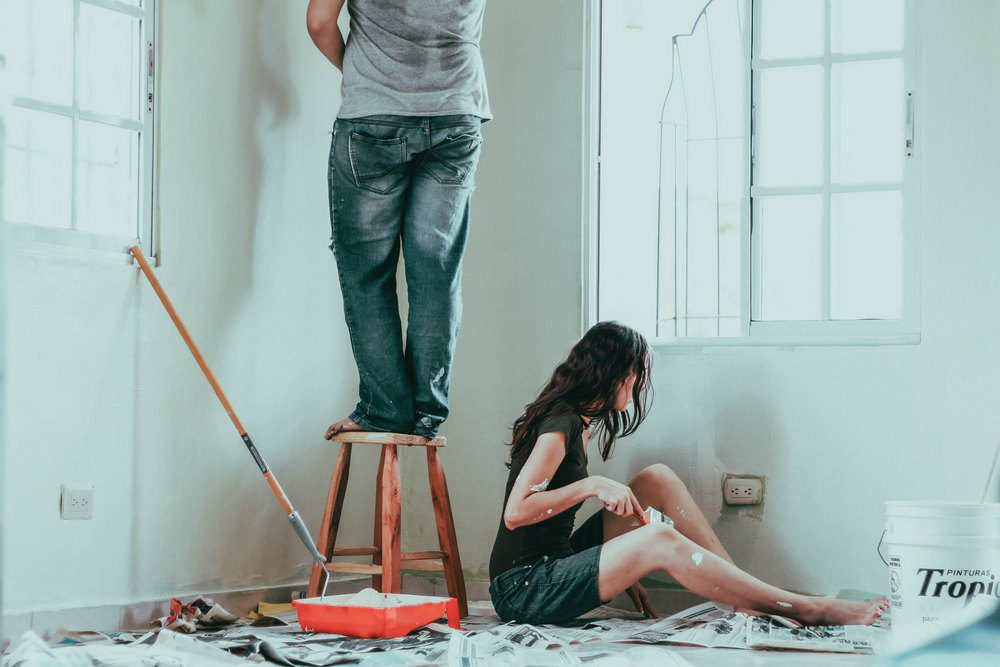 Home upgrade projects don't have to be too expensive to be worthwhile and transformative. There are tons of home improvements you can accomplish on a tight budget. Well-thought-out renovations can improve the aesthetic value of your property, but proper planning is necessary to avoid nasty surprises.
A few simple property upgrades can go a long way if you intend to sell your home or just want to give your home a facelift. Whether you have some DIY experience or are a beginner, the following home upgrade tips can help you get the desired outcome.
1. Kitchen Makeover
Your kitchen is the center of any home, and people spend most of their time here – making it one of the most important spaces in any home. Ensuring your kitchen is practical, functional, and organized is essential. A complete kitchen makeover can be quite expensive, but a quick facelift can transform your kitchen at a fraction of the cost.
If your cabinets and other accessories are still functional, you can refurbish them instead of installing new ones and save money. Ideally, you can paint the cabinet doors or install a new veneer to transform the appearance. With the vast choice of colors available in both paints and melamine, you can totally transform the look and feel of your kitchen at a minimal cost.
You can also make the kitchen more functional by installing pot or cup racks since they provide a cheap way of organizing your kitchen.
2. Upgrade Your Curb Appeal
While you might want to concentrate on interior improvements, upgrading your curb appeal can go a long way in transforming the aesthetic appearance of your home and increasing its value.
Ideally, lawn maintenance can improve the exterior aesthetics of your property, and you don't have to spend lots of money if you already know proper lawn care basics. Alternatively, you can work with landscaping experts for unique front yard ideas and ensure you get the perfect makeover.
Ornamental shrubs, trees, and flowers can make your home more inviting and have many health benefits. You can use ceramic or stone planters with unique designs that complement the color scheme of your home.
3. Repaint the Interior and Exterior
Repainting your home with a fresh coat of paint is a great way to transform your space without breaking the bank. While the cost can vary depending on brand and quality, you can easily get a good option that suits your budget.
Painting doesn't mean you have to work on the entire house. You can choose to paint only some detailed items like your cabinet and cupboard handles to create an eye-catching impression.
As an alternative to paint,  you can totally transform interior walls with budget-friendly wallpaper. Consider using wallpaper to create a feature wall in your living areas and master bedroom
Most importantly, wallpaper is easy to install and remove and doesn't damage your paint if you decide to revert to the previous color scheme.
Even simply repainting your front door can give your home a great look. You don't have to choose the same existing color. It's your welcoming entry so think of warm, inviting colors. However, consider your home's overall color scheme, style, and materials when deciding how you might use them to spruce up your exteriors.
4. Repurpose Your Basement or Attic
If you have a basement or attic, there are several upgrades you can undertake to make the space more practical.
While it's easy to think the conversions are beyond your reach, it can be an affordable and worthwhile project. Most of the costs depend on how you intend to use the space; the budget is lower than you'd need to add another room. For instance, you can add depth to make the basement larger and more practical.
In addition, painting and decorating the room with accessories doesn't have to cost much, but you'll need to shop around for supplies. Depending on your needs, you can convert the space into a bedroom, a home office, a games room for the kids, or a cozy entertainment room.
5. Upgrade the Interior Décor
Empty walls can make your home look dull, but you can get creative and decorate the walls to make the space more attractive. Whether you prefer stickers, wallpapers, or DIY designs, you can get budget-friendly options on popular home décor markets.
Don't hesitate to experiment with accessories like statues, trinkets, wall art, and mirrors. While they don't inflate your home improvement budget, accessories can be a great way to spruce up a dull room. Curtains and throw pillows in the living area can also breathe new life into your home and make it more inviting.
Mirrors can be inexpensive but are great ways to make your home appear spacious. Ideally, you should look for mirrors with decorative frames that match your home décor accessories. If you want unique pieces, you can get a few DIY framing kits that are easy to personalize and assemble.
6. Refresh Your Flooring
Ripping up your old flooring and installing a new one can cost thousands of dollars, but there's an easier and cheaper way of refreshing outdated flooring. Resurfacing your old hardwood flooring can give them a brand-new look, especially when you choose a stain color that matches your house style.
Alternatively, you can opt for tiles and durable vinyl sheets that are great for DIY lovers. While these options are cheaper than hardwood flooring, they are easy to clean and often last for a long time. Don't be scared by the costs of installing new flooring; you can still get the perfect floor on a budget.
7. Change The Lighting
Changing your home's lighting may seem like a small undertaking, but it can have significant effects when done right. Adding more lamps in a dull room can make the space lively, or you can go with ceiling chandeliers to make your home more luxurious.
If you are on a tight budget, you can change the colors of your bulbs to create a fresh impression. Depending on your home's style, you can switch from cool white to warm white and see if you like the changes. In addition, replacing conventional bulbs with LED lights can introduce a new vibe, and long-term energy savings are significant.
Endnote
While major home customization projects require planning, research, and an adequate budget, you can still spruce up your home on a tight budget. Most importantly, you don't have to undertake all the upgrades simultaneously. You can start with smaller front yard ideas and upgrades with the highest impact on your home.
Ensuring each upgrade adds more functionality and beauty to your property is essential. In the end, the renovations should transform your home and make it more comfortable and enjoyable to live in for you and your loved ones. And, of course, you will probably increase your home's value with each new improvement!