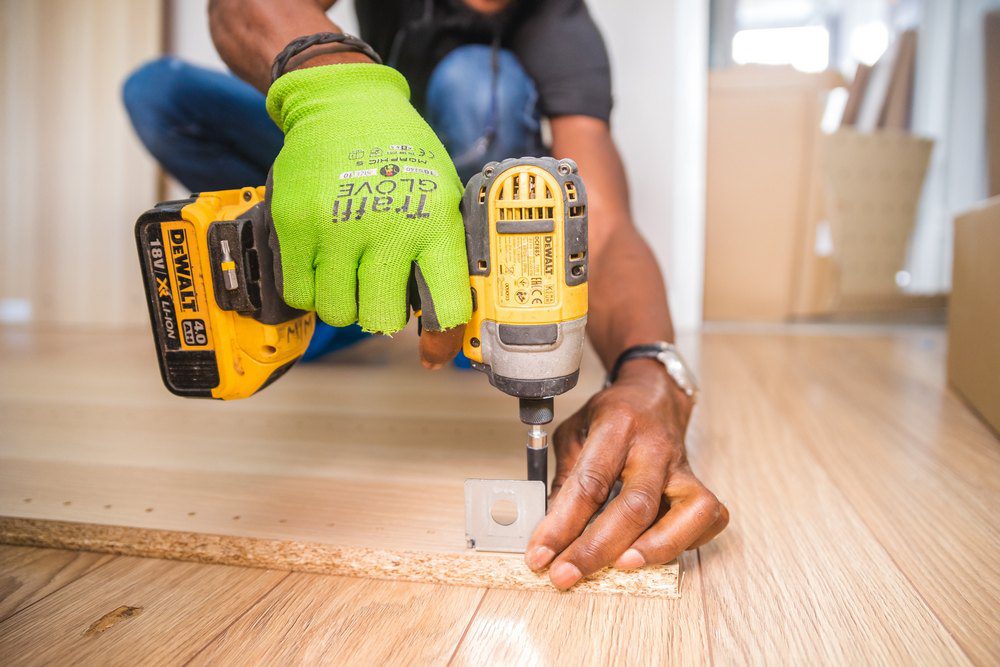 Everything you need to know about hiring a handyman for your home.
Regardless of whether you have a small apartment or a large house, ongoing maintenance is an essential part of homeownership. Whether it's keeping your plumbing in good working order, painting your roof or exterior, or replacing or repairing a light fitting, there's always something that needs doing.
That's where a handyman comes in.
There's no need to do ‌these things yourself. A handyman can take care of all the most basic home maintenance and DIY issues with ease. However, if you're going to hire a handyman, there are a few things you should know.
Read on for valuable information that might just save you time and money when you employ a handyman at home.
What Skills Should A Handyman Have?
A competent and skilled handyman should have basic plumbing, electrical, mechanical, and customer service experience. Their skills and knowledge need to cover a broad range of areas in the home. However, most handymen are not qualified electricians or plumbers, so they should have the ability to recognize when the problem requires more specialized skills than they possess.
They should also have a wide range of good tools.
Key skills include:
Ability to safely use common power and hand tools
Heating, Ventilation & Air Conditioning (HVAC) experience and repair skills
Experience installing and replacing plumbing systems
Strong communication skills to deal with clients, property managers, and tenants
Experience in preparing detailed quotes or bids
A good handyman should be a self-starter with good time management skills.
Common Repair Jobs: What To Expect?
If you call out a handyman, you can expect them to fulfill the following tasks:
Plumbing
Leaks, dripping taps and toilets, and showers, washing machines, or refrigerators that are leaving behind puddles are common problems. Often, these small jobs don't require a plumber, as a handyman can sort them out quickly and efficiently. A handyman should have everyday experience with these common plumbing problems and have the right tools to fix them.
Light Fixtures
Changing and customizing light fixtures and bulbs are common repair jobs and usually require a small amount of wiring and electrical work. A good handyman will have experience with working with wiring and electricity and knowledge of safety issues.
Drywall Repair
Although drywall repair work isn't very difficult, skills and experience are needed to make it look good. Again, a handyman should have experience and the matching skills and tools to handle the job to your satisfaction.
Painting
As most handymen have extensive experience with painting, they will get the job done efficiently and with fewer materials. They won't waste rollers and brushes, and will know how to prepare a wall properly, and paint evenly with clean lines.
Deck Repairs
Many homes these days have some decking. These decks are exposed to weather and often need maintenance and minor repairs. A deck needs to be safe too. You can expect a handyman to have the skills to patch and repair, restain, and seal a deck, or any other wood trim.
HVAC Maintenance
Your HVAC system could be the most important system in your home, as it keeps you comfortable. Regular check-ups and maintenance are vital and a handyman with HVAC experience will be cheaper than a dedicated HVAC company.
Flooring
Often, small repairs are needed for flooring that doesn't require a full replacement. A handyman can replace floorboards or laminate, lay a small section of carpet, or fix any damage caused by wear and tear.
Door & Windows
Doors and windows get damaged from everyday living. Hinges and handles may need replacing, or sometimes a door doesn't close properly or needs to be rehung. A good handyman will sort these issues out in no time.
Tiling
High-traffic areas are often tiled, which means they stand more chance of getting damaged. A handyman can remove damaged tiles expertly and replace them without causing more damage to the surrounding areas. A handyman should have the confidence to fix floor tiles, backsplashes, and showers.
DIY Job Completion
While most handymen will have a wide range of skills to handle most repair jobs, where they excel and save you time and money is in the way they manage the little details and complete the job.

How often do you start a DIY project and it remains unfinished as you run out of time or don't have the right tools? This is where a handyman who's getting paid will save you money and time. You will also have the satisfaction of a repair job getting completed with all the little details taken care of.
As finishing off and tidying up the little details is the most tedious part of the job, a paid handyman will make a huge difference in completing a project professionally and neatly. Skills such as the neat painting of trim work, caulking, cleaning grout, and matching up deck repairs are needed to make the job look professional.
What You Can Expect To Pay A Handyman?
While handymen are not specialists, they do tend to have a wide range of skills and usually charge an hourly rate plus the cost of materials. Their rates and the materials used should reflect on their invoice and many handymen use invoice templates to ensure that all these details are included.
Hourly handyman rates in the US are between $60 and $70 for independent operators and around $125 per hour for a handyman who works for a company. A good, experienced handyman will know how much time a particular type of job takes and will charge accordingly.
In Australia, you should expect between $35- $60 for basic handyman services. A professional handyman charges an average of $50 per hour for typical household repairs. But prices vary depending on the type of work needed.
In Canada, the average hourly rate for a handyman is between CA$78-$84. However, some handymen come in much higher, at up to $162 per hour.
Wrapping Up
If you own a home, you'll know that the maintenance and repair list seems ever-growing. If you have realistic expectations and understand what a handyman has to offer, you can save yourself time, money, and a lot of stress. Knowing what you're paying for is key, and if you're ever in doubt—ask.
A good handyman is transparent and honest and can transform your house from an ongoing DIY disaster zone into a well-maintained space.