Bali, Indonesia – John and Cynthia Hardy
Builders: PT Bambu
Rainforests continue to disappear at an alarming rate.  Environmentalists and designers, John and Cynthia Hardy have experienced the loss and degradation firsthand in their adopted home, Bali.  The Hardys wanted to motivate communities to live sustainably, thereby protecting those forests. Building sustainably with bamboo is a key part of that.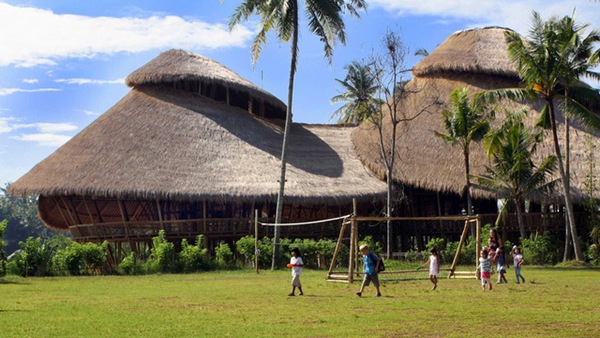 As a practical demonstration of these principles, they established the Green School, the Meranggi Foundation, which develops plantations of bamboo plants by presenting bamboo seedlings to local rice farmers, and PT Bambu, a design and construction company that promotes the use of bamboo as a primary building material.
The Green School comprises some 75 buildings in total.  They are cooled and powered by renewable energy sources.  These include the air around us, micro-hydropower, solar power, and bio-diesel. Bamboo, Alang-alang grass (a local grass), and traditional mud walls form the structure of the buildings.
The school was planned and built on 20 acres. The whole 20 acres is an integrated permaculture system, designed to work in harmony with the natural ecology of the land.
As a part of their curriculum, students grow fruits and vegetables, herbs, and other crops including chocolate.
Click on any image to start the lightbox display. Use your Esc key to close the lightbox. You can also view the images as a slideshow if you prefer 😎
There are 35 images and a video. We hope you enjoy them.
Another equally wonderful school is Panyaden…