Bali, Indonesia – John and Cynthia Hardy
Builders: PT Bambu
The Green School of Bali, Indonesia.
Rainforests continue to disappear at an alarming rate.  Environmentalists and designers, John and Cynthia Hardy have experienced the loss and degradation firsthand in their adopted home, Bali.  
The Hardys wanted to motivate communities to live sustainably, thereby protecting those forests. Building sustainably with bamboo is a key part of that.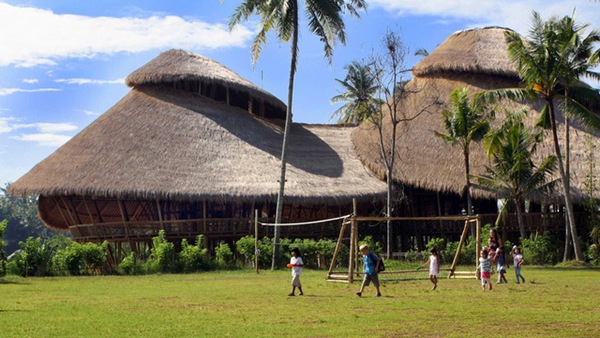 As a practical demonstration of these principles, they established the Green School, the Meranggi Foundation, which develops plantations of bamboo plants by presenting bamboo seedlings to local rice farmers, and PT Bambu, a design and construction company that promotes the use of bamboo as a primary building material. The Green School comprises some 75 buildings in total.  
What are the advantages The Green School offers?
Powered by renewable energy sources
When you hear the word renewable, you may think that it means endless, like the world's supply of water. In terms of energy, that's pretty much the case. Renewable energy can be harnessed over and over again with little to no effect on the Earth and its natural resources.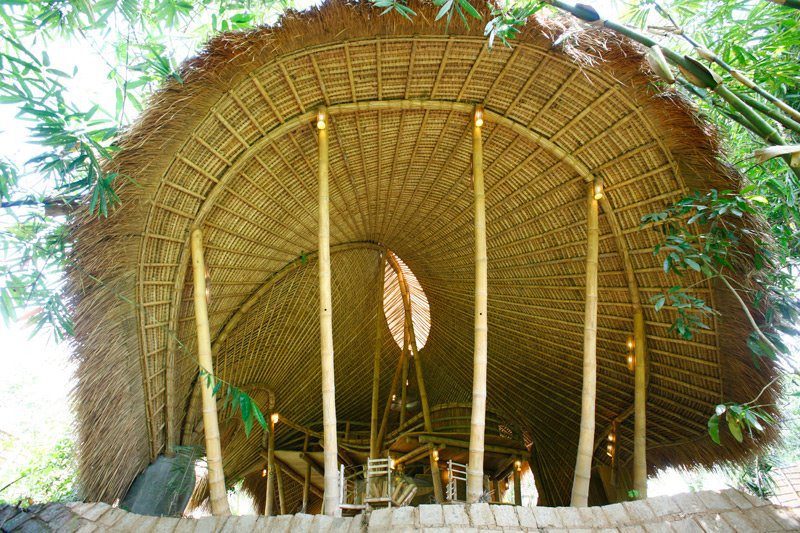 And The Green School is cooled and powered by renewable energy sources.  These include:
The air around us

Instead of using electrical appliances to cool them, the rooms were designed so that the natural wind can go cool it.
Micro-hydro power

Micro Hydro Power refers to electricity generated by using small dams. This form of renewable energy, as the name suggests, is best suited for small areas.
However, it can also generate electricity in large areas. It can supply electricity in a rural and hilly region that lacks electricity.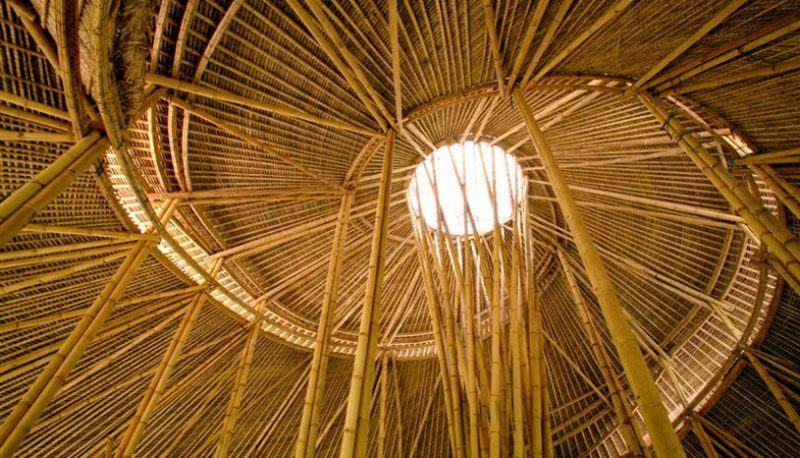 Solar power

Solar power is the conversion of sunlight into electricity. This is accomplished by using photovoltaic cells to convert sunlight into electricity.
These photovoltaic cells are also referred to as solar cells, solar panels or photovoltaic modules.

Bio-diesel

Bio diesel is an alternative fuel made from vegetable oil (rapeseed oil, soybean oil, etc…) that can be used to run a diesel engine.
Bio diesel is made through a process called transesterification. The end result is very similar in appearance and performance to normal diesel.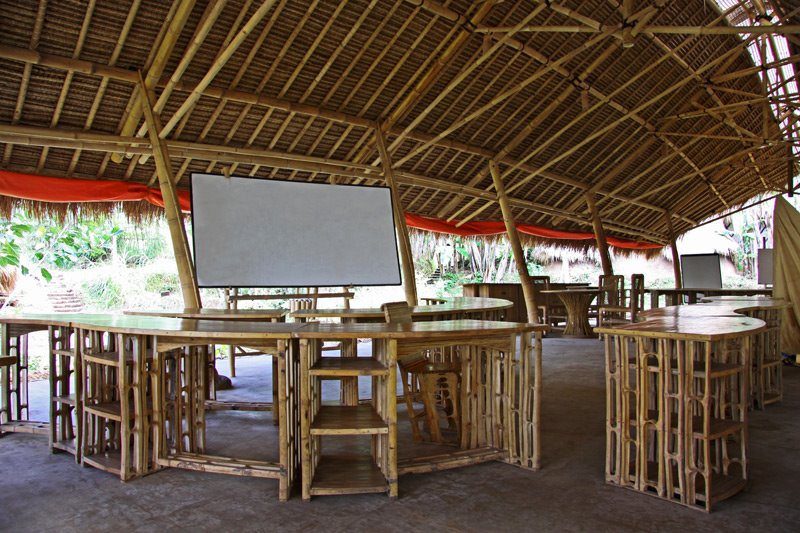 Structure Made of Natural Materials
When it comes to design and building with natural materials, there are a number of advantages. Some of the main advantages are that they are durable, sturdy, and not made like modern materials.
Bamboo

Made from bamboo and bamboo structural materials, the school building, which is the first of its kind in Indonesia, is highly environmental-friendly.
It is believed that the design of the school building is based on the traditional architecture of Bali. The school is integrated with natural surroundings, environmentally friendly and modern.

Alang-alang grass (a local grass)

Alang-alang grass is a type of grass that is commonly used in baskets and other handicrafts. This grass is found in Bali. It is used in a variety of handicrafts, such as baskets and mats.

Traditional mud walls form the structure of the buildings.
The school was planned and built on 20 acres.  The whole 20 acres is an integrated permaculture system, designed to work in harmony with the natural ecology of the land.
An integrated permaculture system (IPES) is a continuous and sustainable system that is designed to produce many different products and energies while working to create an abundance of food, feed, fuel, fibre, and materials within a single structure or entity.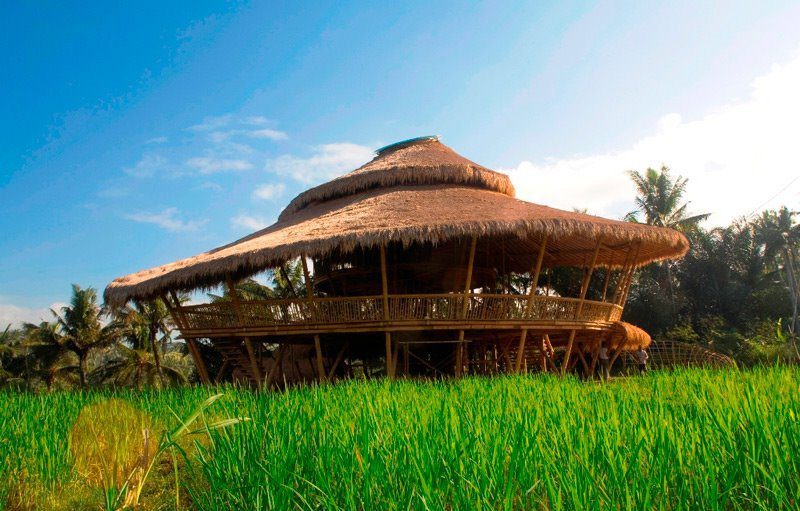 It is a structure that is created from the ground up, from the beginning of its design to the end of its system. Its objective is to learn from nature, mimic nature and inspire nature.
As a part of their curriculum in The green School, students grow fruits and vegetables, herbs, and other crops including chocolate.
Click on any image to start the lightbox display. Use your Esc key to close the lightbox. You can also view the images as a slideshow if you prefer 😎
There are 35 images and a video. We hope you enjoy them.
Another equally wonderful school is Panyaden…