Project Year:      2010
Project Area:      5,000 m2  (54,000 sq. ft.)
Photographs:      Ally Taylor
Location:      Chiang Mai, Thailand
Awards:     Grand Award – Design for Asia; Gold Award – Design for Asia (Environmental design)
If you've been with us any period of time, you know that we're great advocates of bamboo. It has 1,001 uses from the finest, naturally anti-microbial fabrics to girders for bridges. As a construction material, it is, in our opinion, supreme, as this amazing school demonstrates.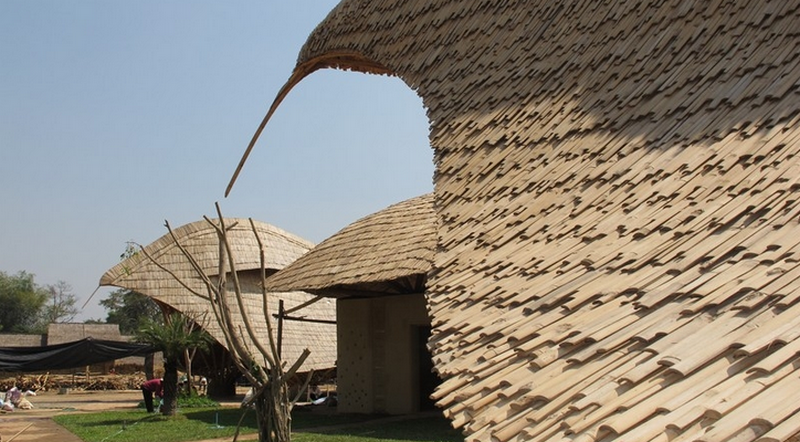 This is the second bamboo school we've featured  and, like The Green School of Bali, the ambiance is astounding. It's hard to compare the traditional, closed environment most of our children learn in, to this. The school featured here uses a combination of bamboo, adobe and rammed earth to create a totally organic environment.
Here are some notes from the design/build team:
"In the lush green surroundings of a former fruit orchard, where Thailand's highest mountains meet the flat rice fields, lies Panyaden School. Located just south of the city of Chiang Mai, this 5,000 m2 primary school exists of an informal arrangement of pavilions, organized along pathways inspired by the shape of the tropical antler horn fern.
The classroom pavilion type has load bearing walls from rammed earth, dividing the building into  three classrooms. Cupboards and shelves are all integrated in an adobe wall curving around the sanitary block. The curved contours of the bamboo roof structure refer to the mountains at the horizon of the site.
The sala pavilion type is used for the common functions as assembly hall and canteen. Columns exist of bamboo bundles reaching up, referring to the feeling of walking through a bamboo forest.The entire school is built from rammed earth taken from the site and local bamboo that has been naturally treated to withstand the elements.
Organic vegetables and rice are grown on school property. Environmentally friendly waste water treatment and biogas production round up the picture of an environmentally friendly school with a negligible carbon footprint.
Panyaden is a private school that accommodate 375 students including 10 – 20 percent of local Thai kids funded by scholarships. They will be the ambassadors to introduce green living into the lives of their communities.
The school integrates Buddhist values and environmental mindfulness with a modern bilingual curriculum. "
Click on any image to start lightbox display. Use your Esc key to close the lightbox. You can also view the images as a slideshow if you prefer 😎
You'll find links to seven videos below the image gallery.
If you liked this, you'll also like viewing other bamboo homes…