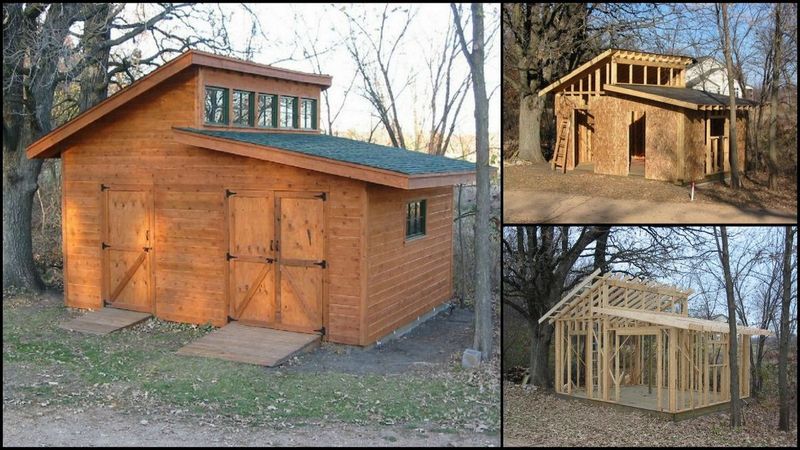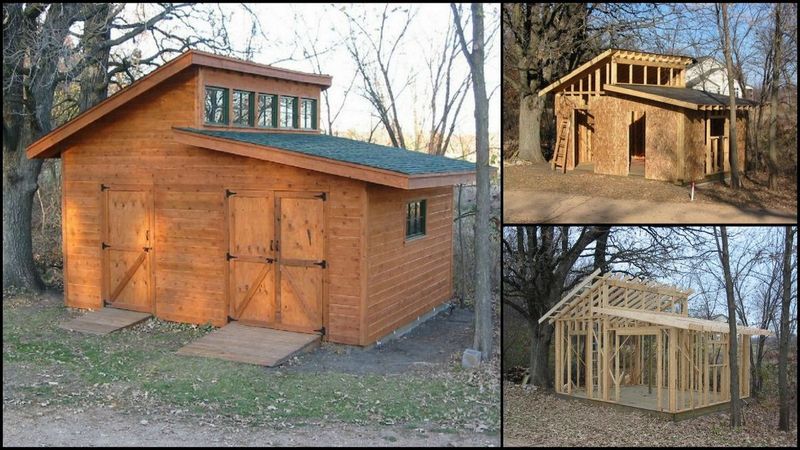 If the garage is full and close to bursting, and you can't find the space to kick off your starter seeds, it is most likely the time to invest in a shed. Not only can an efficient garden shed provide adequate space for keeping gardening tools, but it can also be a great base to start seedlings, and it will add value to your property, too.
Well, we have found the ultimate garden shed! Lots of storage space and great natural light, and with a big door! We think you'll agree that it's hard to beat.
What are the benefits of building your own DIY Garden Shed?
This shed is designed to resemble the classic American chicken coop. Its walls are made with OSB, which is cheaper than plywood. Tarpaper is used to protect the walls, as well as the roof, during winter. Green shingles complement the color of the shed.
Cost-efficiency. A garden shed is a fundamental investment. Unfortunately, a lot of farmers are unable to buy it. This is why we recommend building your own DY garden shed. DIY garden sheds' materials are not expensive, you will just have to dedicate your time to build one.
Storage solution. DIY garden sheds are perfect for your additional storage needs. You can use these sheds to free up space on your land and organize items scattered throughout.
Convertible space. With its simple architectural design, this garden shed provides a spacious room that welcomes natural light and air. It's also versatile and can be used in a variety of ways. Aside from the obvious benefit of providing additional storage space, garden sheds can also be used as a workspace, a place to relax and entertain guests, or even as a private retreat house.
Garden sheds can also improve the overall aesthetic of a garden, providing an attractive and unique feature that can be customized to meet individual needs.
Are Prebuilt Garden Sheds an Option?
Prebuilt garden sheds offer fast and easy installation, often with minimal tools, and can be assembled in as little as a few hours. Today's prebuilt garden sheds are also relatively low-cost and come with a manufacturer's warranty for buyers' peace of mind. Prebuilt garden sheds also require little to no maintenance, making them a more efficient and cost-effective option than traditional wood sheds.
Prebuilt garden sheds are a viable option for many homeowners. They are a convenient solution for those who don't have the time or resources to build their own shed from scratch.
5 Best Prebuilt Custom Garden Sheds
1. BEST CHOICE: Custom Shed Kit with Barn Roof
This customizable shed kit provides everything you need to build a shed with a barn roof. Each kit includes .22 gauge galvanized steel brackets, design plans, and installation instructions. It's easy to build a shed with this kit – only straight 90-degree cuts are needed, so no miter or angle cuts are necessary. Plus, you can build a shed up to 10 feet with just one kit, or combine multiple kits for a shed up to 22 feet. But, please note that lumber is not included with each kit.
PROS:
Its 2×4 basic brackets have been designed with an emphasis on simplicity, making garage organization and outdoor furniture projects easier than ever
Constructed with heavy gauge structural resin, it offers maximum durability and strength to withstand the toughest of conditions
CON:
Assembly instructions can be difficult to follow
The high-quality materials ensured that the structure is built to last, and can be completed in a fraction of the time compared with other building materials. "Used these to build a greenhouse, and this made the project much easier and more professional looking," says a buyer.
However, you should thoroughly read the accompanying instructions to do things correctly. "Recommendation: read the instructions several times, prior to your first cut," explains a buyer. "Take your time, always measure twice before you cut."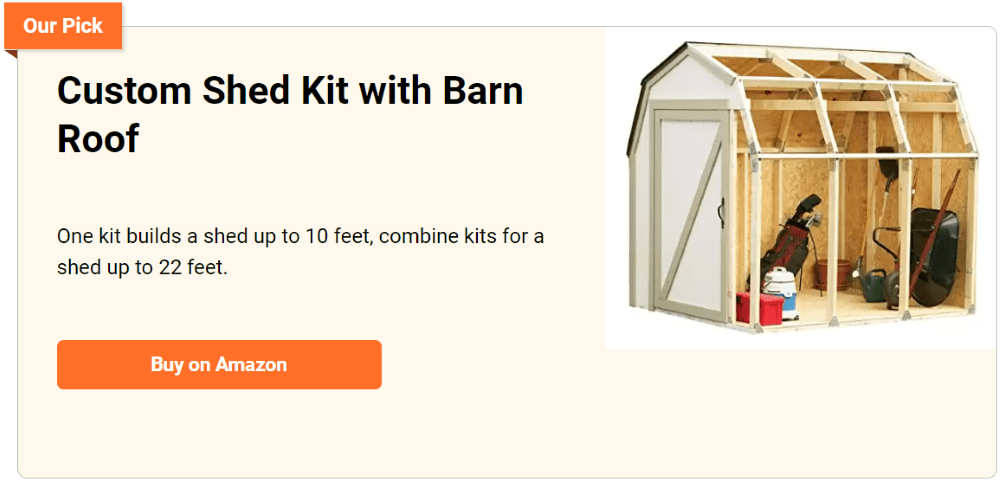 2. BEST DIY BUILD: EZBUILDER 50 Structurally Stronger Truss Design
EZBUILDER is here to make your construction projects a breeze! Our galvanized steel brackets are now 50% stronger, offering you unparalleled support. You can rely on a strong, long-lasting structure. Let it be your weekend DIY project. Easily customize your build to whatever size you need!
PROS:
It will not rust or rot due to the added protection of the zinc coating
The brackets are incredibly user-friendly, eliminating the need for complicated miter cuts and measurements
CON:
Assembling its components can be challenging
All in all, this product has all the necessary attributes to be a long-term and dependable asset. "The kit is great, includes the right brackets, and builds much stronger than a big box competitor kit (just from using 2×4 instead of 2×3 lumber)," says a buyer.
But, careful attention and a steady hand are essential in order to ensure the assembly process is done according to specifications. It is important to read the instructions carefully and follow the steps in the correct order. "I don't consider myself a master carpenter, but if you have never built anything before, couldn't recommend this kit," explains a buyer.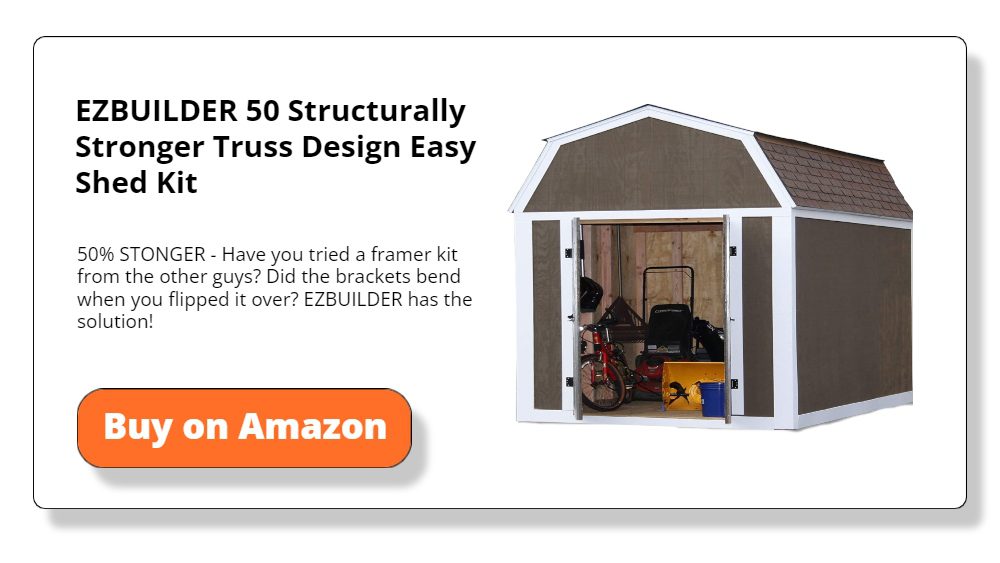 3. BEST WORKSHOP SHED: Lifetime 6411 Outdoor Storage Shed with Window
This is the ideal solution for all your outdoor storage needs. This spacious shed has plenty of room to store anything from garden tools and equipment to outdoor furniture and toys. The shed also comes with a large window to let in natural sunlight, making it great for hobbies, crafts, and more. Constructed of weather-resistant polyethylene, this shed is built to withstand harsh conditions and will last for years to come.
PROS:
It is easily customizable with shelves, pegboards, and other accessories, making it suitable for use as a workshop
It includes a window, skylights, and an interior peg strip for added convenience
CON:
A few seams require caulking
The shed is designed to be both practical and aesthetically pleasing. "It's very well designed, the instructions were great," says a buyer.
While making time for caulking to ensure the area is completely pest-free. "I would suggest using caulking to seal up some of the seams to keep out bugs," writes a buyer.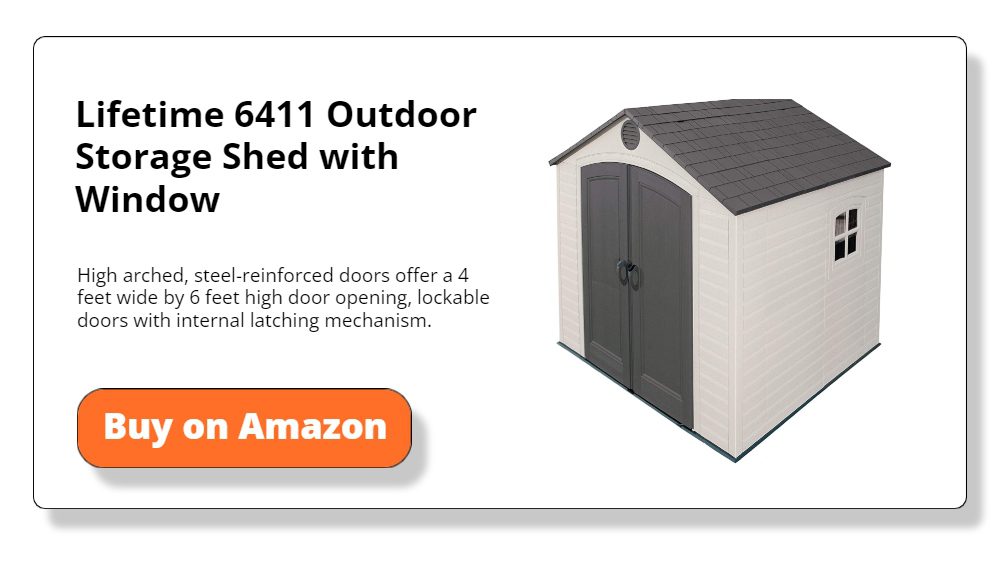 4. BEST LARGE SHED: Arrow Shed WR106 Arrow Woodridge Low Gable Steel Storage Garden Shed
The shed is designed to be easy to build, with a simple assembly process that requires minimal tools and can be done in just a few hours. The galvanized steel is extremely durable, making the shed a great choice for outdoor storage, providing a secure place to store tools, garden equipment, and other items.
Best of all, the pad-lockable sliding door provides easy entry and exit, making this an excellent solution for residential, commercial, and industrial applications. The shed is also resistant to fire, mold, and rot, ensuring that your stored items remain completely safe and secure.
PROS:
It complements any outdoor setting with its appealing horizontal woodgrain siding and coffee trim design
DIY assembly is made simple with pre-cut and pre-drilled parts to ensure convenience and ease of installation
It is constructed from high-quality steel and treated with a specialized UV-resistant coating
CON:
It is an exceptional value for the money spent, offering superior protection from the elements to keep your belongings dry and secure. "I'm really happy with this shed I bought. Great shed for the money spent," says a buyer. "Will keep your stuff dry and it can be locked."
While adding extra layers of protection and security to the shed is strongly advised. "It does not have a foundation, so I was able to buy a grid-locking plastic foundation which I anchored the shed to and the poured gravel on top," explains a buyer.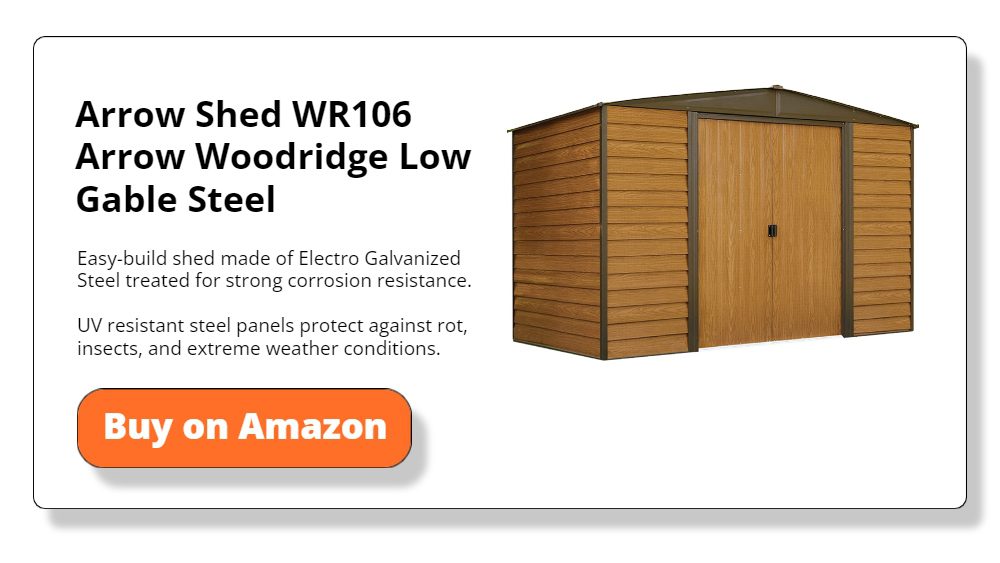 Are you ready to build your garden shed?
So there you have it, with this list of the best custom garden sheds, you'll make the right decision. From compact storage solutions to large-scale structures, the sheds are crafted with attention to detail and built to last longer. Whether you need extra storage for yard tools, gardening supplies, outdoor furniture, or anything else, our custom garden sheds are the perfect option. And with our attention to detail, you can be sure that your shed will fit your exact needs, no matter what they are.
Click on any image to start the lightbox display. Use your Esc key to close the lightbox. You can also view the images as a slideshow if you prefer 😎
Unfortunately, the link to the original project is no longer active but the simple design should allow you to draw your own plans with little difficulty.
How to make the best DIY Garden Shed?
Our concept is without a doubt the best garden shed you will ever have. It's not just a garden shed for storing gardening tools; it can also be an excellent place to start seedlings. It works well if you also want to spend time in the shed and use it as a workstation, or if you simply need more space to relax and read a book. The shed is also spacious enough for you. Wood is the best material to choose in such instances, a material that is truly appropriate to your needs.
It becomes more efficient and user-friendly if you later add plenty of shelves and compartments to help you store and organize everything. You don't want the goods in your shed to be easily damaged. If properly planned, it can be a one-size-fits-all solution. The shed can be an excellent house addition.
Building your own DIY garden shed can be rather simple, and you don't need much experience with this type of job. You only need a good understanding of how to get started and a few more pointers to pull it off. Furthermore, everything is customizable, so you can have a gorgeous lady or a tough manly shed.
After you've finished building your garden shed, make sure it's weatherproof and free of decay and pests. Perform frequent maintenance inspections on the shed and, if necessary, apply a specific coating to the exterior.
In any case, a sturdy shed can last many years, and our DIY shed design shows you how.