Built area:    130.0 m2
Year built:    2010
Photographs: David Robert Elliot
Retreat House is a compact beach home that was built near Lake Michigan. It serves as a sanctuary for a busy doctor and her husband who live fast-paced lives. The couple wanted a hideaway where they can relax, garden, and entertain friends. It also houses their collection of mid-century furniture and contemporary art.
The home's rectangular shape maximizes every available space. It features two bedrooms and two bathrooms. At the back, storage and laundry areas were added using another block. The entire structure is supported by concrete.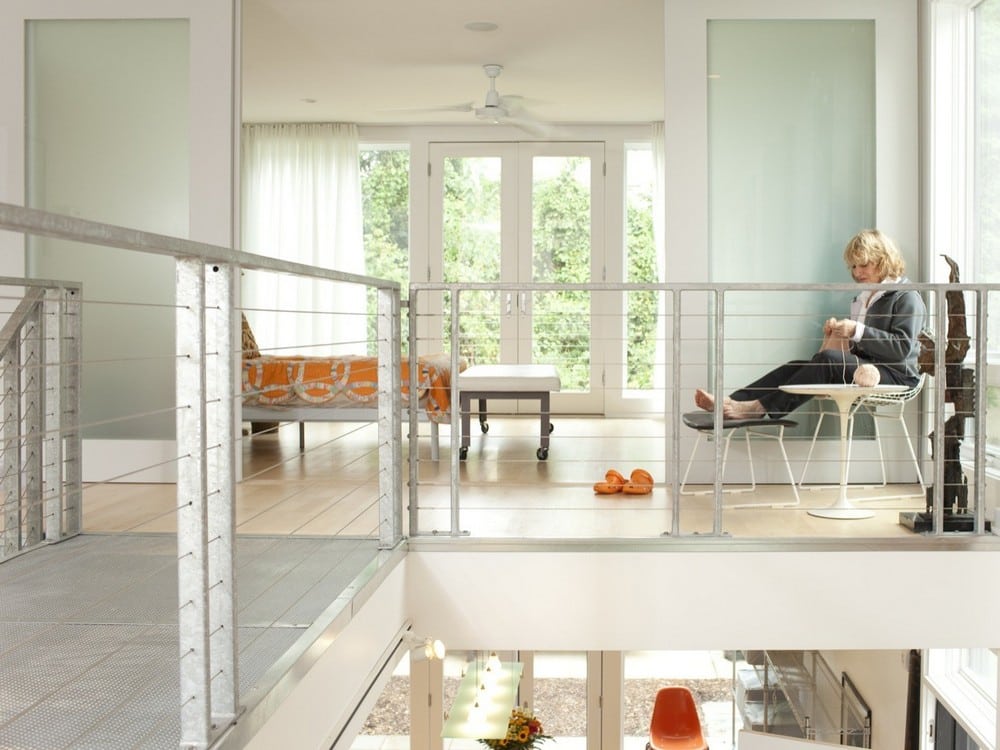 Inside, it's bright and airy. Ample sunlight filters in through large glass windows. This greatly minimizes the need for artificial lighting. White walls open up the space while surprising pops of color add an element of fun. Retreat House truly lives up to its name.
Notes from the Architect:
Complete JDD summer beach home design for a Chicago couple who wanted a compact and sustainable get away from their hectic urban lives. This three level, 1200SF, 2 bedroom , 2 bathroom economical solution to their needs is just minutes walk from Lake Michigan. Natural and local materials offer low environmental impact while blending in within the natural dune landscape beautifully. A shaded roof deck with hot tub offers a cool relation spot in summer and warm whirlpool fun in winter. The complete custom home includes a two story living room and second floor hopper windows for natural ventilation, fireplace and a cantilevered steel stair leading up from the interior to the exterior and up to the roof deck. Bamboo built-ins and kitchen cabinetry compliment the steel stair and catwalk. Custom interior and exterior furniture in collaboration with Lagomorph Design, Chicago.

The Home is featured in the June issue of DWELL Magazine 2011. The home has also been awarded the AIA- American Institute of Architects Small Project Award 2011.
Click on any image to start lightbox display. Use your Esc key to close the lightbox. You can also view the images as a slideshow if you prefer. ?
Exterior Views:
Interior Views:
Drawing Views:
While we're on the subject of retreats, do check out the Seascape Retreat in New Zealand.