Norway – JVA
Built Area:     90.0 m2
Year Built:     2013
Photographs:     Nils Petter Dale
The Aluminum Cabin is a seaside retreat that overlooks the sea. It stands on a stone cliff and features atypical design ideas. The most notable characteristic is that its façade is made out of seawater-resistant aluminium. As it is, the cabin is prepared for weather and wear.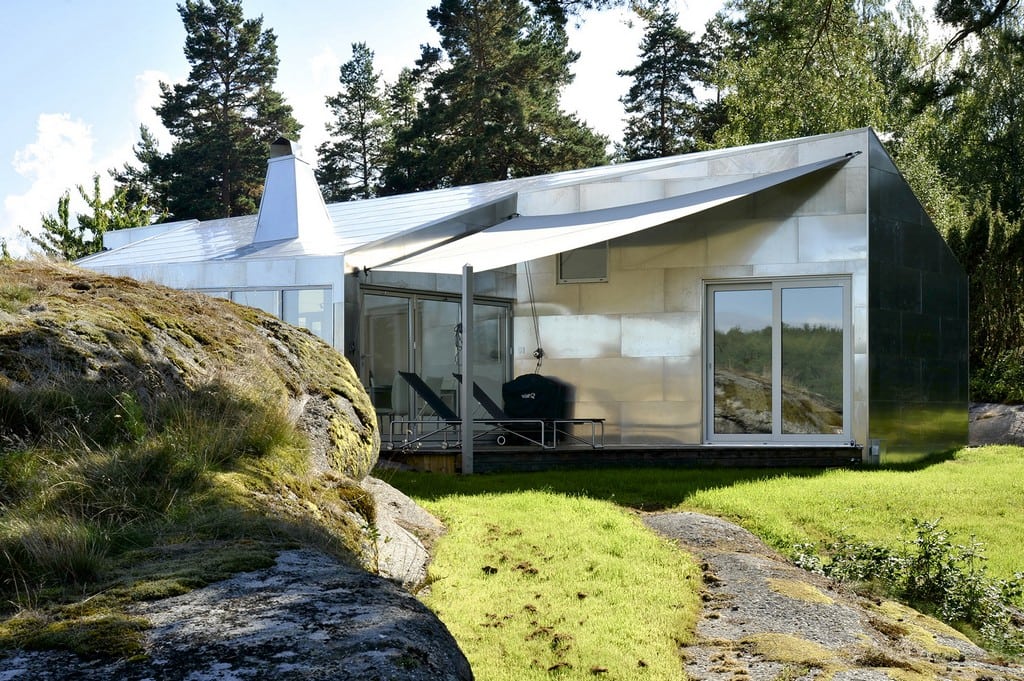 It is divided into two volumes: a private space and an open one. The private spaces which include the bedrooms, bathroom, and kitchen are enclosed in one unit. On the other hand, the dining and living areas are exposed to seaside views.
When viewed from several angles, the house seem oddly out of place. However, when seen from the right perspective, it somehow makes sense. The aluminum reflects the surrounding landscape, making the house blend in with the backdrop.
Large glazed windows from the living and dining areas give unrestricted views of the water. The minimalist interiors are in neutral colors, making the space brighter and larger. The Aluminum Cabin provides simple accommodations in a picturesque location – the ideal seaside getaway.
Notes from the Architect:
Situated in a beautiful archipelago, this seaside cabin is a replacement project for a worn-out, unpractical cabin which was dominating the site. The area's building code and its following obstructions have formed the project in size and form, as well as an enhanced site-specific adaption to the landscape.

The cabin consists of three interconnected volumes where three outdoor spaces is created. All three outdoor rooms give several sun and shelter options during the day. The cabin is placed between two rocks and the characteristic landscape makes the cabin appear low in the terrain.

The plan is programmatically divided in two by the roof ridge. One side is subdivided into bathrooms, bedrooms and kitchen – while the other side is one large living room. The division is to be seen in the opposing facades – one is private and enclosed, the other is open and transparent.

The cabin is clad in seawater resistant aluminum and has folding doors that make two of the facades completely open towards the surroundings. The aluminum façade plays along with the shifting daylight and appears altered in its expression during the day.
Click on any image to start lightbox display. Use your Esc key to close the lightbox. You can also view the images as a slideshow if you prefer. ?
Exterior Views:
Interior Views:
Drawing Views:
Aluminum is a popular choice for houses built near water. North Fork Bay House is another prime example.