Project Year:  2015
Area:  80.0 m2
Photographers:  Marie-Caroline Lucat
Quiet House is an intimate, introverted house with stunning views of a vineyard and a valley. It has four recurring volumes. These volumes were arranged in a way that it created four courtyards in a compact space. With its back to the street, the house appears withdrawn and reclusive thus, its name.
The stark white façade has a minimalist profile. This smart choice was made so as not to let the house clash with the surrounding landscape. Viewed from the street, the house is basically window-less. This would lead one to surmise that the interiors are dark. However, this is far from the truth.
Quiet House gets ample sunlight, thanks to the four courtyards. Every room has access to at least one courtyard. With glass doors that provide stunning valley views, the home provides an indoor/outdoor living experience.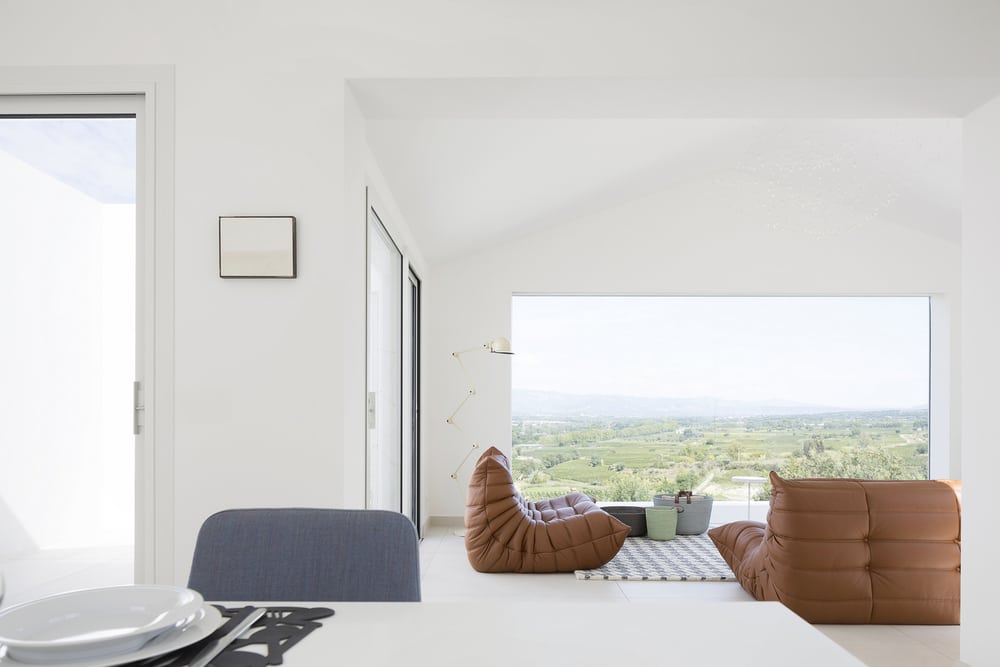 Notes from the Architect:
The project is located in a village in height, dominating the valley of the Hérault.

The terrain is both ungrateful and extraordinary. Located below a main street and subject to a large screw, wedged between a vineyard shed and the path of a recently built villa, its environment makes it difficult for him to find privacy. It is still extraordinary because, located in line with a retaining wall of 5 meters high, it has a breathtaking and beautiful view of the Hérault Valley.

The architectural part is that of an introverted house, protected from the eyes, entirely turned towards the landscape.

The plan composition work is based on a regular geometric grid whose dimensions are based on the possibilities of the field, the requirements of the PLU compared to the setbacks with respect to the separative limits, and the demands of the program.

In plan, the space units of 3m x 4m thus defined are grouped by two in the width to correspond to a built volume, while the unit of space remaining on the side forms an external space which is dedicated to it.

The overall geometry of the construction is based on a composition of these four volumes that are offset from each other, organize the outdoor areas as many courtyards in the heart of the house, all enclosed within a wall peripheral.

All rooms of the house open on the view by transparency. The sliding bays of the same dimensions are aligned and create a "thread" polarized on the landscape.

The volumetry of the building is a composition of volumes with two slopes of roof, evoking the shape of small houses.
Click on any image to start lightbox display. Use your Esc key to close the lightbox. You can also view the images as a slideshow if you prefer 

Exterior Views:
Interior Views:
Drawing Views:
There's another house with its back to the road. Find out why by reading our post on the Weekend House Wachtebeke.