With their inviting charm and practicality, pergolas can elevate a garden or backyard space. Beyond mere shade providers, they can be integral parts of a cohesive landscape design. The art lies in seamlessly blending the pergola with its surrounding environment.
So if you've finally decided on the conundrum of whether to pick pergola or gazebo with the former being the champ, this article talks about why you made the right choice. Moreover, we will guide you on weaving pergolas into your outdoor canvas, harmonizing structure with nature.
The Power of Pergolas in Landscape Design
Before diving into integration techniques, it's vital to recognize what pergolas bring to landscape design. It's what separates pergolas from other installations in terms of structure, functionality, and transition.
First, pergolas add architectural interest to gardens, providing vertical elements in predominantly horizontal landscapes. It instantly enchants the outdoor space with a scenic vibe, which you can further enhance.
Beyond beauty, pergolas offer shade, can support climbing plants, and define spaces. With proper maintenance, you'll reap an appealing outdoor venue that could easily become the family's favorite spot.
Pergolas can also bridge different areas, like the transition from a patio to a garden. It can easily host a kitchen or a common place for multiple units in a compound.
Choosing the Perfect Spot
Positioning is paramount when it comes to any outdoor structure. A pergola isn't an exception. Consider the purpose, sun path, and viewpoints.
Ask yourself if the pergola is primarily for shade, plant support, or as a focal point. Also, if shading is primary, consider the sun's trajectory to optimize shade during peak hours. Lastly, ensure the pergola complements and doesn't obstruct key views from your home or other vantage points.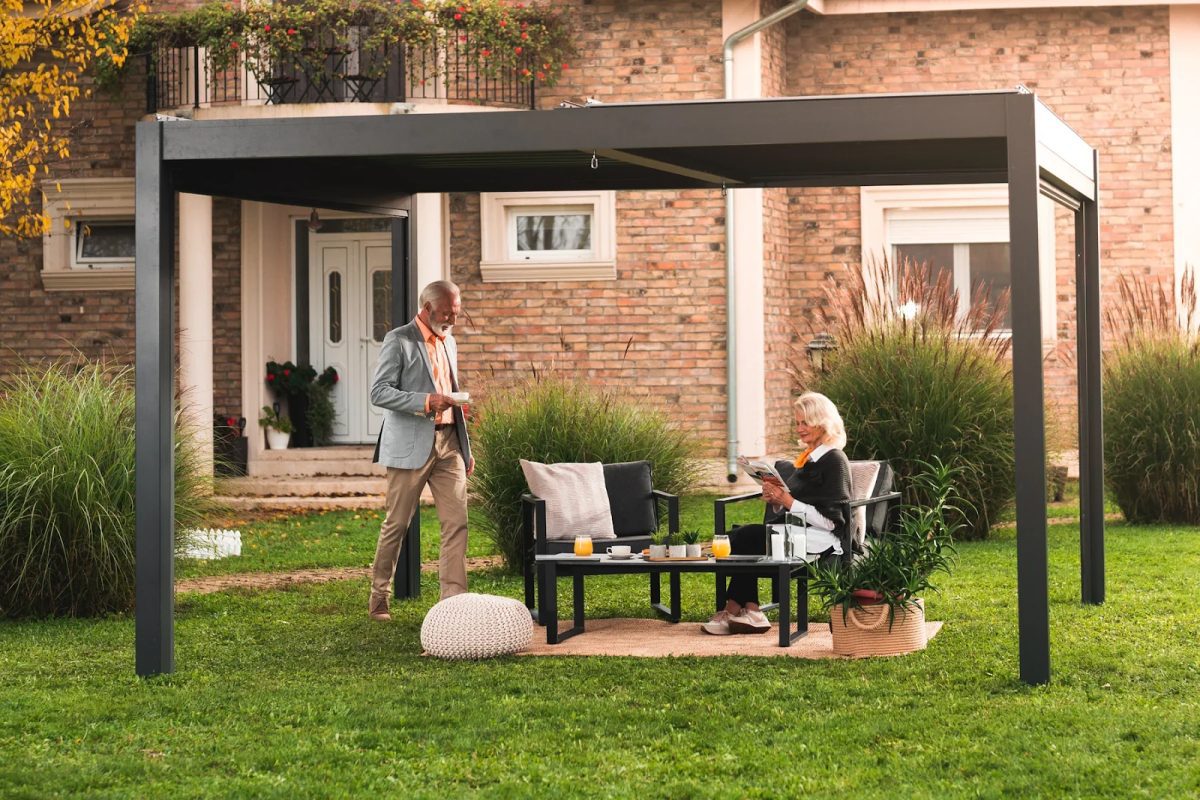 Size and Scale To Harmonize With Surroundings
A pergola's size should be proportionate to its surroundings. This should ensure a vibrant synergy among elements. In expansive gardens, larger pergolas can be used without overwhelming the space. In smaller areas, a more modest pergola can still be impactful.
One of the most important aspects of pergola sizing is the scale of nearby buildings or features, such as pools or patios. Opt for a pergola measure that won't overwhelm these amenities or get drowned out in the picture.
Choice of Material
Material choice can anchor the pergola to its environment. The natural feel is one of the top aesthetics to consider, especially if the area comes with lush foliage and other greeneries. Wooden pergolas, especially when aged, blend seamlessly into most gardens.
For modern landscapes, sleek materials like steel or aluminium can mirror contemporary garden designs. It is perfect as a standalone structure surrounded by trimmed grasses for a minimalist setting.
Plant Integration
Let nature embrace the structure. Plants can soften a pergola's appearance and boost its integration.
Vines like wisteria, jasmine, and ivy can be trained to climb the pergola, offering shade and fragrance. They may be difficult to grow at the beginning, but once they start to crawl around the structure, make sure that you prune them regularly to tame their growth.
Potted plants may also work with outstanding execution. If you prefer this option, you need to be careful about the base of the pergola posts. They can blur the lines between the built structure and the garden.
Leading the Eye and Foot
How one approaches the pergola can be as crucial as the pergola itself.
A straight path can make the pergola a focal point, drawing attention and foot traffic. However, this isn't an exciting choice for those who'd like to be thrilled.
Covering the pergola and adding a bit of a maze so it won't be seen from the outside is an ambitious outdoor project. However, it can be very rewarding as a winding path creates a sense of discovery and romanticism as it reveals the pergola gradually.
Water Features Can Amplify the Ambiance
Integrating water features nearby can elevate the pergola experience. A pergola by a pond can be a tranquil observation spot, especially if the pond has aquatic life.
Fountains may seem to be another extravagant addition, but there are cheap eco-friendly installations nowadays. The sound of trickling water can enhance the relaxing vibe of the pergola space. Just make sure that you use systems that reuse the water for a more sustainable project.
Night-time Enchantment With Impeccable Lighting
Effective lighting can transform a pergola after dusk. Pick from a vast selection of outdoor lighting. However, pergolas work best with fairy lights and spotlights.
Fairy lights are draping lights that can create a magical night-time ambiance. Kids would definitely love them!
Meanwhile, a team of spotlights is a versatile pick. Up-lighting or down-lighting can highlight the pergola's structure or the plants surrounding it.
Multi-Functional Spaces
Install pergolas with multiple purposes in mind. It can be more than just a sitting area.
Pergolas are perfect when dining al fresco. You may integrate a dining space, with a pergola offering shade during daytime feasts or intimacy for evening dinners.
With meals in mind, pergolas are also excellent in accommodating outdoor kitchens. Pergolas can cover outdoor cooking areas, defining the space and offering protection from direct sunlight.
Integration With Other Garden Structures
Pergolas can be paired with other garden structures. It can extend from a home's deck offering a shaded space while keeping a cohesive look.
If you can't decide between pergolas and gazebos, the prior choice can serve as a pathway to a gazebo especially if your property holds a larger garden. This setup provides a sweet journey from open to enclosed spaces.
Crafting Cohesive Outdoor Spaces
A pergola's power in landscape design isn't just about its inherent beauty but its ability to knit together different elements of an outdoor space.
When thoughtfully integrated, pergolas become more than standalone structures; they become bridges connecting various parts of the garden, waypoints on a journey through nature, and anchors that root the built environment into the natural one.
Through careful planning and a touch of creativity, your pergola can be the centerpiece that brings harmony to your landscape design.