Built area:    52.0 m2
Year built:    2016
Photographs: Ryoo, In Keun
This one-of-a-kind vacation home sits at the foot of the snowy Mount Bandai in Fukushima, Japan. It is composed of two separate structures that stand on stilts, connected by a bridge. The purpose of the stilts is to protect the home from the thick snow.
The house is separated into the 'dry' and 'wet' areas. One structure has the main living areas; the other contains parts of the house that needed plumbing.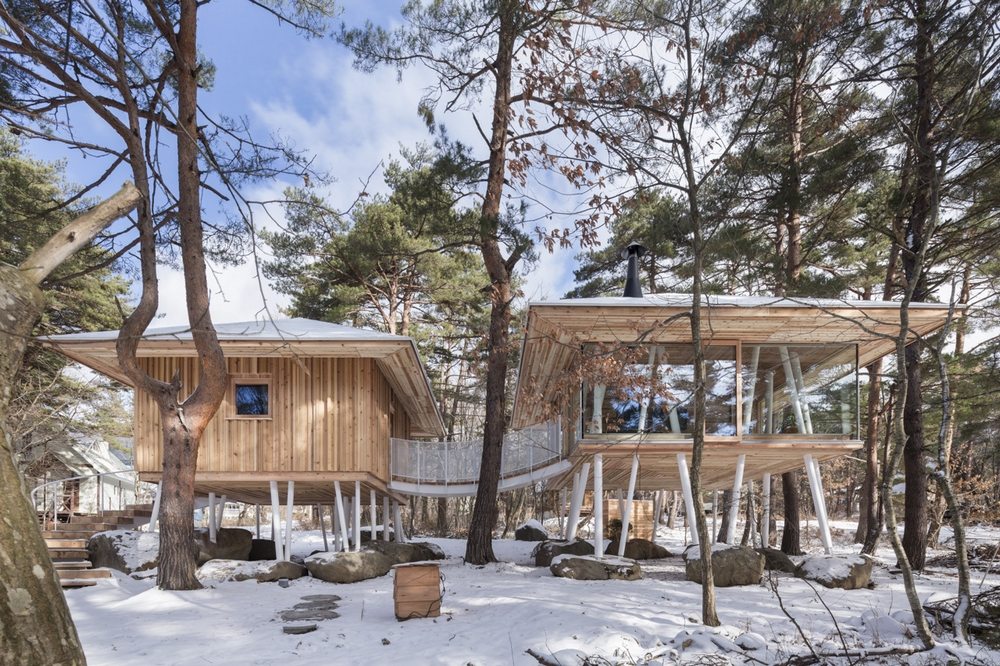 Both structures took only four months to build. It's called 'One Year Project' because the countdown started when the trees were first cleared. Repurposed wood was used to build the house, minimizing waste as much as possible. Cut trees were replaced by planting new ones.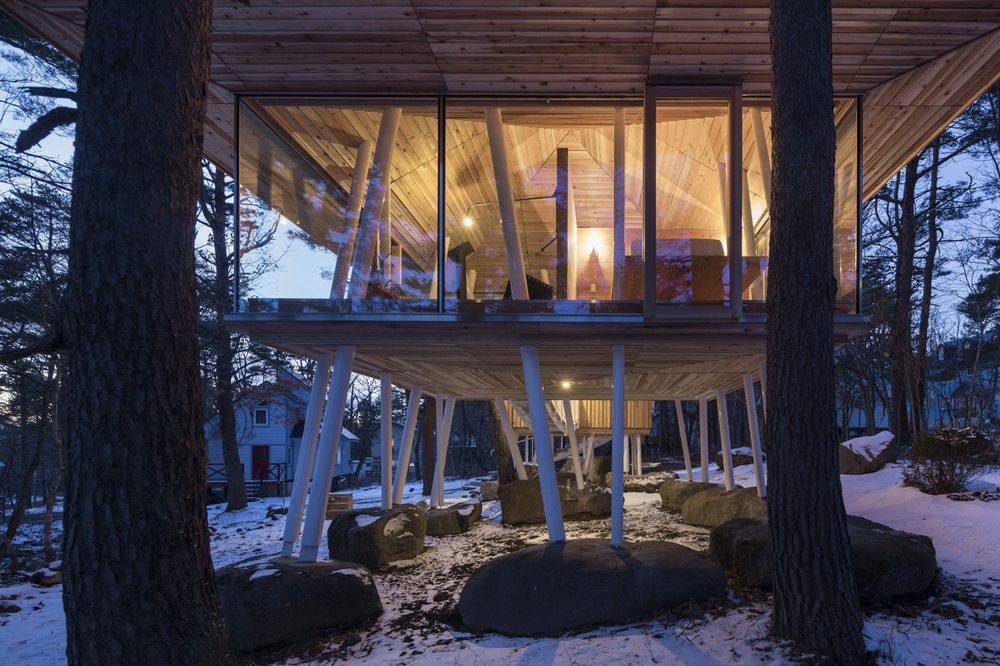 The home features tall glass windows, allowing plenty of natural light in and maximizing outside views. It blends well into the surrounding areas, contributing to a tranquil, peaceful way of life.
Notes from the Architect:
The architecture facing and adjusting the nature

The site is located at the base of Bandai-san(mountain), we designed a second house for the family who living in the city. This region is designated as special heavy snowfalls area, we used more than 2m-high snow load to design a stilt structural system to protect the house from snow. The house has two blocks; a living function and a life related watery function are separately accommodated in each block. These are connected by a bridge that makes people enjoy harshness and happiness in natural environment with their five senses.

"One year project" as the name indicates "move with times" which means that it took entire one year to experience the whole process such as tree cutting, sawing, fabrication, and assembling together with nature. At its heart, a house building is expected to be succeeding each process through dialogue with nature. In general, the process of cutting tree is done in the depth of winter to draw the maximum material performance. And then lumbers are seasoned for half a year or three years at most. Average construction period is about four months for general housing project nowadays, compare to the recent work situation, the one year preparation period could be quite a long time. However, the length of time we spent in this project make many stories created by people involved in each process of cutting, sawing, processing, delivery, and assembling and planting trees at the site.

One hundred twenty trees with 80 to 90-year-old and approx. 40cm diameter, without any special treatment, keep the wooden original features, adjust lumber to original log size not to a standard, these diligent works make every expression of trees become alive.

It usually functioning in accordance with defined regulations in modern society, we ponder that construction of the "One year project" should yield to nature. It would probably never have the chance to use up a tree until nothing left, however it makes possible by adapting the flexible method of yielding nature.

We believe whenever we use natural wealth trees, we have to circulate the forest and give them better environment more than before. This is an idea of "borrow" not "receive" the resources from natural environment. After the project completion, we have to return-as-we-used to plant the same kind of trees to prepare the necessary amount of natural material for next generations.

A life in a tree slowly growing from a nursery is not captivated by the times, and it moves with the people and vice versa.
Click on any image to start lightbox display. Use your Esc key to close the lightbox. You can also view the images as a slideshow if you prefer. ?
Exterior Views:
Interior Views:
Drawing Views:
Take a look at this Bamboo Wall Home in China that is sure to take your breath away!