Built Area:     9.0 m2
Year Built:     2018
Photographs:    Fanny Hagman
Nolla is an A-frame mirrored mobile cabin that's meant to be a holiday home. It was built using sustainable materials such as local pine and plywood. The space is very small, just the size of a small bedroom. It has a glass front that allow its inhabitants unrestricted views of the surrounding landscape.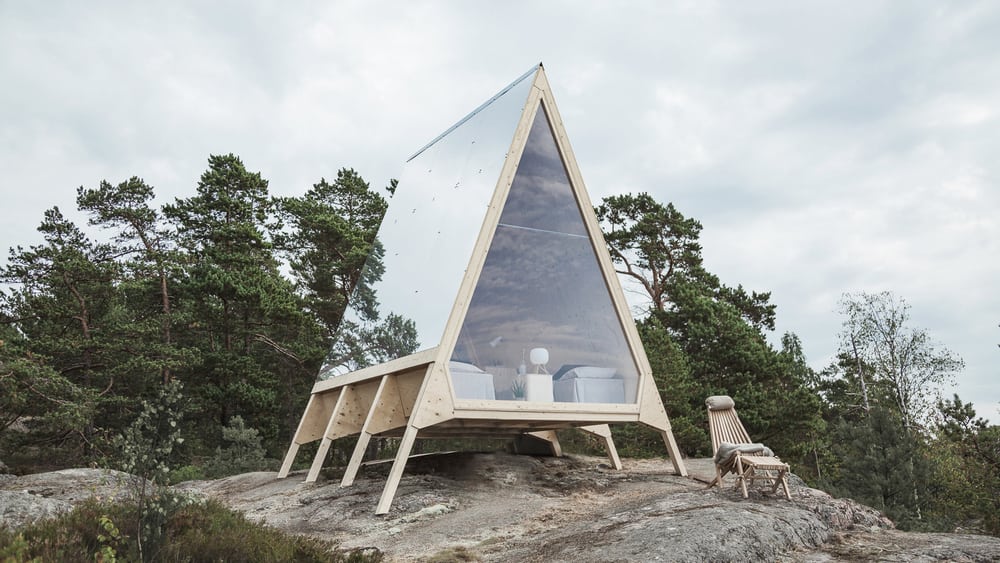 Translated as "zero" in Finnish, Nolla was designed to give visitors a zero-emissions vacation. Assembling and disassembling the cabin is easy. No screws were used and the pieces are just put together like a puzzle. The shape is reminiscent of a tent. This makes users feel that they're out camping.
Nolla has eliminated the need for the unnecessary. It has excluded a lot of modern commodities and has focused on low-impact living and self-sufficiency. Typical to Nordic tradition, there's no indoor bathroom. Bath needs are done in an outhouse.
Notes from the Architect:
This summer, living with minimal emissions will be put to the test. Neste is building a prototype of a cabin that has a minimal environmental impact in terms of both carbon dioxide emissions and concrete impact on nature. The Nolla (= zero) cabin, designed by Finnish designer Robin Falck, is located just outside Helsinki city center, on the Vallisaari island. The cabin has been built from sustainable materials and is designed for a simple lifestyle with minimal to no emissions, taking into account the surrounding nature in every respect.

Located on the idyllic island of Vallisaari in the Helsinki archipelago, the Nolla cabin encourages people to consider how modern solutions and innovations could enable sustainable cabin living. Vallisaari has been in a natural state for decades and is thus the perfect location for an urban cabin experience, located at a 20-minute boat ride away from the Helsinki market square. The ecological and mobile Nolla cabin will be in Vallisaari until the end of September, demonstrating a lifestyle that generates minimal to no emissions.

Placing the compact and mobile cabin on its private lot does not require a construction permit and it has been designed to use building materials as effectively as possible. The cabin is the size of a small bedroom and can be assembled and transported without heavy machinery, leaving its environment nearly untouched. The Nolla cabin has been designed by Finnish designer Robin Falck, whose earlier design, Nido cabin, has been globally acknowledged.
Click on any image to start lightbox display. Use your Esc key to close the lightbox. You can also view the images as a slideshow if you prefer. ?
Exterior Views:
Interior Views:
If you liked this cabin, you'll also like The Aluminium Cabin …