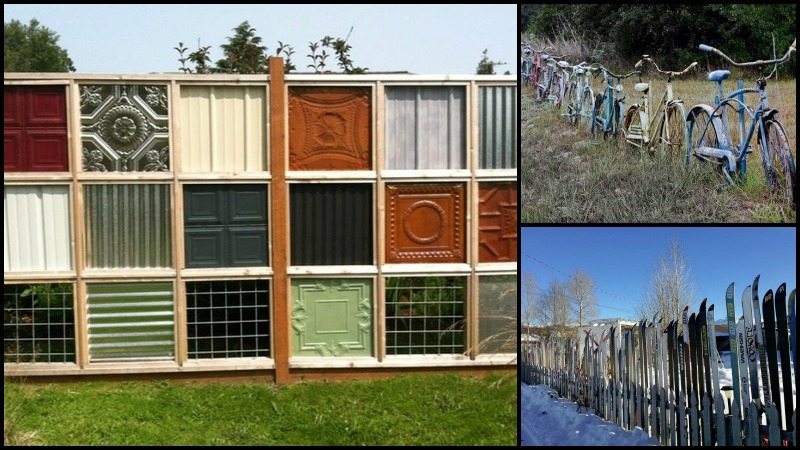 Want to build a new fence for your yard? These recycled fence ideas are sure to make your home stand out in the neighborhood!
We've all seen beautiful fences that we wished we had for our own yard. We pause for a while, smile, marvel at the creativity, and wonder how they were built. Some even take photos!
Our Pick
No-Dig Vinyl Fence
Assembles and installs with relative ease- little to no digging required compared to a normal fence.
Buy on Amazon
We earn a commission if you make a purchase, at no additional cost to you.
05/18/2022 12:33 am GMT
While they are definitely aesthetically pleasing, these fences can get uninteresting after some time. If you really want an outdoor feature that leaves a lasting impression, then go for the clever practicality of recycling!
You're not only helping keep trash out of landfills, you just might be able to spend less than what most would expect for this outdoor project.
Take a look at this list we made for you below and be inspired to recycle! Are you resourceful enough to build a fence with one of these ideas?
Click on any image to start the lightbox display. Use your Esc key to close the lightbox. You can also view the images as a slideshow if you prefer

Bicycles
Do you still have your old bicycles in the garage? You might need more than what the whole family has ever had but there's definitely a lot of thrift stores and owners out there who are looking for buyers or takers!
Old Doors
Have access to old doors? They make great fences if you want complete privacy in your yard!
Surfboard
This surfboard idea is usually seen at homes near beaches – famous in places like Hawaii. It's a great way for people to make use of the several old and broken surfboards surfers probably frequently get.
Pallets
Pallets are a more accessible recycled material for many of us. If you want to see more examples of a pallet fence then head over to this collection!
Wine Bottles
Here's another material many of us will not find hard to gather — empty wine bottles! We're all wine lovers here, aren't we? 🙂
Old Ceiling Tins
The more variety of ceiling tins you can collect, the better. These are 3×3 ceiling tins that look like stained glass from afar. Agree? What do you think of this idea?
Wheel Rims
This idea, on the other hand, looks best for homes in the countryside. It's a great way for using old and rusty wheel rims from trucks, wagons, and other farm machines. You can also use bicycle rims, of course!
Window Frames
This material is one of the easiest to put together for a fence. You can get some old window frames from a thrift store or from local contractors. We, for instance, have a contractor friend who gets to take several old window frames from his renovation projects. Sometimes he re-purposes them, but he has more than enough and he's looking for takers! We think window frames with different shapes, sizes, and colors make for a truly unique look, but a single color design like these is neat. 🙂
Skis
If you live in a place where it snows, then you most probably won't have any problems gathering skis for your fence. What do you think of this colorful idea?
If you liked these ideas, you might also like other fence ideas…