Project Year:  2017
Area:  210.0 m2
Photographers:  Eva Bloem
Have you ever wondered how it would be like to live in a floating villa? The owner of the Haarlem Shuffle decided he wanted one. And so he had this home built – on a river.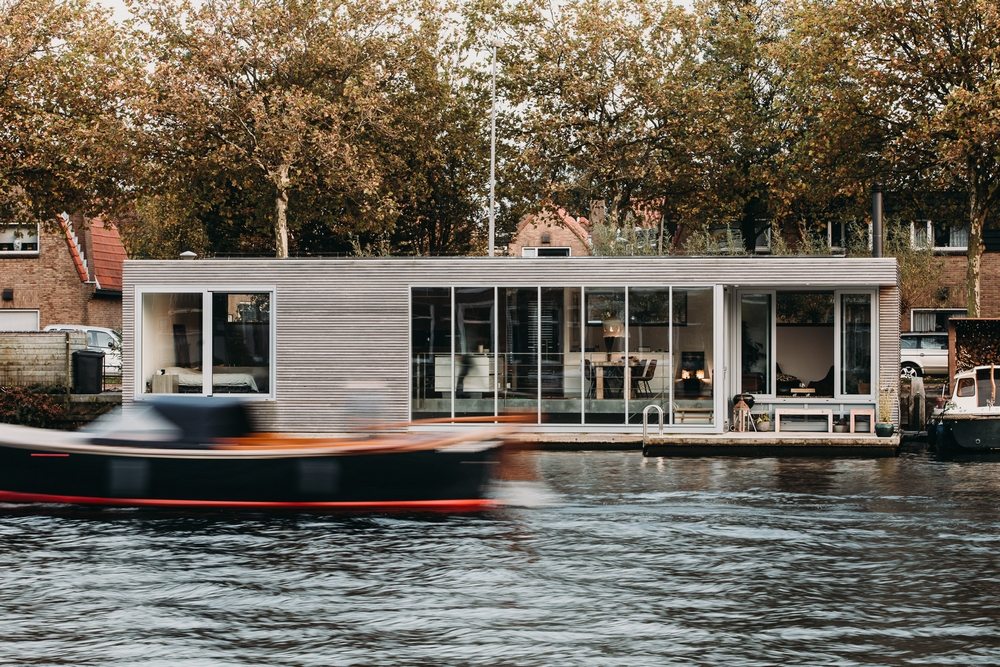 The house actually looks like a rectangular block clad in timber. Its crisp details makes for a strong-looking facade. But what draws the attention are the huge glass windows. These open up the whole space by allowing lots of light to come in. The result is a bright home that brings the outdoors inside.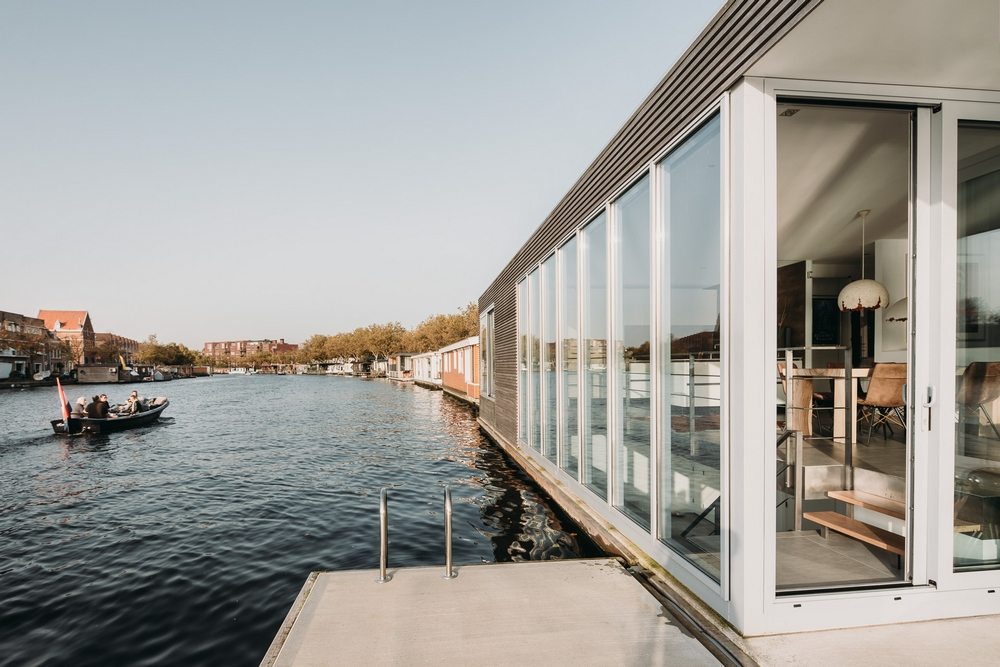 The Haarlem Shuffle is energy neutral as it features solar panels on the roof. In fact, you'll be surprised that despite the modern interiors, there is no gas connection inside. This home is unique in more ways than one. And for the owner, this is water living at its best.
Notes from the Architect:
Houseboat Haarlem Shuffle is located in the Spaarne river, close by the historic city centre of Haarlem, NL. The design plays with the perception of the dynamics around the Spaarne, the relationship with Haarlem and the bright open living spaces.

The ark gets its expression by a strong orthogonal composition of open and closed facade elements. The large vide near the southwest windows opens up the floor for light to reach the lower music and sleeping spaces.

Commonly used wood cladding makes place for a strong textured facade bordered with a slim aluminum roof trim. This strongly profiled exterior makes the rhythm and texture of the ark visible from great distance, using only materials that are true to its nature.

Owner and client Lex is not impressed easily. Having lived in historical homes with high ceilings near the Spaarne for all of his life, Lex decided he wanted this quality of living, but now in the Spaarne river. After the structural completion in 2015, Lex spent another three years on the interior build finalizing all of his detail wishes.

Two heat pumps and a roof full of solar panels guarantee comfortable and energy neutral living. There is no gas connection on board.
The high en detailing makes this floating villa stand out from the other houseboats.

Where the Spaarne makes his overture to Haarlem; it is relaxed living in a dynamic and bright environment; designed in a rhythmic but playful whole: the Haarlem shuffle.
Click on any image to start lightbox display. Use your Esc key to close the lightbox. You can also view the images as a slideshow if you prefer 

Exterior Views:
Interior Views:
Drawing Views:
The Muskoka Boathouse is a house that's definitely worth your time. Go check it out.