Project Year :     2015
Photographs :     Itsuka Studio

Living close to a city centre inevitably leads to compromise. Hawthorn is an inner city suburb of Melbourne that was developed in the late 19th century. Blocks are small and the houses compact. The owners wanted the convenience of the location but also wanted a more contemporary and brighter feel to their home. This extension project to this compact vintage Hawthorn cottage is the result. The rear part gets more than just a face-lift while its facade remain untouched as a complement to the existing streetscape.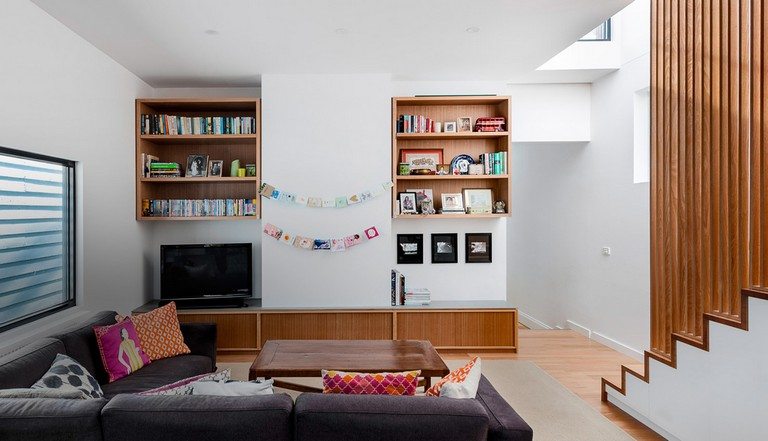 The extension certainly provided a lot more space for the homeowners. Living in such a compact house still means narrow hallways and staircases, but the abundance of natural light more than compensates. Take a look and tell us if you agree.
From the Architect:
The extension to this 1890's single-fronted, weatherboard cottage in Hawthorne, Melbourne is an exercise in clever, compact planning that seamlessly weaves together traditional and contemporary architecture.
The extension preserves the scale, materiality and character of the traditional Victorian frontage whilst introducing an elegant two-storey extension to the rear.
A delicate screen of vertical timbers tempers light, view and privacy to create the characteristic 'veil' that encloses the upper level bedroom suite. The rhythmic timber screen becomes a unifying design element that extends into the interior in the form of a staircase balustrade. The balustrade screen visually animates an otherwise muted interior sensitively set within the historic shell.
Light wells distributed across the roof plan sun-wash walls and flood the open planned interior with natural light. Double height spaces, established above the staircase and dining room table, create volumetric interest. Improved visual connections to the back garden evoke a sense of spatial generosity that far exceeds the modest dimensions of the home's interior footprint.
Click on any image to start lightbox display.  Use your Esc key to close the lightbox.  You can also view the images as a slideshow if you prefer  

Exterior View :
Interior View :
Drawing View :
Here's a green home extension project that will blow your mind away.