Everybody enjoys jumping on a trampoline, but all good things come to an end. The question is what to do when your trampoline is wrecked beyond repair?
The best solution is to turn it into a circular swing bed! You might have come across those luxurious swing beds hanging from ceilings or trees. We all know how expensive they are. This is a great way to have your own without spending a fortune!
To save money, make use of every part of your trampoline, including the ring, springs, and mat. Cover it with sheets to make it comfortable. You can also create an outdoor teepee version by just adding shade from an old tent.
This is a perfect way to relax indoors or out. The best part is that you can design your own recycled trampoline swing bed to match the theme of your home's interior or outdoor area.
Would you like to hang out here?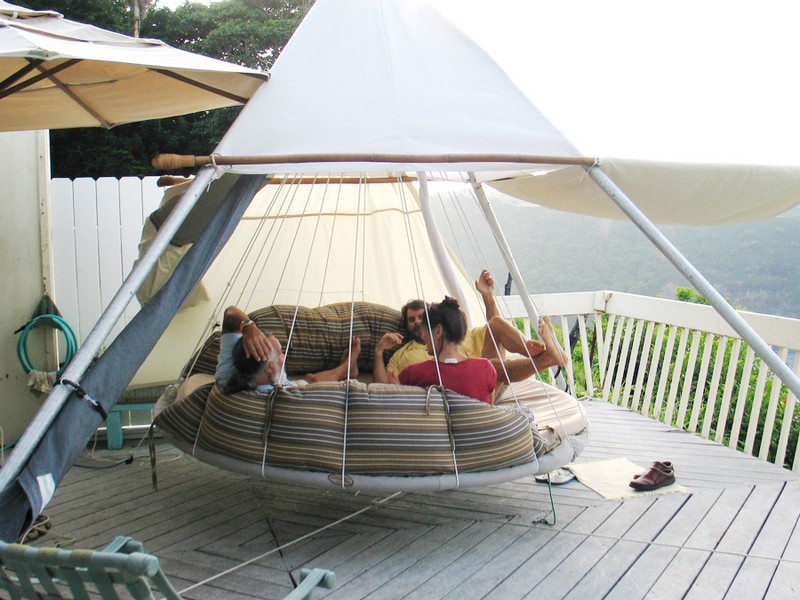 What are the advantages of making a swing bed from recycled trampoline?
1. Relax and unwind
Every summer days are hot and it's always better to relax outside. But having this weather is also the best season to spend more time with your family outside, gathering together and having snacks or simply relaxing in a comfortable swing bed. Feeling the wind in the morning and cooling off in the evening with this recycled trampoline swing bed is much more comfortable than lying on a plain sofa or even with your traditional porch swing.
2. A conversation piece
The most popular reason people love hanging swing beds is that they feel relaxed on them after a long day at work. Although porch swings are also popular for their relaxing and playing features, a traditional porch swing won't give you the best way to relax while lying on it, unlike the recycled trampoline swing bed where you can just sit back and relax and even lets you rest your back, stretch and fall asleep on it. Since it's larger and wider, you can cuddle and spend more time with your friends or family while swinging your day away.
3. Overall decor
These hanging swing beds are definitely stylish. A recycled trampoline swing bed is a piece of art that will definitely be a welcoming porch for your guests, where it says "come in, sit here" 🙂
4. Sleep comfortably outside
A hanging swing bed can help you sleep under the stars. You can simply place your hanging swing bed outside the garden or backyard, where you can widely view the stars in the sky. Relax on your hanging recycled trampoline swing bed while viewing the stars and fall asleep under the sky. You can add your throw pillows, soft blanket and a mosquito net too.
5. Recycle
Cost savvy and environment friendly. You won't be spending much on your recycled trampoline swing bed since most are recycled items. Plus, you will help the environment by helping our planet reduce waste! 🙂
What are the materials needed to make a swing bed from recycled trampoline?
Recycled trampoline
High-quality ropes (Fiber rope, Polypropylene rope, Nylon rope, or Polyester rope)
Mosquito net (optional)
Noodle padding (optional)
How to make a swing bed from recycled trampoline?
1. Pad the edges of the trampoline.
First, fill the edges of the recycled trampoline with noodle padding. Ensure to have it on all sides, then cover with a cloth.
2. Attach the ropes.
Attach the ropes at the various points of the recycled trampoline. Leave a wide opening between ropes. Tie the ropes three to four times to ensure the stability of the ropes. Choose a sturdy object where you can attach the top of the rope to the roof, tree or pole. Strong enough to hold the recycled trampoline swing bed itself and the maximum capacity of your recycled trampoline swing bed.
3. Secure the ropes.
Ensure the quality of the ropes to be used. These ropes should be strong enough to hold a capacity of people that will fit in your recycled trampoline swing bed. You can choose between fibre rope, polypropylene rope, nylon rope, or polyester rope, or better yet, you may consider using metal chains instead of ropes for a big-sized DIY recycled trampoline swing bed. Then, add your designs, like a beautiful thin cloth, mosquito net, lace, etc. Now you can rest and enjoy! 🙂
Click on any image to start the lightbox display. Use your Esc key to close the lightbox. You can also view the images as a slideshow if you prefer 😎