Built area: 92.5 m2  (1,000 sq. ft.)
Year: 2005
Photography: Tim Bies
From first hand experience, there are three major challenges with owning a vacation home – regardless of size or location:
Maintenance:
If you build in a conventional manner, you are going to be faced with all the demands – time and money – that a full time residence incurs.  In fact, your costs may well be higher because small problems often become big ones when a home is unoccupied!
Security:
Vacation homes are easy targets for thieves.  They have ample time to take everything of value and it will usually be days, even weeks, before the burglary is discovered.  The police will smile, take careful notes and promise to do everything possible while knowing full well that your goods have long since disappeared from the area.
Guilt:
Having invested that money, you feel compelled to use your 'investment in leisure'.  It starts to dominate your planning because you know that at the very least, you have to check that all's well.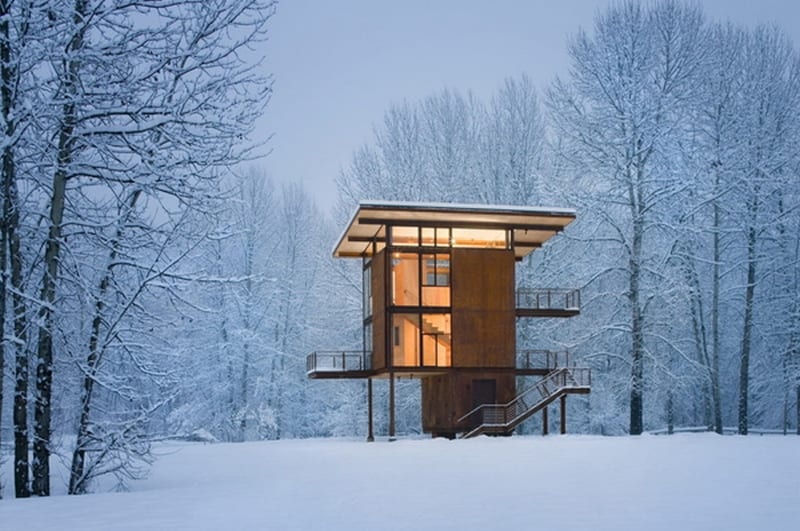 The solution (assuming you still want that vacation home):
Olson Kundig clearly recognises these realities.  This is the second of their 'cabins' that we've featured.  Both virtually eliminate the first and second challenges by keeping the construction simple but strong, and by incorporating a Fort Knox approach to the design. The third challenge – guilt – is handled by solving the first two issues AND by ensuring maximum 'bang for buck' by sticking with the basics.  Here are Tom Kundig's comments:
"This 1,000 square-foot weekend cabin, basically a steel box on stilts, can be completely shuttered when the owner is away. Situated near a river in a floodplain, the 20' x 20' square footprint rises three stories and is topped by the living room/kitchen. Large, 10' x 18' steel shutters can be closed simultaneously using a hand crank."
Share your thoughts or we'll never know how you feel!
Click on any image to start lightbox display.  Use your Esc key to close the lightbox.  You can also view the images as a slideshow if you prefer  

The other cabin we've featured by Olson Kundig is Chicken Point Cabin…