This interesting home is made from earthbags, also known as sandbags. Sandbags were first used by the military and emergency services teams to build protective structures and for flood control. Now the concept of using earthbags has been applied to housing to create strong and affordable structures. Earthbags are ideal for making homes that will stand up to the harshest weather. And using the right design, you can also have one of the safest homes in a fire zone. Obviously, a grass roof is not going to help there 🙂
Aside from being durable structures, earthbag homes are also cheap. They are labour intensive.  But the bags can be filled with either dirt from the property itself, or other available sources. They can be built practically anywhere in the world. Aside from saving money, you also get both thermal mass and great sound and temperature insulation.
Although made from unusual materials, earthbag homes look good aesthetically. Their fluid, organic shapes blend nicely into the environment. These homes are very easy to personalize to suit the owners' aesthetic needs.
Could you live in this earthbag round house?
Materials:
Woven Polypropylene Bags (about 18" x 30")
Bucket Chute (4-gallon bucket with bottom cut off)
Soil
Gravel
4 or 5 heavy duty 2-gallon Cement Buckets
4-point Barbed Wire
String Line
Sheet Metal Slider (about 13" x 16")
15 gauge Galvanized Wire
Bundle 500 Bags
Concrete or Stones – for door threshold
Galvanized Nails
Galvanized Sheet Metal Anchors
Long Wood Poles
2×4 Bucks
½" Rebar
¼" Plywood
Hurricane Ties
Metal Compression Ring
Thatch
Screws
Cement
Tools:
Shovel
Trowel
Metal Chisel and Scrap Steel (or Bolt Cutters) – for cutting barbed wire
Knife
Wire Cutters
Tape Measure
Grub Hoe
Tampers
Corner Guide
Level
Sledge Hammer
Hammer
Cordless Drill
Sponge Float
Click on any image to start lightbox display. Use your Esc key to close the lightbox. You can also view the images as a slideshow if you prefer 😎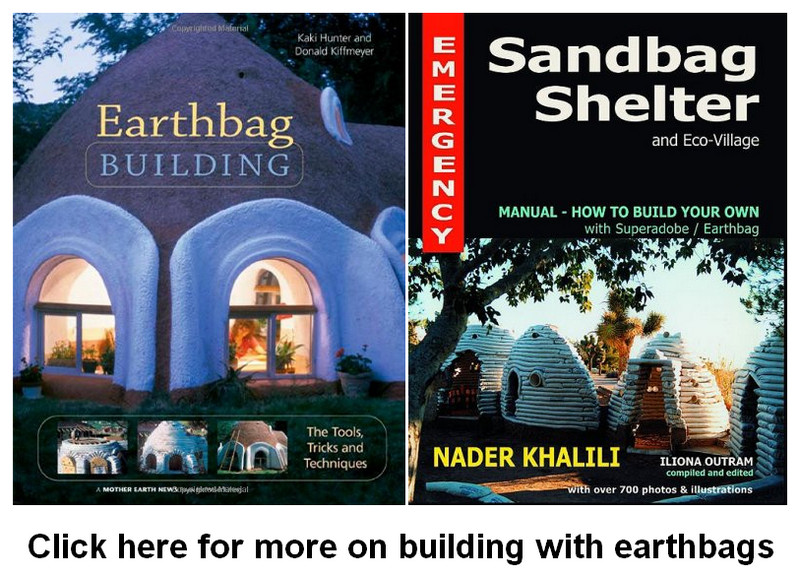 If you liked this project, you will also like viewing these sustainable and green homes…